WCCUSD is preparing to return to school safely. The preparation includes tracking health indicators, procedures for staff, readying of facilities, and health and safety protocols for students and families.

Specifically, WCCUSD is working in-depth on several areas to accommodate a return to in-person instruction. These include evaluating and analyzing facilities, securing and purchasing air filtration and ventilation equipment, hand sanitizer, personal protective equipment, cleaning and disinfection supplies, and signage and instituting preventive measures and changes to schools and department buildings.

The WCCUSD Readiness to Return To In-Person Instruction Dashboard will share current progress to data on status in a number of areas for school reopening. The West Contra Costa Unified School District will update its Readiness to Return To In-Person Instruction Dashboard weekly by the end of the day on Thursdays when school is in session.
Return To School Together
Welcome to the 2020-21 school year! It has been quite the summer for us, and this school year will start like no other. Thanks to students, families, teachers, school principals, staff, and community partners, we begin the year with a community-driven distancing learning plan.

The COVID-19 pandemic has forced us to begin classes on Monday, August 17 in a completely distance learning environment. We know there won't be the physical interaction of meeting your teachers or classmates, but we have formed a plan that tries to bring as much of that first day excitement to you and your student as possible.

Monday's virtual/distancing learning will look completely different than when we were unexpectedly forced to close schools in March. We have a daily schedule that begins at 10 am for students and includes a homeroom/advisory period and Wellness Fridays for both students and staff.

We know that schools are places for students to grow academically. But we also know that students need more than academic instruction. They need more connection with their teachers and their peers, additional socio-emotional support and access to counseling resources.

The framework that we have set up provides time and space for that support through homeroom or advisory and Friday Wellness. There will be a homeroom or advisory period every day in order for teachers to check in with students and every Friday has been set aside for wellness. On Fridays, teachers will hold a family hour where students and their families can connect to their teachers. Then, the rest of the day will be reserved to support students' mental health, social connections, academic needs, and enrichment.

We are providing you this guide (coming soon) and Digital backpack to help you, as parents, understand how we intended to provide instructional and socio-emotional support for your children while we are still in a distance learning format.

If you have any questions, please contact your child's teacher or principal.

Have a great year!

Matthew Duffy
Superintendent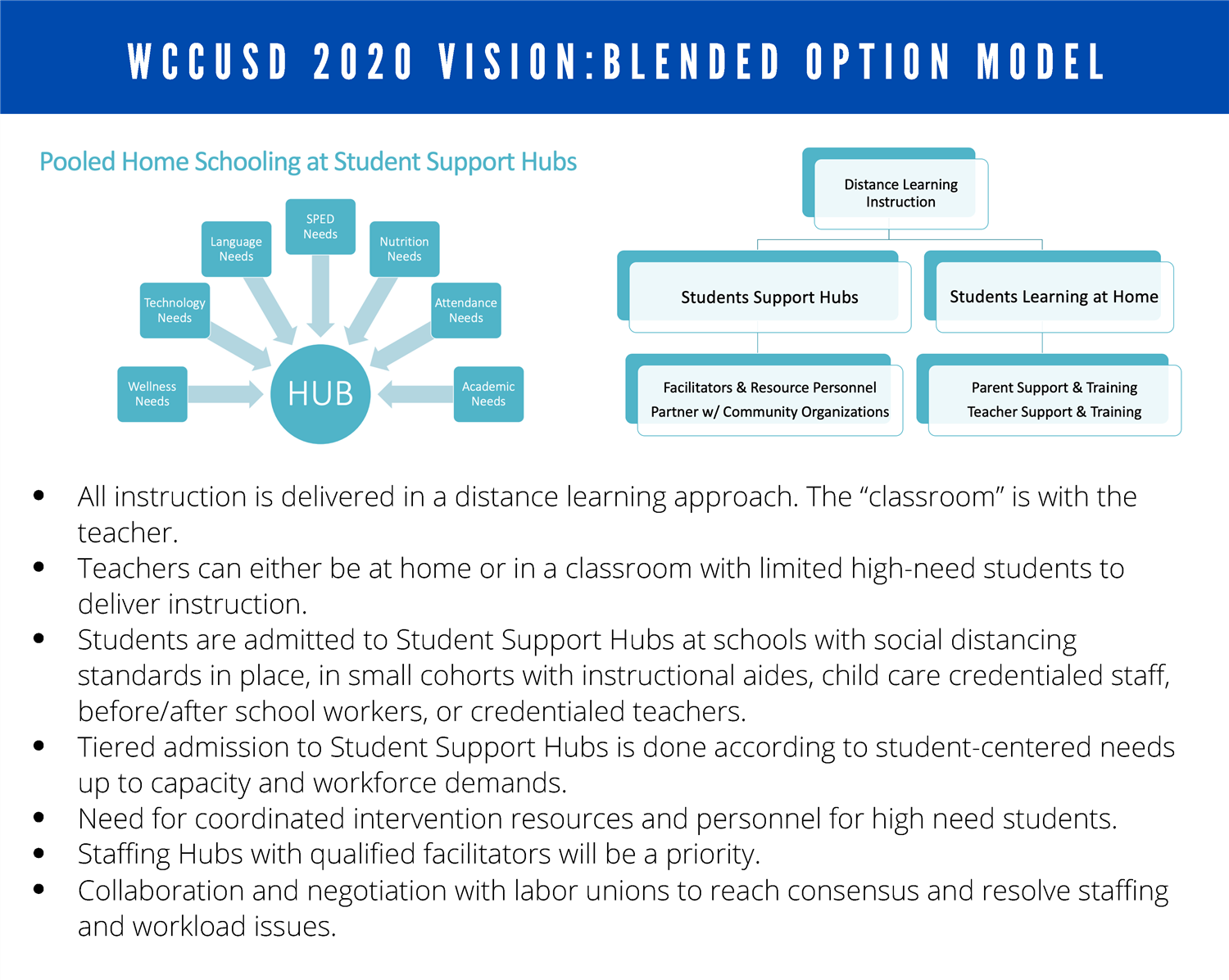 WCCUSD will resume features of its summer meal program allowing all students 18 years or younger to pick up breakfast, lunch, supper and snacks at no charge from 8 am to 1 pm on Tuesdays and Thursdays at 15 school locations in the District.

I want to thank everyone for a great second week and for being patient in dealing with continued poor air quality. Most importantly, we continue to strengthen our resolve to make sure WCCUSD is a place where racial tolerance, inclusion and love are lived values every day and in every system and practice throughout the district.

All schools and departments will serve families BY appointment only due to the ongoing air quality issues. Meal distribution at the 15 school locations returns tomorrow Wednesday, August 26 and Thursday, August 27 with altered hours.

Distance Learning continues Monday. However, due to worsening air quality curbside meal pick up and materials pick up and distribution have been postponed for Monday and Tuesday.

Thank you for helping launch distance learning during a global pandemic, record heatwave, rolling blackouts and unfortunately wildfire season. Despite the challenges, we saw many successes.

As expected, the beginning of this school year has been unpredictable. The intermittent power outages affecting communities throughout the district has caused some challenges. Due to the rolling power outages planned for this week and the potential for many families and teachers to not have full power, we are postponing the scheduled Back to School Night events.

Welcome to the 2020-21 school year! Classes begin Monday, August 17 at 10 am in a completely distance learning format.

Find your school's digital backpack