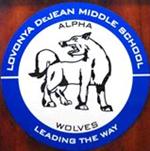 Family, Fun, and Fitness
Families, come and work out with your children and learn techniques. Our excellent PE teachers will take you and your family through a 40 minute work. We have 50 spaces open, and it is on a first come first serve basis.
Bring comfortable clothes and work out shoes, along with a bottle of water.
Tuesday, September 12, 2017
5:30-6:15 pm
Multi-Purpose Room
Friday, July 28, 2017
Dear Lovonya DeJean Middle School Family Member,
Welcome to the 2017-18 school year. We are excited to usher in the new school year and look forward to seeing you!
We are looking forward to providing a rigorous educational program for your student, and challenging them academically, all in preperation for high school which will be their pathway to college and career. Our school offers a full academic program with traditional core classes, enriched by electives such as band, engineering, and career pathways exploration. We host an after school program for children to receive additional assistance with homework as well as enrichment classes.
A lot of questions can be answered during our Walk Through Orientation/Registration. Information below.
Walk Through Orientation/Registration
School registrationi is required by the WCCUSD. The dates and times for our registration are as follows:
Aug 9
Last Name:
A-L: 9:00 am - 11:30 am
M-Z: 12:15 pm - 3:00 pm
Aug 10
Last Name:
A-L: 9:00 am - 11:30 am
M-Z: 12:15 pm - 3:00 pm
Information about Lovonya DeJean Middle School
This school year will usher in some great opportunities for your student.
Expanded Learning Program (after school program): An offering a variety of new activities for students including academic support and enrichment activities, such as art, computers, dance, sports, and more.
Band is an elective class that has grown tremendously. We boast a fabulous marching band and drum line. Students have performed at various WCCUSD events, the annual Cinco de Mayo Parade for the City of Richmond, and more.
Project Lead the Way (PLTW) is an opportunity for students to explore the engineering pathway and go in depth with science and math.
Mafanikio: This is an exciting new addition to our school to assist in increasing academic achievement for African American students.
Social and Emotional Learning/Counseling is supported by our two school psychologist, two school counselors, seven community therapist, and our full service community schools coordinator. Community partners work in our school to provide students support they need to be successful in school via counseling, group discussions, mindful life, and restorative justice.
Breakfast, lunch, and supper: All students may eat free of charge at our school. Ensure your child gets to school early to take advantage of the free breakfast program Monday through Friday. Please check www.wccusd.net/dejean for more information.
Academic Focus
We pledge to challenge your student academically. Our focus on the California Standards ensure that teachers are working with students at the highest level, exploring the curriculum your students will need to master to prepare them for high school.
We will need your assistance with this: we require that you attend parent/teacher conferences; check-in with your child daily; look at their grades/attendance on PowerSchool weekly; communicate with their teachers.
By working together, your student will be at the peak of their academic game.
Safe Campus for All
We will continue to focus on safety. A strong emphasis will be placed on ensuring our campus is a safe place for students to be and learn. To do this, we will need support from families, students, and community partners. We strongly encourage, and will continue to enforce, students to report incidents to any adult on campus.
All students must wear their student ID card while on campus. This will help identify anyone who shouldn't be on our campus.
Parents/Guardians are welcome on campus, but must sign-in with the front office and display the proper visitor's identification. All visitors must adhere to WCCUSD policy.
Students are only allowed to wear Lovonya DeJean Middle School hats or beanies. No other head-wear will be allowed to be worn or be visible while on campus during school hours.
Together, we can help your student be successful in middle school, all the while preparing them for their high school adventure along with exposing them to ideas about college and career. Feel free to contact me, knowing that email will be the best way…understand that my first priority is DeJean students and being out on campus.
On behalf of Vice Principal Ms. Valdez, Instructional Specialist Mr. Lobaco, the faculty and staff of DeJean Middle, and the WCCUSD, welcome to the 2017-18 school year.
In solidarity,
Mr. McGee