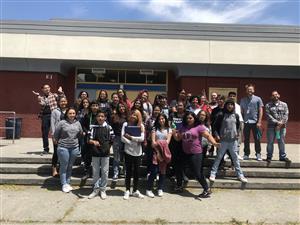 This summer Richmond High, through our Summer Bridge Program, welcomed rising Freshmen to come in and learn High School skills to prepare for the upcoming year. Great job students in putting in that extra work, we can't wait to get to know you over the next 4 years!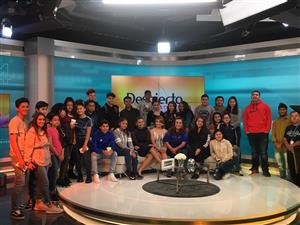 Over the summer Richmond High is continuing to offer educational opportunities through our Newcomer Summer Enrichment Program. This week our students went to Univision Television Studio in San Francisco! Check out our page on summer programs to find out how you can get involved!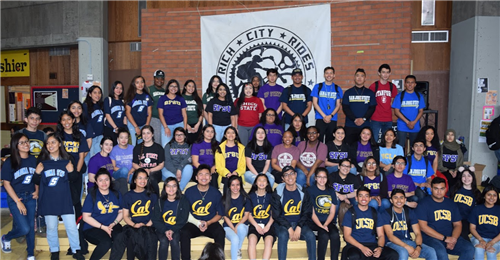 We cannot contain our excitement at the success of our Seniors this year! Over 90 students going to 4-year colleges? That deserves some celebration! Keep up the work, we are so proud of all of your success, and will be here to continue to support your efforts.
What's happening at Richmond High this summer? Click here!
Check out our awesome RHS Weekly Video Announcement - 5/14/2018
Did you miss the Richmond High KQED take-over from April 27th? Nope! Cause all of the links can be found right here. Take a listen to the stories of our very own students.
CA Report Article on the Take-over
Didn't receive a Summer School Application? Download one here to turn in!
This handout will give you an idea for our Academic Updates for this coming Spring/Summer of 2018.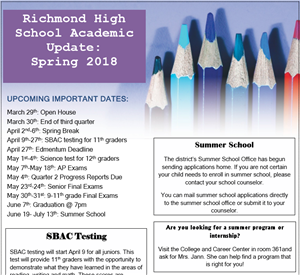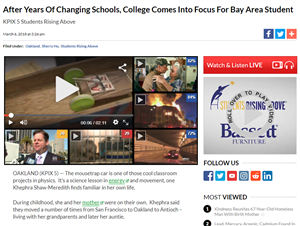 Congratulations to Kephra and Jesse for their article on their perserverance towards college.
Senior Contracts - Our school is asking our amazing seniors to commit to excellence for the last 5 months of school leading to graduation. All seniors must have this contract signed by student and parent to participate in graduation and senior activities. Please have it completed and submitted to the office by 1/22/2018.
Check out this piece of local news on one of our own soccer players at Richmond High!
Our students have been hard at work on their e-Bike project with UC Berkeley! Check out this video to see how our young engineers work side by side with college students.
Recently we had a film crew come to Richmond High to go into one of our classrooms to observe lessons by our awesome teachers. Please read the article and view the video to see how we put student's first at Richmond High!
Richmond High MultiMedia Academy has been hard at work creating their blog called Humans of Richmond. check it out to get to know our students a litte more.