WCCUSD Highlights (Archive)
Return to Headlines
Grant, Pinole Middle School Students Participate in Anti-Bullying Event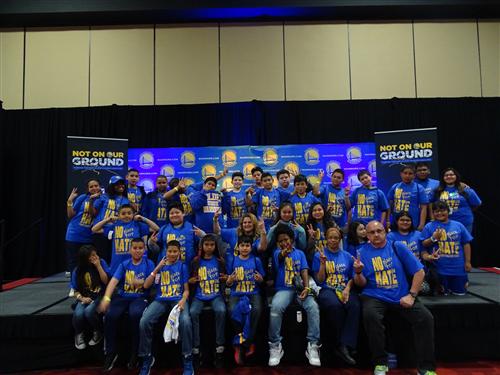 OAKLAND --
Christopher Dolan
is ready to be a witness in a peaceful way. An energetic seventh grader from Pinole Middle School, Dolan was part of a contingent of West Contra Costa Unified School District students from Pinole Middle and Grant Elementary schools that took part in the Golden State Warriors' Peaceful Warrior Summit, an anti-bullying event designed to empower students to stand up against bullying and hatred.
"A peaceful warrior is someone that is mentally strong and willing to stand up for the right thing," Dolan said. "You can't just say you are against bullying but then not do anything when you see it. You have to stop it."
More than 300 middle and high school students from across the Bay Area shared Dolan's belief and displayed it at the the three-hour event held at the Oakland Marriott, feet away from the Warriors' practice facility. Students heard from a guest panel that included Warriors' backup point guard Ian Clark, participated in anti-bullying workshops, and talked about personal bias, anti-bullying behavior, and what to do when someone is being bullied.
"What I am going to take back with me is that we have to stand up for other people," Dolan said. "We have to to think of others and we can't allow bullying. It needs to stop."
The Peaceful Warriors Summit is part of the
Peaceful Warriors Project
, a collaboration between the Golden State Warriors, the Anti-Defamation League's No Place for Hate, No Bully, Rise, and the Ad Council to build safe inclusive environments free of hate, bullying and intolerance.
Grant Principal
Farnaz Heydari
and her staff brought 26 Grant student to the event, all wearing matching gold and blue T-shirts that read "No Place for Hate" Grant Elementary School. In her second year at Grant, Principal Heydari held back tears after students faces beamed with pride following a photo with the Warriors Clark.
"They need to see role models and this helps them to see that they are not defined by their zip code," Heydari said. "They will take this experience and the message back to Grant and help other students stand up for what is right."
Principal Heydari was joined by Grant staff members
Carlos Arias
,
Keri Stewart
,
Robert Mayer
,
Monica Oliver
, and
Karoline Langston Hayes
. Pinole Middle School staff included
Kevie Nichols
and
Joseph Glatzer
.
As part of the Peaceful Warriors program, all Bay Area students in grades 6th through 12 are invited to create an original visual or performing arts piece to answer the question: What does it mean to be a Peaceful Warrior? Students are also encouraged to take the
Not on Our Ground pledge
, and interpret its meaning in their work. Entries are due by
5 p.m. on Friday, March 24
. Entries can be emailed to
NotOnOurGround@warriors.com
or posted on social media with the hashtags #PeacefulWarriors, #NotOnOurGround and #IAmAWitness.