Return to Headlines
Community Message October 8: Equity Audit and other happenings in WCCUSD
October 8, 2021
Good evening, WCCUSD Community,
We kicked off College Awareness and School Administrator month this week while also continuing to recognize members of the custodial team, highlighting Hispanic Heritage Month, and hosting COVID-19 vaccine clinics at various middle and high schools.
Our commitment to creating a school district that works for all students continues with your help. That's why I'm inviting you to participate in our Equity Audit.
The Equity Audit will help us ensure policies, practices, and resources to support all Black, Indigenous, and people of color, particularly African American and English Learner students, to close academic achievement opportunity gaps.
The survey is open until October 22. WCCSUD Parent/Guardians please fill out your survey here: https://forms.gle/mzj1xpnUL39hzKD38.
Surveys were also sent out today to classroom teachers, school support staff, and site managers. Please complete the survey for your stakeholder group.
The findings and recommendations from this assessment will be shared with the board in October.
This is all part of our effort to provide the highest quality education to enable all students to make positive life choices, strengthen our community, and successfully participate in a diverse and global society.
Sincerely,
Dr. Kenneth Chris Hurst
COLLEGE AWARENESS MONTH
October is College Awareness Month, and we encourage students to start considering colleges and career paths now. WCCUSD has many resources to help students navigate college and career. WCCUSD counselors can provide a great starting point for any student who needs extra support.
College and career is a topic of interest for WCCUSD students who share their thoughts on both on WCCUSD's Instagram page.
NATIONAL PRINCIPALS MONTH
This month is an excellent opportunity to highlight and feature some of WCCUSD's most trusted and inspirational leaders -- WCCUSD principals. Follow us on social media as we will be uniquely highlighting our amazing principals.
Covid-19 Vaccine Clinics at Middle and High Schools
We want to make a few corrections to the vaccination clinic dates at some of the secondary schools.
WCCUSD secondary schools are proud to partner with Contra Costa Health Services to host mobile vaccination clinics.
Please visit www.wccusd.net/covidinformation and select Vaccine Clinic Resources to sign up to receive your COVID-19 vaccine at your school.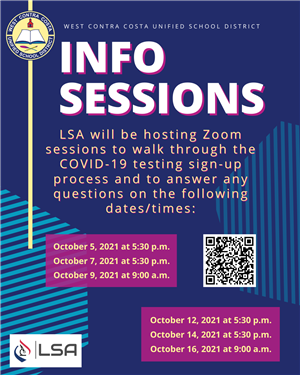 LSA Information Sessions
Laboratory Services of America will host Zoom sessions to walk through the Covid-19 testing sign-up process and to answer questions.
The sessions will take place on the following dates/times:
Saturday, October 9, 2021, at 9 a.m.
Tuesday, October 12, 2021, at 5:30 p.m.
Thursday, October 14, 2021, at 5:30 p.m.
Saturday, October 16, 2021, at 9 a.m.
Join by scanning the QR code with your phone's camera or the Zoom link (https://us06web.zoom.us/j/2849220915...)
National School Lunch Week is October 11-15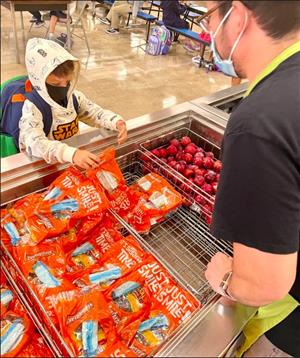 October is National Bullying Prevention Month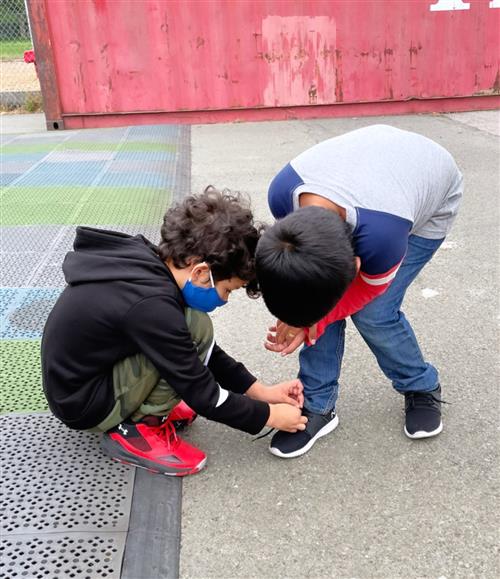 National Custodian Appreciation Day
We want to recognize all of our custodial workers who help in maintaining our schools safe and sanitary. Thank you for all of your hard work and dedication. You are truly appreciated!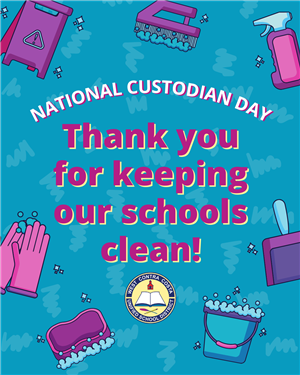 Hispanic Heritage Month Spotlight: Rigoberta Menchu, Social Activist
Rigoberta Menchu Tum is a Guatemalan activist for native rights and winner of the 1992 Nobel Peace Prize. When she was only a teenager, she became involved in social reform activities and became prominent in the women's rights movement. Her autobiography, "I, Rigoberta Menchu," details her harrowing experience working to reform conditions for native farmworkers and the persecution she and her family faced because of that work. To this day, she continues to work for native rights around the globe.