Return to Headlines
de Right Stuff: Kennedy High School Art Teacher Featured at de Young Museum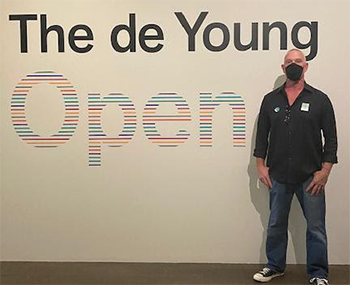 By Garcelle Hodge
Special to WCCUSD
He went from scribbling comic book characters as a toddler to a well-known and well-loved art teacher whose work now graces the de Young Museum walls.
Kennedy High School Art Teacher Steve Mainini's love of art started as a 4-year old with comic book characters as a toddler at the age of 4. On October 10, Mainini's artwork hung from the de Young Museum walls in San Francisco.
Mainini is one of 762 Bay Area artists selected to have their artwork displayed during The de Young Open exhibition, a juried community art exhibition to celebrate the de Young Museum's 125th anniversary.
"I was not as emotional as I thought I would have been- In normal conditions, family and friends could have been present - so I did not get to share the experience with them. I went with my wife and daughters," said Mainini about attending the preview exhibit on October 6. "I was more emotional when I received the email that my work had been selected."
The de Young Museum accepted 11,500 art entries and selected 850 pieces.
Leslie Mainini, Mainini's wife, could not be more proud of her husband having two art pieces accepted to the de Young Art Museum. She has watched his community involvement, work ethic, and creative mind grow throughout the years.
"It has been such a lifelong dream for him that I was just really, really happy for him and proud," Leslie Mainini said. "He never wavers from doing art, and he just holds on to it no matter what anybody says, and now he just hit a whole new dream."
Mainini was always drawn to the different artists and styles in comics and began drawing superheroes and comic figures in his youth.
Mainini quickly realized that he could make money from drawing and creating, leading to his involvement with fine art and continuing to do art independently.
Joseph Salvatore, Mainini's lifelong friend, has been by his side every step of the way, watching his passion grow from comic books to drawing anything and everything he saw as a kid.
"Throughout our whole childhood together, he always had a notepad, a drawing pad, or just something with him," Salvatore said. "He always seemed to see the world differently through his eyes, and he would always look at something in a way I was not able to."
Mainini was encouraged to continue with his art by his teachers, and he graduated from De Anza High School in 1988, leading him to study art in college at Chico State. One of his college art professors, Troy Dalton, was the most impactful mentor Mainini has had. Dalton had been trained by well-known artists at that time and always gave Mainini his complete honesty, along with never ceasing to push him not to be complacent. Dalton's insightful encouragement and unique artistry were what pushed Mainini's abilities and developed his current art career.
"I still think of him to this day when I make my art," Mainini said. "He passed away a number of years ago, but he is really important for my growth as an artist."
Mainini describes his drive to create art as a part of himself, rather than a task he does.
"Asking what art is like to me is like asking you how it feels to have a right hand. That is how it is to me," Mainini said. "It is naturally something that is there, and not something I think about. It is every part of me."
Mainini has been teaching High School Beginning Art, Advanced Art, and AP studio drawing art at Kennedy High School for the past 16 years, along with starting a silkscreen class in 2014. He and his students print t-shirts and hoodies for schools in the district, local businesses, and the community while charging for their services. Mainini and his students have also designed and printed t-shirts for the district staff.
The silk-screening class proceeds support the program and fund scholarships for graduating seniors of the silkscreen program.
The silkscreen class helped various Kennedy programs like woodshop purchase wood and tools. It has also created shirts and marketing for a live poetry event hosted by an English teacher, Ian Vader. The silkscreen class also helped paint murals around the school for a beautification project started by Salvatore Moribito, a Special Education teacher.
Moribito has worked alongside Mainini for 23 years and has witnessed just how great a teacher he is. Mainini created stencils for Moribito's student's to use and expose their art all over campus, resulting in three former students receiving cash award prizes at the yearly Richmond Art Center during the 2017 WCCUSD Art Show.
"Steve offers students a vision of who and what they can become if they work hard and respect each other," Moribito said. "He is one of those teachers who does not teach for the money, but to show young people how to understand and love art."
One of Mainini's pieces selected by the de Young Museum, "Wonderland for Ava," took roughly 400 hours to complete and features his daughter. The chosen second piece, "Homage to Michelangelo," took around 300 hours.
Gladys Vasquez, one of Mainini's former students, took his art classes all four years of high school and witnessed Mainini hand-draw one of his selected de Young art pieces in class, during breaks and free time.
"It is just insane that I saw him working on that piece and seeing how dedicated he was and how much he was able to put into it during his limited time," Vasquez said. "Having him as my teacher allowed me to advance further with my skill and actually become more in-depth with art."
Mainini has participated in different Art organizations along with selling his art throughout the years. Mainini's art has been displayed around the Bay Area at Arts Benicia and the Lafayette Arts Gallery, along with pieces sold at those galleries. He has had artwork accepted, shown, and awarded at the California State Fair, participated in a district show at the Richmond Art Center, and sold charcoal drawings through the Richmond Country Club. Mainini was also honored as teacher of the year, in 2013, for the district and was a Contra Costa County Teacher of the Year finalist that same year.