Online Registration
Welcome to the West Contra Costa Unified School District. This is an exciting time for you and your student, and we are glad you are joining us. All 37 elementary schools in WCCUSD offer full day kindergarten and 17 of our schools offer transitional kindergarten. Registering your student is a three-step process:

2. Register online. You will need:

- Email account

- PowerSchools account (this is set up during online registration).

3. Make an appointment for an in-person ID verification and confirmation at your resident school

Online registration is time stamped once your registration is completed. Please be aware that you should be prepared to bring the original documentation that you uploaded online to your in-person ID verification and confirmation appointment.

DOCUMENTATION & RECORDS
The following documents ARE REQUIRED FOR REGISTRATION at your school:

Verification of residency (two documents)

Age Verification: birth certificate or Baptismal record

Immunization record

Parent, guardian or caregiver identification (one document)

Documents required under special circumstances

STUDENT PLACEMENT IS ON A FIRST COME FIRST SERVE BASIS UPON SUBMITTING A COMPLETE
REGISTRATION APPLICATION.

Kindergarten children must be 5-years-old on or before September 1, 2019, to be eligible. Families who wish to enroll their child in Transitional Kindergarten online can do so by selecting 'K' or 'Kinder' in the online application. View the TK school chart to find your school of residence. Transitional Kindergarten students must turn 5 between September 2 and December 2, 2019.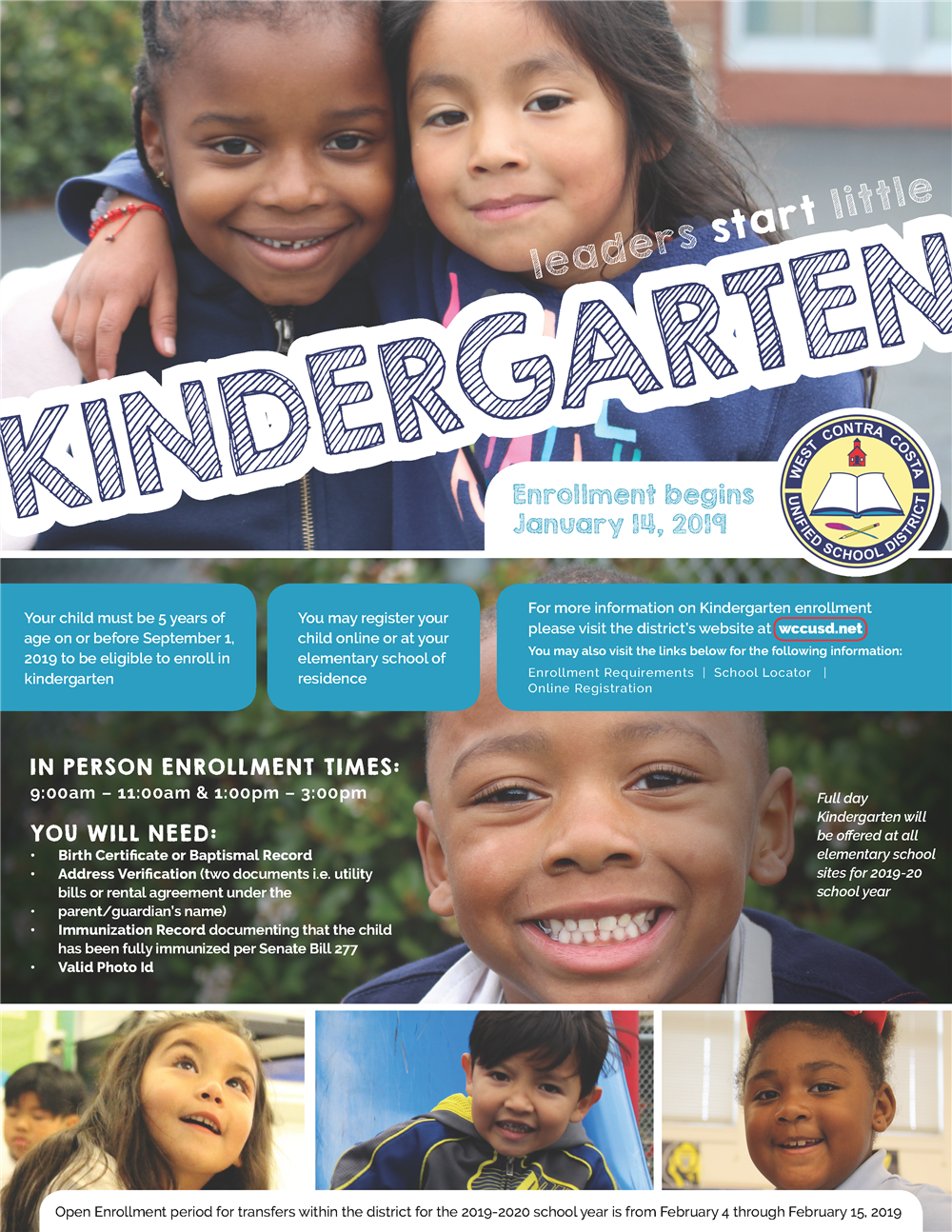 Important Dates

JAN 14 Kindergarten Registration Begins

FEB 4 Open Enrollment Period Begins

FEB 15 Open Enrollment Period Ends

Contact Us

Contact your elementary school of residence for registration assistance.
FIND MY SCHOOL

In-Person Assistance
Hours: Mon - Fri
9 a.m. - 11:00 am
1 p.m. - 3 p.m.

Translation Assistance

RAP Center
1108 Bissell Ave
Richmond, CA 94801
Phone: 510.307.4535
What school will
my child attend?
Is my child eligible
for kindergarten?
Can I choose
another school?