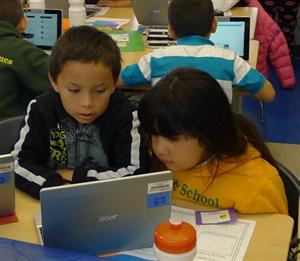 Black History Month (February each year) is typically a time in our schools when we focus on the many and varied contributions of African Americans in our county. We recognize leaders like Martin Luther King, Jr., Andrew Young, Shirley Chisholm, Barbara Jordan, Colin Powell, Carol Mosely Bruan, Ralph Bunche, and many others. Writers like Maya Angelou, James Baldwin, Ralph Ellison, Toni Morrison and Alice Walker are highlighted. We also teach about the accomplishments of African American artists, civil rights leaders, scientists & inventors, scholars & educators, actors and athletes.

It's a time when we put up posters with themes like "From Slavery to Freedom," "A Tribute to Black Fraternal Social and Civic Institutions" or "Gallantry, Courage, & Heroism." Schools may also spend time looking into what has happened in American schools since the Supreme Court decision in the Brown v. Board of Education case. In some classes and schools, we probe a little deeper and find out about African American business leaders and entrepreneurs like Don Barden, William Washington Browne, Emma Chappell, Elizabeth Keckley, Thomy Lafon, Vera Moore, Russell Simmons, Madame C.J. Walker and one whom everyone knows, Oprah Winfrey.


Because we designate one month of the year as Black or African American History month, we highlight and learn about contributions of African Americans – what some call the 'heroes and holidays' approach to diversity in our society. Teaching about 'heroes and holidays' does not ensure any discussion of oppression, social inequity, and struggles with racism and poverty. Some writers on multi-cultural education assert that the contributions approach tends to reinforce the American bootstrap myth: "If you work hard enough you can make it". The implication is that if you don't 'make it' you must not be trying hard enough.


In his book Critical Race Theory, Richard Delgado contends that when we focus on contributions, we take these individuals out of their cultural and historical context and view our African American heroes as success stories from the perspective of the dominant culture. Delgado maintains that this approach leads to the reinforcement and perpetuation of the stereotypes by presenting a superficial and trivial understanding of the culture and experience of African Americans.

I'm not recommending that we stop celebrating Black History Month. I am suggesting that we may be able to broaden the scope from recognizing the contributions of African Americans to what James Banks calls a 'decision-making and social action' approach. In a decision-making and social action approach curriculum, students develop and implement strategies to eradicate racism, or any other form of oppression in their schools, communities, and personal lives. Students could build upon their knowledge of African American history to explore how racism, stereotypes, and detrimental policies continue to operate in our society and in their own environments by using self-reports, interviews, and other data to provide multiple perspectives on the topic. Then students could analyze their own values and beliefs, apply their new knowledge, identify alternative courses of action and decide what, if any, steps they will take to address these issues in their school or community. The major goal of this approach is to teach students thinking and decision making skills, to help them acquire a sense of efficacy.

The past 18 months has been a time of reawakening for Americans from the dominant culture. The deaths of African Americans while in police custody like Sandra Bland, Freddie Gray and the shootings of unarmed young black men led to protests and the emergence of the Black Lives Matter movement. While the focus has been on police, the disproportionality of negative outcomes among people of color and African Americans in particular is at the heart of the struggle. Our students need to spend time this month especially in thoughtful conversations about the impact of race in their communities and schools.

So let's celebrate the contributions of African Americans this month but let's also take time to recommit to the idea that reducing racial inequalities is a critical part of our mission. Let's support the efforts of school and community groups to work on issues of equity, diversity and inclusion. Let's take some time for a self-examination of how race impacts our lives and lives of others in our communities. Let's recommit to improving our own cultural competence in working with diverse groups.