Return to Headlines
Celebrating National School Nurse Day with District with Kanon Lee
Kanon Lee knew as a teenager he was destined for a job in healthcare. Both his parents work in the field, including his dad who is a pharmacist. In high school, Kanon originally wanted to be an athletic trainer. Seven years later, Lee is one of 11 District nurses.
Today, to celebrate #NationalSchoolNurseDay we talked with Lee, who has been a nurse for three years, all of it with the District. Normally, Lee would be assisting students, families, principals, and teachers with education plans and making sure students have the resources they need to be as healthy as possible.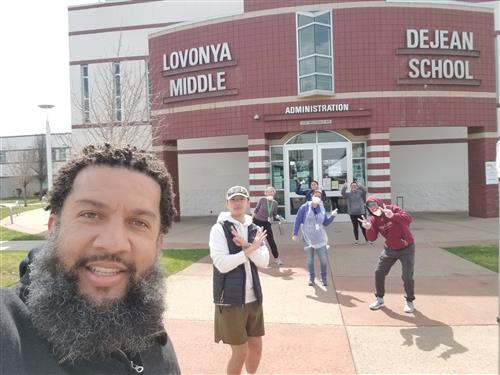 Lee has also added a new set of duties to his routine due to the current COVID-19 pandemic that has closed schools nationwide and led to a number of shelter-in-place orders to slow the spread of the disease. Kanon has led the district's effort to ensure people are following the social/physical distancing safety protocols, specifically at meal preparation and distribution locations and other District facilities that are open for essential functions, His work helps to ensure staff and volunteers and recipients are staying safe. We asked Lee a few questions about his role and how it has changed during the pandemic.
Q: Why did you become a nurse?
Lee: My parents always instilled in me to have a career in service to others. In high school, I wanted to work with athletes through athletic training or physical therapy, but I didn't want to commit to such a specific field at a young age. I learned that a career in nursing gave me the option to be in that particular field, as well as many others such as school districts, hospitals, or mental health. It is so diverse in its specialties.
Q: What do you love about being a nurse?
Lee: I love the kids I get to work with and the teacher and principals. There are so many interprofessional relationships I have made since my first year. I have met and get to work with some amazing people.
Q: What are some of the challenges of being a District nurse?
Lee: Sometimes you see lack of resources or communication breakdowns. But we get to enhance the communication and fill some of those gaps and how to newly help.
Q: Pre COVID-19 pandemic what did your duties consist of?
Lee: Pre pandemic it was case management. There were a lot of 5O4s, IEPs (Individualized Education Programs) and formulating individual health care plans for students with chronic illnesses that affect their school day. It was about making sure they were safe and healthy so that they could access education. There was also a lot of health training with school staff.
Q: What do your duties look like now during the pandemic?
Lee: Month leading up to the shut down, even before it was declared pandemic, we were working with school principals around travel and addressing the fears at schools and the potential scares and cases. Working with the schools and the safety team in those early briefing calls was perfect timing. … When the closures first happened I was restless and didn't want to stand idly by, so first I started volunteering at the meal distribution locations. And that evolved into safety protocols needs. This was an opportunity to take the CDC guidelines and combine it with our nursing expertise and training on how to do social distancing, properly washing hands and how to take gloves off properly.
Q: What tips do you have for the public?
Lee: Stick with guidelines as closely as possible and be kind to others. If you are going out for essential services, staying 6 feet apart greatly decreases risks of exposure or infection. You don't necessarily know if someone is asymptomatic. Also it is important to make sure you are connecting virtually with other family members and friends.
The District nursing team is led by Jill Brickner and has 11 Nurses, 9 Retired Nurses (part time), 15 Licensed Vocational Nurses and 7 Health Aides.