Return to Headlines
WCCUSD Celebrates National School Nurse Day and Day of the Teacher
May 12, 2021
Dear Community,
This special day doesn't happen very often and allows us to celebrate both National School Nurse Day and California Day of the Teacher.
Last week, we highlighted teachers and Principals and asked them who their favorite teachers were growing up and what stood out. In all the responses, relationships and the way teachers made them feel was the common theme.
Today, as we also highlight school nurses in the same fashion, you will notice the critical role relationships with students play in why nurses and teachers do what they do.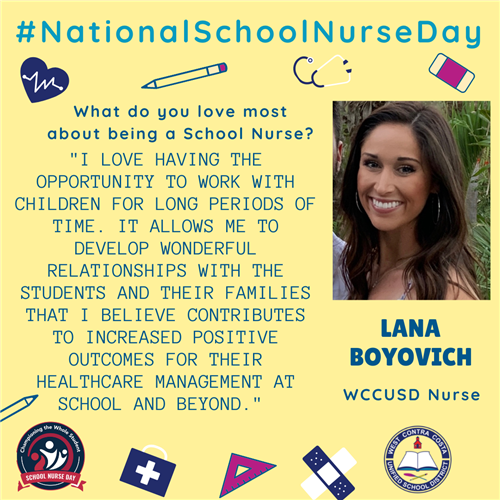 Lana Boyovich, a school nurse for the past eight years, including the past three here in WCCUSD, said, "I love having the opportunity to work with children for long periods of time. It allows me to develop wonderful relationships with the students and their families that I believe contributes to increased positive outcomes for their healthcare management at school and beyond."
And this from Stephanie Rios, a music and leadership teacher at De Anza High School, "I love that as a music teacher I can create deep and long-lasting connections with students because making beautiful music as often as possible has the ability to instill self-confidence and mold us into empathetic humans."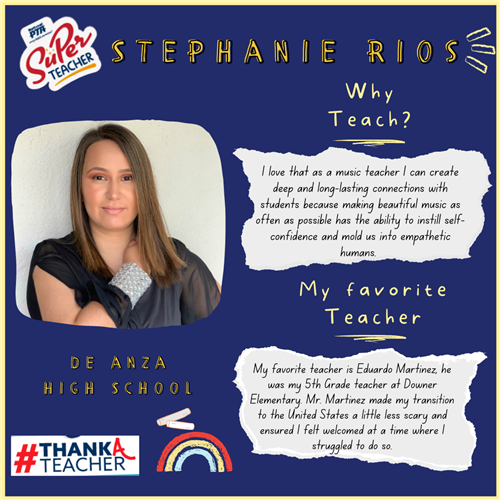 And this from Keilan Hunter, Principal at Coronado, "Mr. Doughty 6th grade teacher at Shannon indeed was my favorite (teacher). I had just transferred from Wilson (now Michele Obama), where I went from K-5th. Therefore, I was nervous about being at a new school and having to create new friends in a new land (sort of speak). However, being in Mr. Doughty's class made my transition smooth. He was very relational and made everyone feel comfortable. He taught all subjects and made learning engaging."
So here is to relationships, connections, and learning. Thank you, teachers, thank you, nurses, on this day-National School Nurse Day and Day of the Teacher-and every other day for building and fostering relationships with students.
In community,
Matthew Duffy and team.