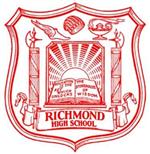 Richmond High School is one of six comprehensive four-year public high schools in the West Contra Costa Unified School District (WCCUSD). As an urban high school, RHS reflects the social diversity of the community. Richmond High School accepts students from across the district, rather than limiting its enrollment to local boundaries. Local feeder school is Helms Intermediate.
RHS has a simple concise vision of student achievement—100 % of students will meet or exceed grade level standards and requirements. We have transformed our school to a wall-to-wall cluster of small, high-performing, smaller learning communities (Academies). Our focus for improvement is to prepare RHS graduates so they are academically and technically prepared to succeed in higher education. Smaller learning communities create an environment that will enable students to feel, known, supported and motivated to succeed.
Richmond High School is a student-centered organization where staff and parents are committed to ensuring the opportunity for academic and social success of all students in a safe and orderly environment. A stimulating and relevant educational program will be provided and delivered by a well-trained staff. The instructional program will meet the unique needs of a multicultural student body. All students will have the opportunity to develop the technical and social skills necessary for life in the 21st century. The result will be productive and successful citizens who will be a source of pride for our community.

---
Phone: (510) 237-8770
FAX: (510) 235-0316
Principal:
Assistant Principal:
Mr. William McGee
wmcgee@wccusd.net

Registrar: