RHS Production of "FOOLS"
"FOOLS" is a hilarious slapstick comedy of a young and enthusiastic school teacher who has just received a job in a remote Russian village. When he soon realizes that the entire town is cursed with stupidity and he has fallen in love with the dumbest girl of all, who has just recently learned to sit down.
OPENS
---
Thursday and Friday - December 3rd and 4th
7pm in the Little Theater
Come early and get the best sits in the theater.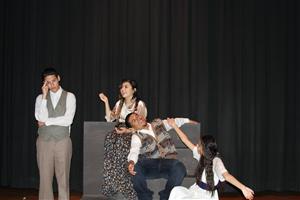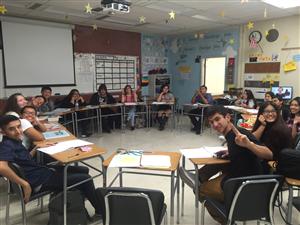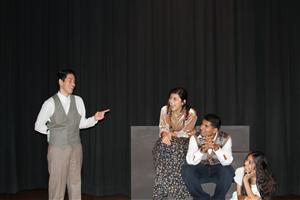 RHS Team 841 – Robotics Team at the Bay Area Science Festival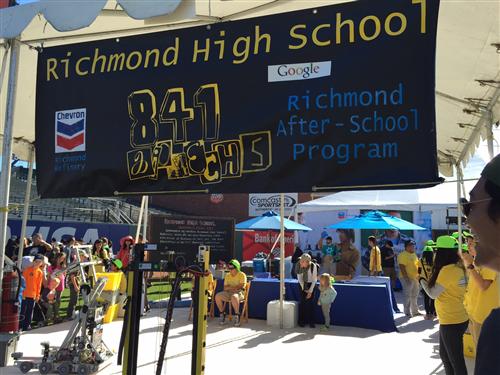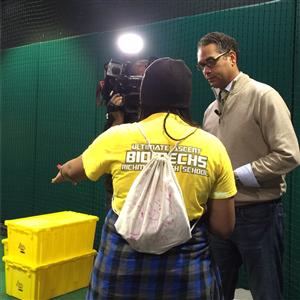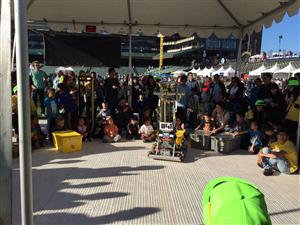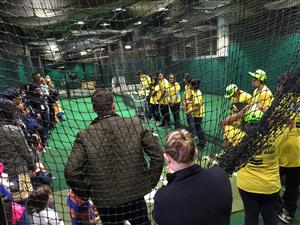 Richmond High School Academy Highlights
Multi-Media Academy
Multimedia juniors have begun their project, a picture book on the French Revolution for 5th graders!
Law Academy
Mock Trial Competitive Team is working hard on preparing their case while Juniors listen to a crime panel
Health Academy
Freshman trip to Point Reyes where they practiced citizen science and tracked mammals
Engineering Partnership Academy (EPA)
Gearing up for the 5th Annual E-Bike challenge, Race will be November 20th after school on football field!
Creative and Performing Arts Academy (CAPA)
Working hard on the fall play Fools. Performances on December 3rd & 4 in the Little Theater
Stay for tutoring after school!
Why go to tutoring?
Tutoring is a great way to catch up on missing work, get some quiet work time and even receive extra credit! Make sure to sign-in with your teachers!
TUESDAY 3:45-5:45

THURSDAY 3:45-5:45

English: Sciacca – room 340

*every other Tuesday

English: Sciacca – room 340

English: Seeber – room 608

English: Seeber – room 608

English: Schmaltz – room 375

English: Schmaltz – room 375

English: Levitt – room 607

English: Kosover – room 437

Math: Hurtado – room 372

Math: Hurtado – room 372

Math: Gamboa – room 366

Math: Zaman – room 313

Math: Zaman – room 313

Math: Kirshenbaum – room 370

Math: Kirshenbaum – room 370

Social Science: Meblin – room 430

Social Science: Meblin – room 430

Social Science: Nunez – room 337

Social Science: Nunez – room 337

Science: Sobetski – room 655

Science: Sobetski – room 655
PRINCIPAL'S MESSAGE

2014-15 Richmond High School had 300 students graduate from our high school. I am very proud of our students. Approximately 1/3 of them have been accepted for admission to four year colleges. Many others are continuing their education at a community college or trade school. I hope that even more students will be ready to attend a four year college this school year. If you want your young adult to attend college, funding should not be an issue. By working with our counselors in the College and Career Center, you can help with the financial aid progress.
Our teachers are working hard and planning professional development to add to their teaching toolbox so that our students can receive the best education possible and prepare student for post-secondary education.
One of the new initiatives for this school year will be a focus not only on academics but also ways to help students prepare for the future. We are implementing a full school community program which will enable us to provide a wide variety of services as well as recreational activities. In addition, we are expanding our offerings to help parents by providing classes for them offered by adult Education and Contra Costa College.
Our teachers, counselors, and staff are exceptional. They have worked hard to make this a successful school year. We have Instructional Leadership Team meetings, Security Team meetings, Student Success Team meetings, subject matter meetings, and weekly collaborations.
The members of the School Site Council will meet monthly to review school initiatives, budgets, and plans.
Students in the leadership class will work extremely hard to publicize events and coordinate student activities. Students in our drama and dance programs will entertain you as well as our community. Our athletic teams will compete in a variety of venues, and build on successes.
Take time to joins us in Parent meetings and programs that will help your students in their journey towards graduation.
RICHMOND HIGH SCHOOL 2015-16
Vision
Students at Richmond High School are provided with an environment where all students have access to curriculum and experiences that prepares them for the rigor of College, Career, and Citizenship.
Mission
Richmond High School provides all students with a standard-based curriculum, academic programs, and resources addressing the social-emotional and physical needs which empower all students toward becoming life-long-learners.
Expected School-Wide Learning Results
(ESLR's)
All RHS graduates will be prepared for College, Career, and Citizenship
College
Master effective study habits.
Complete rigorous A-G course work.
Read, watch, and listen critically.
Speak and write effectively using feedback to improve
Recognize diverse points of view in various mediums
Career
Master effective work habits.
Set and follow long-term goals.
Manage conflict and stress.
Work effectively and fairly in diverse groups.
Citizenship
Behave with respect toward self, peers, and others from all cultures and backgrounds.
Understand how food, exercise, safety and choices affect the health of one's self and community.
Advocate for the success of self, family, and community