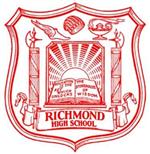 July 1, 2014
Dear Parents/Guardians & Students,
We welcome you all to the 2014-15 school year.
Richmond High School goals for this year will be cooperation to strengthen our students' academic abilities and character for success in high school, college and beyond.
Your student will be asked to set their standards high academically and socially at all times.
Richmond will hold orientation the following times:
9th Grade Monday, August 4th 9:00am to 12:00pm
12th Grade Monday, August 4th 2:00pm to 4:30pm
10th and 11th Grade Tuesday, August 5th 9:00am to 12:00pm
Make –ups Tuesday, August 5th 2:00pm to 4pm
During the orientation, Parents and students should be prepared to:
§ Meet RHS Staff

§ Pick up your Class Schedule

§ Pick-up School Textbooks

§ Take ID Picture – Dress in appropriately

§ Purchase PE Uniform

o Cash Only

o P.E. Shirts $12

o P.E. Shorts $12

o Sweatshirt $20

o Sweatpants $ 18

o P.E. Lock $ 6.00
In order to go through orientation, all fines must be paid.
Payments in CASH ONLY.
Return any books that you may still have at home before August 4th, we will not be accepting book returns during orientation.
FIRST DAY OF SCHOOL: Monday August 18th (MINIMUM DAY)
Classes begin at 8:15 am - Dismissal at 1:54 pm
Thank you for your support in making this a successful school year.
José A. De León, Principal
---
1 de Julio de 2013
Estimados padres de familia, tutores y alumnos:
Nos alegra darles la más cordial bienvenida al año escolar 2014-15.
Las metas de Richmond High School son cooperaran para fortalecer las habilidades académicas y personales de los alumnos para prepararlos para sobresalir en la secundaria, el colegio, y su futuro.
Se les solicita a todos los alumnos que pongan como meta tener altos estándares académicos y sociales en todo durante el día escolar.
ORIENTACION
La orientación se llevará a cabo durante las siguientes fechas de 9am a 1pm:
9th Grado Lunes 4 de Agosto 9:00am to 12:00pm
12th Grado Lunes 4 de Agosto 2:00pm to 4:30pm
10th and 11th Grado Martes 5to de Agosto 9:00am to 12:00pm
Make –ups Martes 5to de Agosto 2:00pm to 4pm
Conocer a los maestros
Recibir su horario de clases
Recibir sus libros
Tomarse la foto para la tarjeta de estudiante –Favor de presentarse con ropa apropiada

Comprar el Uniforme de Educación Física

EFECTIVO solamente
P.E. Shirts $12
P.E. Shorts $12
Sweatshirt $20
Sweatpants $ 18
P.E. Lock $ 6.00
Para poder ser admitido a la orientación tendrá que saldar todas sus cuentas.
Se acepta EFECTIVO solamente – No cheques o tarjetas de crédito.
Alumnos de 8º. Grado que deban libros de texto deberán de entregarlos ANTES del 4to de Agosto.
PRIMER DIA DE CLASES: Martes 13 de Agosto
Hora de entrada: 8:15am - –Salida 1:54pm – (día de horario mínimo)
Le agradecemos de antemano su apoyo en hacer de este ciclo escolar un año exitoso,
José De León, Director
---
Richmond High School is one of six comprehensive four-year public high schools in the West Contra Costa Unified School District (WCCUSD). As an urban high school, RHS reflects the social diversity of the community. Richmond High School accepts students from across the district, rather than limiting its enrollment to local boundaries. Local feeder school is Helms Intermediate.
RHS has a simple concise vision of student achievement—100 % of students will meet or exceed grade level standards and requirements. We have transformed our school to a wall-to-wall cluster of small, high-performing, smaller learning communities (Academies). Our focus for improvement is to prepare RHS graduates so they are academically and technically prepared to succeed in higher education. Smaller learning communities create an environment that will enable students to feel, known, supported and motivated to succeed.
Richmond High School is a student-centered organization where staff and parents are committed to ensuring the opportunity for academic and social success of all students in a safe and orderly environment. A stimulating and relevant educational program will be provided and delivered by a well-trained staff. The instructional program will meet the unique needs of a multicultural student body. All students will have the opportunity to develop the technical and social skills necessary for life in the 21st century. The result will be productive and successful citizens who will be a source of pride for our community.

---
Phone: (510) 237-8770
FAX: (510) 235-0316
Principal:
Assistant Principal:
Mr. William McGee
wmcgee@wccusd.net

Registrar: