Superintendent of Schools
Return to Headlines
Talk Supe: Budget Follow Up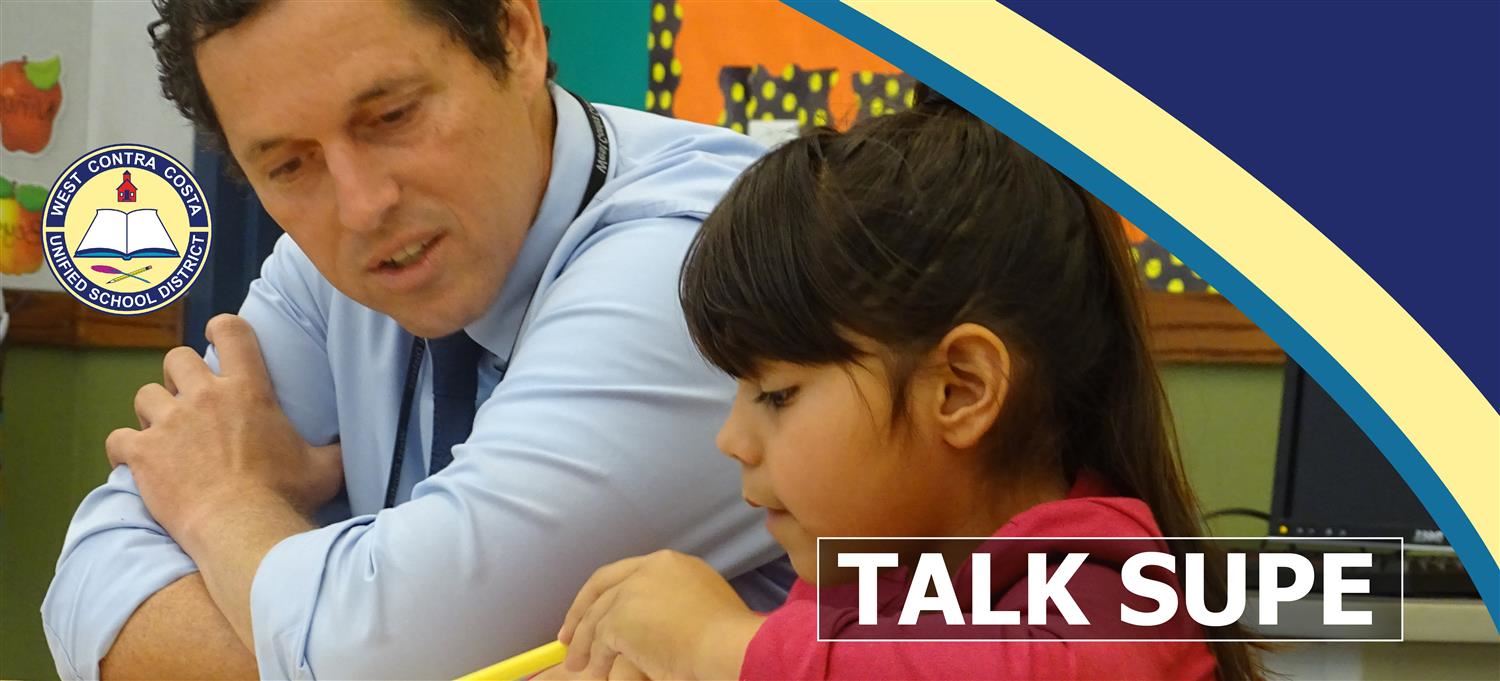 On Wednesday, Sept. 18, our district closed the books on last year and released a first set of financial news for the current school year. The current financial situation in our district is difficult and stressful. We are projected to spend more than we take in this year and over the coming two years. It is a $47.8 million deficit over the next two years.
There are many factors that have led to our situation.The state's funding formula for education has not kept up with rising costs. Rapidly increasing costs to health care and retirement have been a major culprit. Declining enrollment and attendance rates, the growth of charter schools, a rapidly growing percentage of Special Education students and other high need students have also contributed to the costs of education.
To stay competitive and allow our staff to try to live affordably in the Bay Area, we have also increased salaries which push on our costs. The cost of consumer goods, maintenance and construction, as well as insurance have all increased significantly in the Bay Area.
We are like many urban school districts facing a perfect storm where the cost of our needs outpace the money we take in. Many districts across the state are struggling with this same situation with the larger urban districts facing the most financial stress the soonest.
With all of that said, we still have to do our work to balance the budget that is in the best interest of students, and I am proud to lead that effort. Despite the stressors, I know we can balance the budget.
We will implement a number of strategies to help us balance the budget over the coming years. We are fortunate to have a set of reserves that will provide temporary relief in the short term.
We must also look at a set of cost-cutting measures across the district, including items such as overtime and extra time. We will look to maximize the assets we have on hand, including our property and ways to raise revenue such as increasing attendance and enrollment. And finally, we will look to see where strategic investments can be made that will pay greater dividends in the future. We will do this collaboratively over the course of the year so that our best ideas are moved forward.
There will be disappointment, dismay and even anger about our current situation. Fingers will be pointed at different targets-charter schools, the State of California, our compensation, the cost of health care, etc. At the end of the day, we are going to have to pull together to make compromises so that the district as a whole can move forward.
We can change this together. As a District, we are and must work to balance the budget that is in the best interest of WCCUSD's students. And as a community we can raise our collective voices and advocate for a better funding formula that benefits not just students but the communities that surround them. There is work being done statewide to increase funding and I encourage us to lend our voices to that movement.
We must take an aggressively proactive approach to our situation. We must keep pushing to create new and attractive schools and programs for WCCUSD families and students. The recent successes of the Mandarin school, expanded Dual Immersion offerings, K-8 programs and high school pathways and academies show us that we can not stop our push for continuous improvement across the district.
We can do both-tackle our deficit and build great schools and programs to make our district the destination district it is already becoming. Let's continue to advocate at the state level more assertively for a funding structure that puts our state in the top ten in the nation instead of the bottom quartile and also gives us a guaranteed funding source so that we are not guessing year to year about our finances.
Let's talk to our community about the great things we offer in our schools so every family in our district chooses a WCCUSD school.
Let's get WCCUSD kids to school each and every day and let's realize this will take some time and that we can do it. I thank everyone in advance for their cooperation and commitment to a bright future together.