Superintendent of Schools
Return to Headlines
Talk Supe Blog: What is Deeper Learning?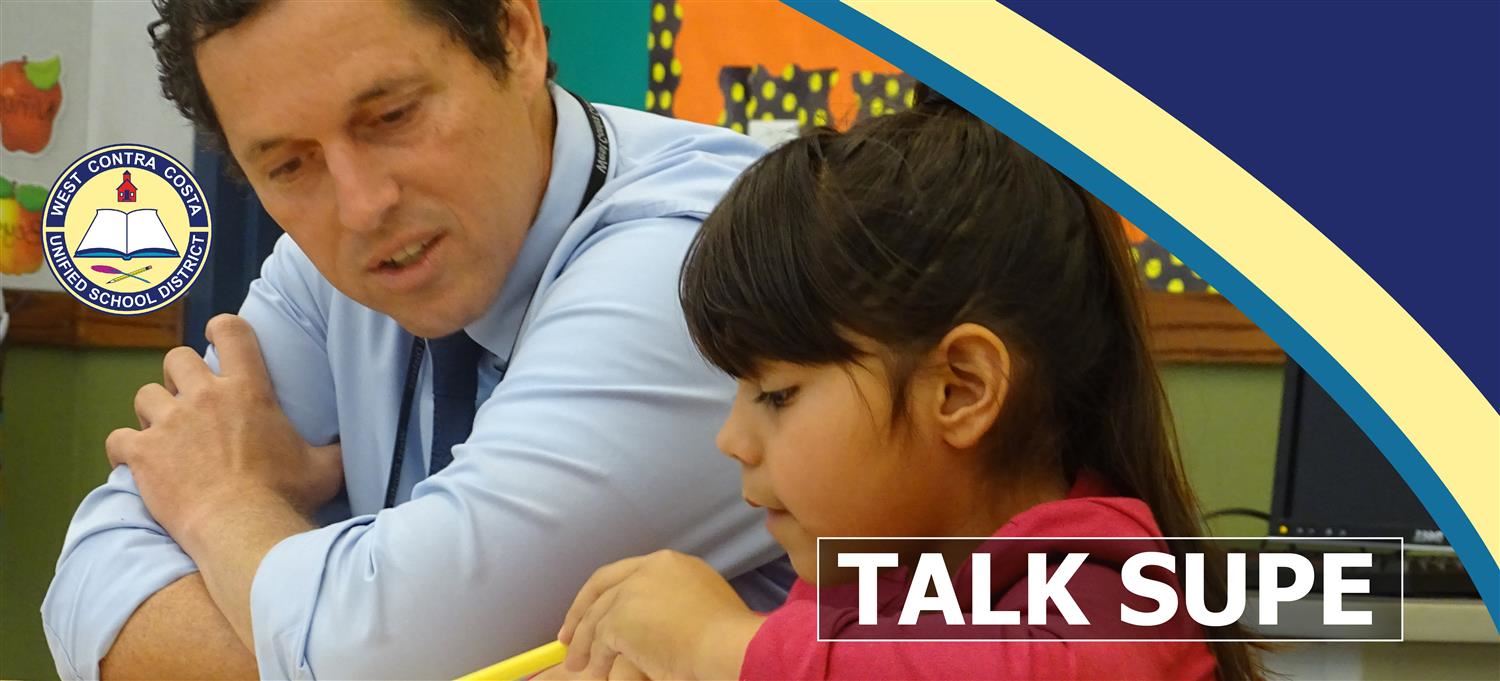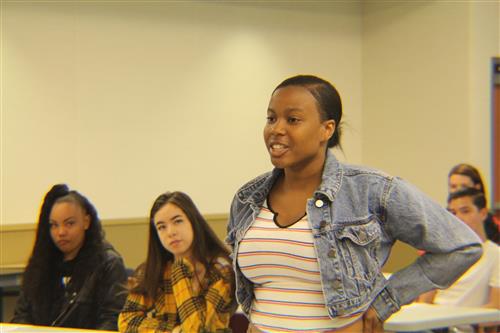 In my visits around WCCUSD, I am often reminded of the importance of communication and expectations. As part of the 2019-2020 school year, I am excited to write and share a blog that captures and communicates what I experience in this District, my beliefs, expectations, hopes and dreams. I plan to share observations, readings and other artifacts to help us continue learning every day.
I want to open this year with thoughts about Deeper Learning. Over the last five years, much has been written about Deeper Learning, which is an approach to building and growing learning in both students and adults. Deeper Learning is about ensuring that our students grow to be critical thinkers, problem solvers and great communicators. It is learning that is deep and not just surface memorization for a test, worksheets or "busy work."
Three questions help us understand Deeper Learning when we talk to students about their experiences in school and in class. Those three questions are:
Is the learning engaging?

Is the learning empowering?

Is the learning challenging?
Last year, I sat down with student focus groups at every high school in the District. Students had many important things to share. But one thing was very clear--the classes they loved the most were engaging, empowering and challenging. The classes they did not like were classes that, in their words, "did not make them think...solve...learn; they were boring."
All students in this District deserve and need rich learning experiences that push them to be deep learners. They deserve hands-on, experiential lessons where they actually do the learning rather than passively listening. It is in the doing that our brains grow and our learning accelerates.
Undeniably, many students need very direct and very explicit instruction, especially those who are behind. We need to sit one-on-one with students who need extra support and help them become better readers and writers. They might need an explicit phonics lesson or clarity on how to perform a mathematical operation.
Yet, if we are to build students who truly love school and want to be true learners, eager to solve problems, we need to give them experiences that allow them to go deeper than what's been traditionally practiced. And these experiences must put their voices at the center where they have opportunities to make some choices in what they want to learn and how they want to demonstrate their learning. They need opportunities to drive their own learning so they can own it. Once they own it, they carry purpose, responsibility and hope.
Some examples. At Montalvin Elementary, students participate in Student Led Conferences, upending the traditional report card night as students prepare, invite, and lead the parent conference. And students at Wilson Elementary are exploring how they learn best with flexible seating as they prepare for a brand new building in a totally flexible environment.
---
- "the classes (students) loved the most were engaging, empowering and challenging. The classes they did not like were classes that, in their words, "did not make them think...solve...learn; they were boring."
---
For many students, a very personal education happens in band class, debate club, robotics team and other "non-core" activities. We must take those experiences our students have in "non-core" activities and and make them our norm.
Sadly, what often happens is more privileged students are exposed to these types of experiences while students who have less privilege, less access to resources or who struggle academically receive more remediation with little access to deep learning, fewer opportunities to be creative and less voice and choice in their learning.
I have seen so many of our wonderful teachers throughout WCCUSD doing this work. Teachers have created thoughtful units of study for their students where the focus is on the learner, and I am eager to support teachers so they can continue to do this important work.
At DeAnza High School, I visited a pathway class where students played out a real life debate between union and management around whether workers in a hospital should join a union. At Peres Elementary School, I witnessed a set of students designing an exercise program, including new equipment to align to those exercises. At schools across this district, students participate in Writer's Workshop Publishing Parties where they use their communication skills to demonstrate deeper thinking about their work.
Students are not just future adults teeming with responsibility but also our future leaders, so let's start helping them own more now. Whether it is designing a new way to deal with congested parking at their local school or working with local leaders to create a plan to ensure wildfire safety or creating a set of recommended teaching strategies for first-year educators, it is students who are at the center of Deeper Learning and it is up to us to take our cues from them. This article from Teachthought gives a nice overview of simple steps we can take to provide enriching opportunities for students.
At the end of the day, we can't afford to leave our students disengaged, disempowered and unchallenged. They become bored and disillusioned, protest going to school, act out in class and at worst either drop out or just squeak by not ready for the world. So let's get used to asking our students these three questions about their learning experiences:
Was it engaging?
Was it empowering?
Was it challenging?
To be great educators, our teachers and staff need to be constantly learning too. They need to learn and grow along with students, planning these deep learning experiences, trying new units and projects. For our educators to do this well, we need to make sure they are well supported with time to plan and collaborate with peers and also to meet with students to give them important feedback about their progress.
So let's get behind our educators to build more deeper learning experiences for students this year. In the end, I think we will all be happier (and certainly prouder) when we see all of the impressive problems our students can solve when given the opportunity.