Return to Headlines
February 24 Update: Help Bring Antoine Whittley Home; COVID-19 and Schools Listening Session; COVID-19 Prevention Program
Happy Wednesday, WCCUSD Community,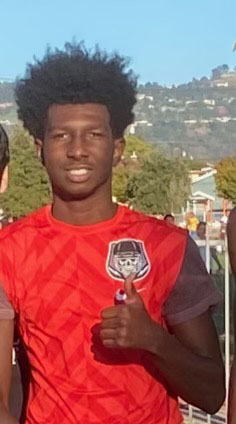 We are a few days early this week to highlight and help bring home Antoine Whittley. Today marks the two-week anniversary since we last saw Antoine, a junior at Kennedy High School.
It has been two weeks since Antoine's mom and father have been able to hug their son. Two weeks since friends have been able to hear his voice. Two weeks since his teachers and coaches have been able to see his smile. The WCCUSD communities impacted by his absence include Antione's Kennedy and RPAL football and basketball teams and his former schools of Nystrom, Harding, Pinole Middle, and Pinole Valley High.
Antoine was last seen Wednesday, February 10, at approximately 8:30 p.m. exiting a rideshare vehicle on the Richmond/San Rafael Bridge. He was wearing a black hooded sweatshirt, black/green pants with camouflage stripe, and a black COVID-19 facial covering. Richmond Police are offering a $10,000 reward for information leading to the safe return of Antoine.
If you have any information about Antoine's whereabouts, please contact Detective K. Palma at the Richmond Police Department at 510-621-1276 or email kpalma@richmondpd.net.
Please continue to do what you can to help Antoine's family, friends, and school community. Please share these posts on social media, and if you have time, the family continues to gather at 3 p.m. every day at Maine Ave and Marina Way South - the last place Antoine was seen by friends - to distribute flyers.
Again, please do what you can to help bring Antoine home.
This week also marks the fourth COVID-19 and School study session. The session is a community listening session scheduled for Friday at 6 p.m. via Zoom. You can access the meeting at bit.ly/wccusdcovid19schools, and the Board agenda is available here.
Tuesday night, we also released the COVID-19 Prevention Program (CPP) on our www.wccusd.net/return2school website. The CPP is a requirement by the state, but more importantly, it provides one place where we can show the safety preparation we have been working on since the fall. The CPP does not contain a return date, cohort sizes, or school/campus logistics, as all of those essential details will need to be figured out together with WCCUSD's labor teams.
Finally, there are two events I want to bring to your attention.
Tomorrow, Thursday, Feb. 25, we will host an informational meeting on the new Virtual School opening next year. Here is the Zoom information.
Saturday, there is a mobile COVID-19 vaccination clinic for individuals 65 years and older living in specific Richmond and San Pablo neighborhoods. John Muir Health, Supervisor John Gioia's office, and Contra Costa County Health Services are hosting the clinic. Individuals 65 years and over can contact Kate Rauch at 510-334-0885 or by email kate.rauch@bos.cccounty.us to register.
And again, please join us Friday at 6 p.m. for the COVID-19 and Schools Community Listening Session.
In community,
Matthew Duffy
Superintendent