Return to Headlines
Fine Tune: Richmond High Revitalizes Its Music Program
By Craig Lazzeretti
Special to WCCUSD
Aimee Cortez could easily tell something was amiss in Richmond High School's band room during her freshman and sophomore years.
"It was really empty, pretty silent, which is pretty ironic because this is the band department," said Cortez, now a sophomore at UC Berkeley.
Cortez was among a handful of students who wanted to revive an after-school band program at the school four years ago. They got their wish -- and much more -- with the arrival of Andrew Wilke, who in a few short years has transformed a long-dormant program into one bursting with vibrance, totaling more than 170 students.
Before Wilke's arrival, Richmond High hadn't fielded a stable band program since the 1980s. Today, it features concert, symphonic and jazz bands and, for the first time since 1976, an orchestra.
The concert and symphonic bands also make up the marching band, which has brought a new dynamic to Oilers football games.
"I remember before the first football game, the PE or dance teacher said this is the first time I heard the band play at a football game in 30 years," Cortez said.
---
"The kids adore him. He's an amazing mentor and he gives those students such purpose."
- Rita Zigas-Brown,
California Music Educators Association Bay Chapter Board Member
---
Wilke's feat has been all the more remarkable because of Richmond High's status as a Title I school with large numbers of students from low-income and disadvantaged backgrounds, making it all the more challenging to generate the money, support, and interest needed to build a band program.
His work also gained the attention of his peers in the California Music Educators Association Bay Chapter, who honored him this month with the Gilbert Freitas Award for emerging musical educators (fewer than seven years experience).
"I just think it's amazing what he's accomplished," said Rita Zigas-Brown, a CMEA board member and past president who nominated Wilke for the award.
The music director at Walnut Creek Intermediate School, Zigas-Brown first got to know the 31-year-old El Sobrante resident years ago through his work as a counselor and coach at the Hayward-La Honda Music Camp.
"The kids adore him. He's an amazing mentor," she said. "He gives those students such purpose."
That was clear to see in late December, when the same band room that had once stood eerily quiet was abuzz with activity, as musicians tuned their instruments and students and alumni chatted and bantered in anticipation of Richmond High's holiday concert.
"We went from a really quiet, small, tiny band to this huge band that just kept growing every year," said Cortez, one of the alumni on hand that night. "It's been really inspiring seeing all the students that have been added to the program."
Wilke, a 2006 Pinole Valley High School graduate who earned his degree from Cal State East Bay in jazz performance, had little to work with when Principal Jose De Leon brought him by to meet Cortez and the other students who wanted to revive the program. The school's only music classes were piano, and there were few if any instruments on hand. Unfortunately, the band room was filled with more than silence -- there was also plenty of clutter.
"The summer before I was officially here, I spent every day cleaning this building," he said.
De Leon has been struck by Wilke's passion and energy in building the program, noting that it's common to see him on campus from 7 in the morning until 6 or 7 in the evening.
"His strongest suit is his love of music," De Leon said. "It really translated over to the students. He was able to connect with them not only around music but personally to create a family atmosphere."
Cleaning might have been straightforward enough, but where to start in building a program wasn't immediately clear to Wilke, who was only a few years into his music teaching career and had most recently worked as an intern rotating among seven district elementary schools. There wasn't even much of a tradition to tap into; as a band member at Pinole Valley, Wilke would wonder whether any students at Richmond High played instruments, because the school never seemed to be represented at districtwide band events.
"There isn't a place like, let me go read this book on how do I build a band program at a Title 1 school," he said. "Since I didn't get my degree in music ed, I don't have a strong ed background, except just learning on the job. But one thing I did learn is that every band and music teacher has to make their own program. You have to have the vision and do what you think is right."
He started the process by creating beginning band classes and launching a fundraising campaign to buy instruments; an anonymous donor came through with a $96,000 windfall.
As important as the fundraising campaign, however, was the marketing one.
"That's part of the reason it's grown so fast," he said. "That was my first goal here, to get people to think the band is cool. We play a lot of Bay Area rap songs, and now we do a decent amount of Spanish music. A big part of it is having the community know we even exist."
The band has become a fixture at Cinco de Mayo parades and other community and regional events, including trips to Santa Cruz and UC Davis, and played at the opening for the new ferry terminal this month.
"That's been his biggest contribution, bringing music back to the community," said De Leon.
Each year, Wilke sends students to the La Honda camp.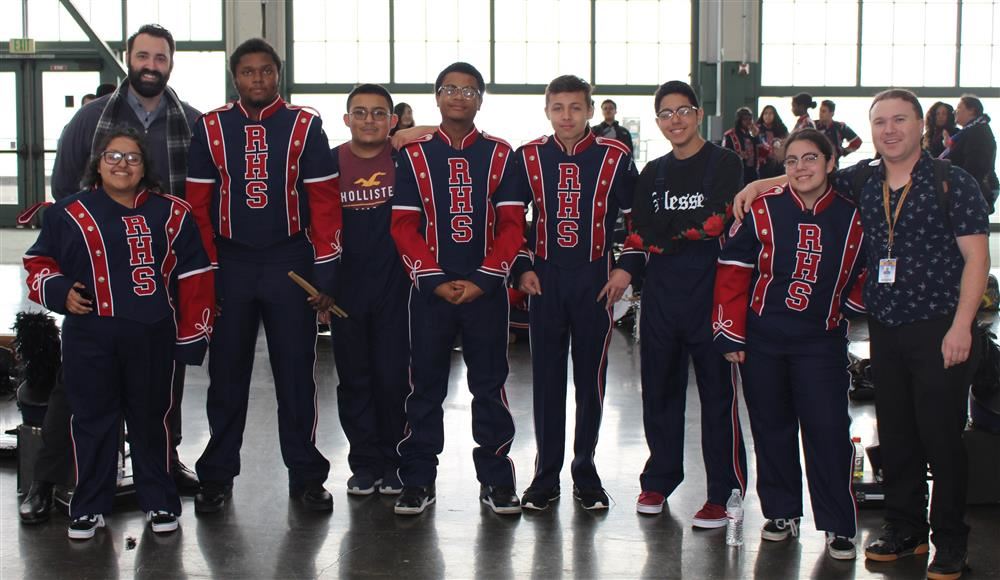 "He sees potential in everybody," said Nadia Thomas, a senior who plays flute and tenor saxophone. "If you're somebody not really used to showing it, he'll push you to come out of your shell and your comfort zone."
But Wilke's impact has extended far beyond music. The reinvigorated band room has become not only a place to make music but to develop relationships and at least temporarily escape the hardships of growing up in Richmond; and Wilke's role often is as much to comfort and console as to teach.
"Part of the reason this program has grown so quickly is because I've always made this room a safe place, and always welcomed them to stay here, hang out after school, hang out at lunch, just give them a place to feel safe and comfortable," Wilke said. "I've been teaching eight years now, and I've taught first grade through high school, so I've got a pretty good radar for kids in distress and sad faces and things like that."

Junior trombone and tuba player Angel Ceja calls the band room a "safe haven." "A lot of us from Richmond, we go through really bad things," he said. "Being here makes it easier for all of us."
Added senior alto sax player Luis Ramirez: "He's more than just a conductor for the band, he's more than just a teacher at Richmond High School. He's like a true friend to us. It's like family."