Return to Headlines
Richmond High School Unveils Internationals Academy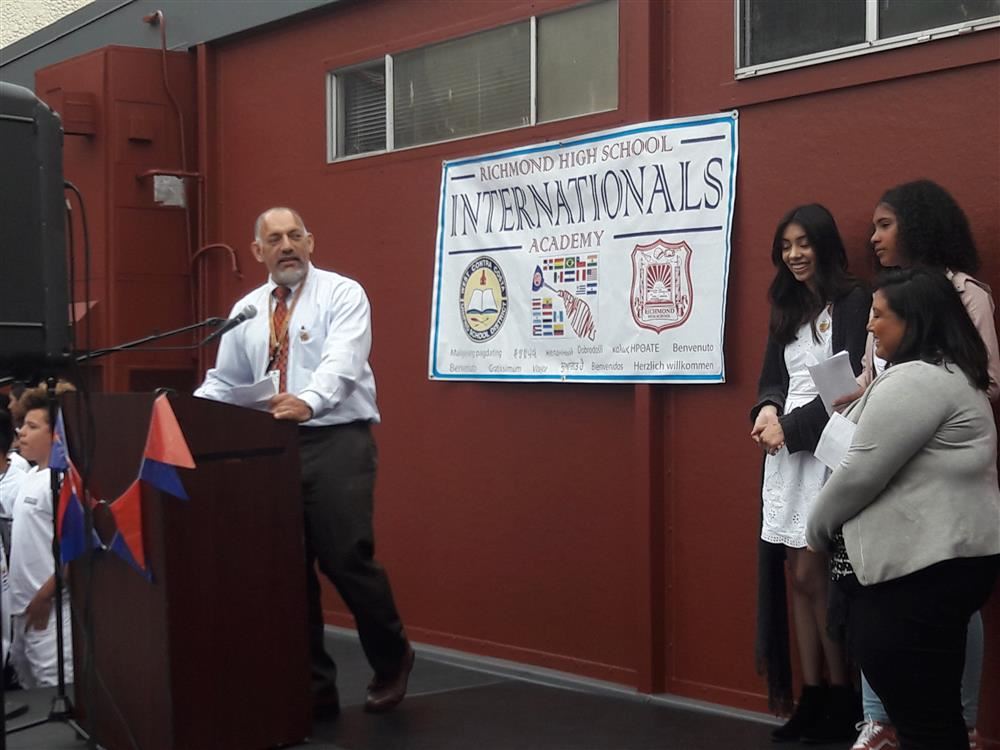 Check out Univision's coverage.
RICHMOND—Recently immigrated and refugee students in 9th and 10th grades at Richmond High School have the opportunity to adapt to a new culture, learn English, and take classes that prepare them for college and beyond.
In partnership with Internationals Network, the West Contra Costa Unified School District (WCCUSD) and its Multilingual and Multicultural Department opened Internationals Academy at Richmond High School, a program specifically designed to serve recently arrived immigrant and refugee English learners (ELs) and ensure that they reach high-level of academic achievements and complete the requirements to attend college when they graduate from high school.
Internationals Academy at Richmond High School opened its door this August to 60 students with room for 40 more. Under the leadership of Principal Jose De Leon and Assistant Principal and Academy Leader Rocio Reyes, Richmond High students now have a new program option that offers extensive opportunities for multilingual students in the District to prepare for college and careers.
The design of this new program is based on Internationals Network's innovative model serving EL students across the United States. It is one of three such programs west of the Mississippi River, joining successful high schools in San Francisco and Oakland.
"Internationals Network is thrilled to begin this new collaboration with WCCUSD and support their ongoing efforts to better serve English learners at Richmond High School," said Joe Luft, Executive Director of Internationals Network, which supports 28 schools and academies nationwide.
The partnership is designed to increase services and improve academic outcomes for immigrant and refugee youth in West Contra Costa County.
"Our district serves a diverse group of students with a wide range of needs. Opening the International Academy at Richmond High School will provide the resources and supports these students need in order to thrive academically and socially," WCCUSD Superintendent Matthew Duffy said. "We want to ensure that these young people are reclassified as fluent English speakers and fully qualified for college. The success of this program will be a model for schools throughout the District, and I am looking forward to seeing the impact it will have on student achievement."
The program will support recently arrived immigrant and refugee English learners as they strive to become qualified to attend a University of California or California State University school when they graduate.
Internationals Network's innovative model has been developed by expert practitioners in EL education and is grounded in 34 years of school-based experience and research-based evidence. At International schools and academies, it is understood that near native fluency in English and proficiency in a second language are valuable resources when achieving professional and social success. Classes are interdisciplinary and rigorous where integration of language development and academic content is focused. Internationals Network's model also includes high-level critical thinking and project-based learning to create classroom environments of high student expectations, engagement, and performance.
In New York City, where Internationals Network was founded in 2004, the graduation rate of Internationals Network's NYC schools far exceeds, 77 percent versus 33 percent, than for those English learners not in the network program.