Return to Headlines
PVHS Senior Named County Student Humanitarian of the Year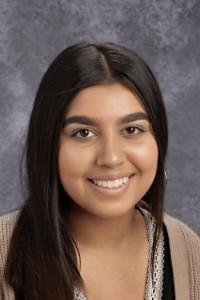 It was a normal day at Pinole Valley High School last fall when Yassna Ahmadi heard an announcement over the intercom asking her to report to the principal's office.
"I thought, 'What did I do wrong?'" the 17-year-old senior said.
Quite to the contrary, the reason Principal Kibby Kleiman had summoned her was to discuss what she had done right.
Impressed by the forceful and dignified role she has played as a student and community leader, focusing attention on issues of social justice and human rights, Kleiman told Yassna he wanted to nominate her as the Contra Costa County Student Humanitarian of the Year.
A few weeks later, Yassna got another call to Kleiman's office informing her that she had been picked as the winner for 2019.
"I truly couldn't contain my excitement," Yassna said. "I told my sister, who's a freshman, and all my friends, and they were so excited for me. I'm very privileged to have received this prestigious award."
An honors student and Pinole Valley's senior class president, Yassna found her voice for activism, writing stories on issues such as immigration and LGBTQ rights for the student newspaper, Spartan Ink. She joined the paper after a fellow student noticed her thoughtful posts on social media and invited her to write for the new publication.
As a sophomore, she started a political revolution club at the school to help give other students a voice on issues concerning them following the divisive 2016 election. And after the high school mass shooting in Parkland, Florida, last year, she mobilized fellow students with a memorial and walkout to call attention to the issue of gun violence and school safety.
Kleiman credited Yassna with spurring school leaders to action on the issue of school safety by organizing student actions that sent a firm message without succumbing to inflamed emotions and anger.
"There were very strong feelings at that moment that could have veered out into any number of directions," he said. "Yassna was instrumental in organizing a thoughtful and thought-provoking student action. It was that tone to say we're all in this together, and we need to work on this together. It was symbolic of her approach to say let's create alliances where there may be divisions."
And it made a difference, Kleiman said. After the rally and walkout, the school took a closer look at its vulnerabilities being housed in portable buildings while its new campus is constructed, and put new policies and safety measures in place.
"It kind of inspired us to get off our tails and say the kids are concerned about this," he said.
Contra Costa County Supervisor John Gioia said it's fitting that the student and adult Humanitarians of the Year are honored each year during the Board of Supervisors' annual Martin Luther King, Jr. Day celebration.
"Their work is really demonstrative of his legacy," Gioia said. "She's worked to bring together the diverse student community at her school. To me, that was the overarching theme, being a bridge between the different communities of her school and being an advocate for treating the diverse community, everybody, with respect and being tolerant. She exemplifies Dr. King's spirit of fairness and justness and equity."
Yassna received her award during the county's 41st Martin Luther King, Jr. Day celebration last month.
She credits much of her inspiration for social activism to her parents, refugees from Afghanistan who came to the United States in 1979 following the Soviet Union's invasion of the country. She says they taught her and her sister that "whatever we do, we should pursue our dreams and treat people with kindness."
A professor of Persian literature in the Department of Near Eastern Studies at the University of California at Berkeley, Yassna's father, Wali Ahmadi, is living proof of the American Dream, and she is eager to see others get the same opportunities.
"As we've noticed from the past, refugees and immigrants help build up societies and bring everybody together, so they deserve to be here, just like my parents did," she said.
Last summer, she assisted her father in preparing materials for his classes and performed clerical duties to help the department prepare for the new academic year.
Wali Ahmadi said he knew from Yassna's interest at a young age in the wider world that she would be active in trying to make a difference for others. He also credits the faculty at Pinole Valley for providing an atmosphere where she could "grow and think critically."
"We see she's a young woman of her own thoughts," he said. "That makes us quite proud, that she's found her own way now and she's thinking for herself."
- Craig Lazzeretti,
Special to WCCUSD