Return to Headlines
West Contra Costa Unified to Host HBCU Recruitment Fair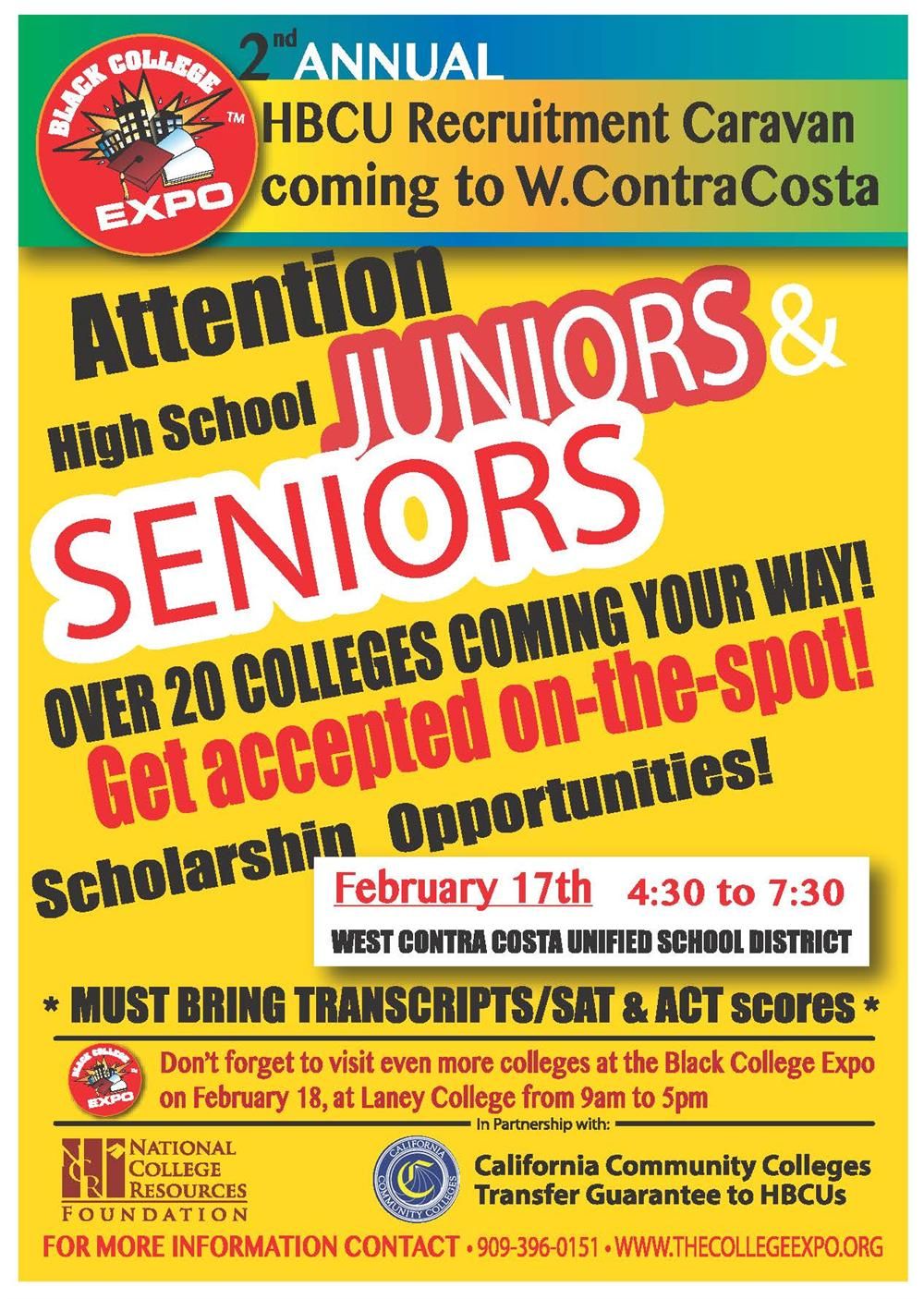 RICHMOND—The West Contra Costa Unified School District in partnership with the Black College Expo will host the 2nd Annual HBCU College Recruitment Caravan on Friday, February 17, 2017 from 4:30 p.m. to 7:30 p.m.at Richmond High School for juniors and seniors interested in pursuing higher education at a historically black college or university.
Over 20 colleges will be represented at the college recruitment fair offering college applications, scholarship and internship opportunities, and students may get accepted on the spot.
Students are encouraged to bring five copies of their high school transcripts, SAT and/or ACT scores, two letters of recommendation from their teachers and/ or counselors, and take advantage of colleges that may waive application fees.
The Black College Caravan is an extension of the Black College Expo that will take place on February 18 at Laney College in Oakland from 9 a.m. to 5 p.m. The caravan aims to provide assistance specifically for WCCUSD students to gain assistance with college preparation and readiness.
For more information, please go to the College Expo website at http://thecollegeexpo.org/oakland-black-college-expo/ or call (909) 396-0151.
Who: High school juniors and seniors in the West Contra Costa Unified School District.
What: Attend the college recruitment fair featuring historically black colleges and universities across the United States; apply for colleges, scholarships and internships.
Where: Richmond High School, 1250 – 23rd Street, Richmond, CA 94804
When: Friday, February 17, 2017 from 4:30 p.m. to 7:30 p.m.