Return to Headlines
ECHS Debate Team Wins State Championship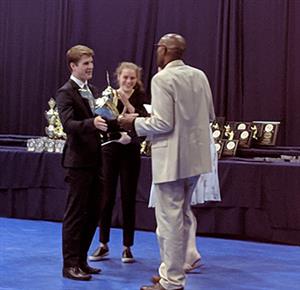 El Cerrito High School juniors Audrey Dowling and Maxime St-Jean won the 2019 California High School Speech Association State Championship in parliamentary debate on Sunday, May 6, in Long Beach. They competed in a field of 65 teams, which had been selected out of more than 300 teams from regional qualifying tournaments across California.
Parliamentary Debate, the most popular form of debate in California, requires debaters to argue a different topic every time, with only 20 minutes preparation time. The El Cerrito pair showed skill and stamina in the three-day tournament, which tested the debaters on Value, Fact, and Policy topics. Topic areas at the championships included Civil Rights and Poverty, the US Economy, Natural Resources, Science and Technology, International Trade, and Immigration.
AnnMarie Baines, former speech and debate coach at ECHS and Founder and Director of The Practice Space in El Cerrito, said, "Maxime and Audrey are both amazing speakers and such humble people and supportive coaches to their peers… they absolutely deserve this honor."
This is another big prize for the ECHS Speech and Debate Club, which has a 54-year history of success at the state and national levels, and has boasted both state and national champions in the past.
"It was a phenomenal performance. ...they argued brilliantly round after round, racking up undefeated records at both the qualifying tournament and the state championships," said Joel Jacobs, an environmental lawyer who has coached the El Cerrito High debate team for the past three years.
Dowling and Jacobs won the final round decisively, defeating Los Osos High School from Rancho Cucamonga, arguing that the United States Department of Homeland Security Immigration and Customs Enforcement (ICE) should terminate its contracts with private prisons. The duo was one of two undefeated teams entering the elimination rounds, winning the ballots of all eight judges who decided their contests in the preliminary debates. Earlier in the school year, the pair won the Jon Schamber Invitational at the University of the Pacific, and is ranked 7th nationally.
Five other El Cerrito competitors qualified and attended the State tournament in speech events: senior Aaron Moore in Thematic Interpretation, junior Devyn Barram in Dramatic Interpretation, sophomores Isabella Rossi and Rosalie Zuckermann in Duo Interpretation, and freshman Anna Abernathy in Original Poetry and Prose.
The California High School Speech Association has more than 300 member schools, both private and public. Some schools have oral communication classes, while others have only a co-curricular presence. El Cerrito High School has a co-curricular program supported entirely by a parent-run fundraising group, Friends of El Cerrito High School Forensics.
Rising middle and high school students interested in improving their communication skills can attend top-tier summer debate and speech camps through The Practice Space in El Cerrito. (https://www.practice-space.org). The debate camps will be taught by the coach of the California State Champions, Joel Jacobs. Camps on confidence-building, presentation, storytelling, and persuasive speech are taught by AnnMarie Baines and guest instructors, all of whom are graduates of the El Cerrito High Speech and Debate Team.