Return to Headlines
Serving the Whole Child: James Morehouse Project Celebrates 20th Anniversary
By Craig Lazzeretti
Special to WCCUSD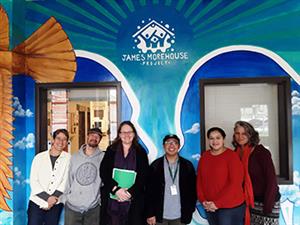 Two years ago, Odalis Davalos had lost her way at El Cerrito High School. An immigrant, she had spent several years in her native Mexico before returning to the United States for her freshman year, and the struggle to find her place in a new culture and school had taken its toll.
"I had no interest in doing work, I didn't care about my grades, I didn't care about my future at all," Davalos, now a senior, said.
Like so many El Cerrito High students over the past 20 years, Odalis found the path forward within the supporting framework of the James Morehouse Project (JMP).
Since 1998, the school wellness center has been serving the physical, mental, and emotional needs of ECHS' diverse student body, as well as their teachers and families. Odalis not only took advantage of the center's medical and dental services; she also found the guidance to believe in herself and her future.
"They were like, 'Life is beautiful, and problems are there to solve them,' "said Odalis, who has been active in the school's Youth English Learner Advisory Committee (ELAC) program advocating for more resources for English learners. "At that moment, I was too negative to see that, but they made me realize the truth, that life is beautiful. They were there to support me and listen to me."
On Jan. 31, the James Morehouse Project marks its 20th anniversary with a celebration event at ECHS from 4:30 p.m. to 7 p.m. (including a brief program starting at 5:30 p.m.). While society in general and teenage life in particular have changed radically over those two decades thanks to technology and evolving social conventions, the impetus behind the project remains as true today as it was then: to provide students, family and school staff the support needed to navigate the challenges of growing up in a complicated world where stress and trauma can create inescapable burdens.

It all started when JMP Director Jenn Rader, then a classroom teacher, was asked to run an after-school support program for students who were struggling. It did not take long to realize there was a need for something bigger.
"It was my experience as a classroom teacher that a number of students coming to school couldn't connect with classroom learning," Rader said. "It wasn't because they didn't have the academic skills. It was clear that there were other things that were getting in the way of their being able to engage with classroom instruction.

"We wanted to create a resource that would provide the support that these students needed to then be able to engage with their learning and be successful in school."
Helped by a state grant, the ECHS Community Project was born. Its beginnings were humble, at first operating out of Rader's classroom, along with book rooms and utility closets. Eventually, almost $500,000 was raised to convert the old wood shop at the original ECHS campus into a standalone wellness center. That old campus was razed in 2005 for seismic issues. When the new school campus was designed, students, staff and families successfully advocated for the JMP to have a dedicated space equipped with medical and dental facilities and counseling offices to continue and expand upon its mission.
In addition to getting a new home with the opening of the new campus in 2009, the program was rechristened the next year as the James Morehouse Project in honor of the former ECHS staff member who mentored and inspired two generations of staff and students from 1968-2003.
Over the years, the project's impact has been felt well beyond the walls of its offices in A-210, or even the ECHS campus. The JMP also provides counseling support at Stege Elementary and Korematsu Middle School. Its wellness center model, along with the Communities in Schools model at Richmond High School, has inspired similar efforts at high schools throughout the West Contra Costa Unified School District.
On a normal school day, the JMP is a hive of activity, with students, staff and school faculty in constant motion. With an annual budget of $460,000 from local, county, and state sources, the JMP employs six staff members and as many as 10 graduate student clinical interns who provide therapeutic and counseling services.
Through the center's partnership with Contra Costa Health Services, students can receive physical and dental exams, vaccinations and reproductive health services on site.
"When we brought together Kaiser (Permanente) and some other folks to look at plans to do other clinics, we pointed to the success of the James Morehouse clinic to show the benefit that an on-campus clinic has to the students," said county Supervisor John Gioia, who represents much of West Contra Costa County. "What I've heard from community members and those that use these clinics is it results in students missing school less often because they don't have to go off campus to see a doctor. They can visit the clinic during the lunch hour and school day."
The center is filled with symbols of both the hardships and resilience that can mark the youth experience. A memorial table and wall serves as a remembrance of former students who have passed away and the loss felt by the ECHS community, while posters elsewhere trumpet the promise of youth with slogans such as "We the People Protect Each Other" and "We the Future." A white board chronicles the various student groups that reflect ECHS' status as one of the state's most diverse student bodies: young women of color; an Arabic-speaking girls group; young men exploring masculinity and relationship issues.
Assistant Principal Eric Mapes serves as a key conduit between the school administration -- and broader school community -- and the JMP. On this day, he has already referred three students, all dealing with different issues, to the center.
"When I accepted the job, I knew I needed to get to know everybody here because of the important role that they play in the social and emotional well-being of our kids," Mapes said. "It's a safe spot, and there's not that many on campus. No one is saying, 'Why are you in the hallway,' no one is saying, 'Sit down, where is your homework?' It's just a place where you can go and take a break."
But JMP staff members do much more than serve the students who show up in A-210. The project also pushes outward to bring its resources and services to students and staff alike.
One way is through the "Culture Keepers," ECHS students who partner with adult staff to mentor fellow students and create a more positive school climate. In partnership with the Niroga Institute, Culture Keepers lead mindfulness practices in classes to relieve stress and promote emotional well-being. They also make presentations on sexual harassment and facilitate peer conflict mediations.
Senior Namon Oden is one of the students who both benefited from the mindfulness meditation sessions when they were presented to him, and is now one of the Culture Keepers leading them.
"It really helped me cope with relieving stress because at the time, I didn't know it, but I was dealing with so much stress on my back," he said. "Just having to deal with a lot of things that were going on at home and personal issues. Even this year, just dealing with a lot of school work and applying to colleges and getting reading for college, just getting ready for the real world gives you that kind of stress. Mindfulness will actually help me a lot."
Fellow senior Zoheab Amin, another Culture Keeper, also says the experience has transformed his life. Like Namon, Zoheab found mindfulness exercises to be a tonic for the anxieties and stresses that plagued him earlier in his high school experience.
Likewise, becoming a Culture Keeper has helped him to overcome social anxieties and develop relationships.
"Before I did this, I was a really shy and quiet person," he said. "Now,, I've been more comfortable just talking to people. Running into people, they say hi to me, I can start a conversation with people. Going into classes too, teaching them, that really built my confidence up."
Rader says the benefits go both ways, with JMP staff also learning from the students.
"As an adult, the opportunity to work with students like Zoheab and Namon or Odalis, that makes me love coming to work," she said. "I get to come here and work with wonderful young people and be inspired by their energy and their insight. It helps me learn; it helps me think about what's important to me."
Perhaps no one is more appreciative of the impact the JMP has had on the student body than the ECHS faculty who see kids in distress every day and know that they have a place to turn to for help.

"I love to support (students) as much as I can, but in my classes I have 38 students in general," visual arts teacher SoYoung Jun said. "A few individual students really need a lot of support. That's where I ask for help from the JMP.
"Several students I see are in danger of cutting or quitting school. Those students come back because they have a place to breathe and be more comfortable."
The JMP's services are not limited to students. Yet another component of the project is its professional development program that supports and trains teachers on issues such as implicit bias and structural racism.
Both Jun and math instructor Louise Ollano say the project, through the mindfulness and professional development components, has made them better teachers.
"I find myself turning to mindfulness practices to de-stress and deal with my more challenging students/situations," Ollano said in an email. "The race and equity (professional development) has been going on for a few years, and it has allowed me to reflect upon my own implicit biases and how it affects my teaching students of color."
Families also benefit, said social work counselor Lucero Garcia, who has been on the JMP staff for four years. The center is a valuable outlet in particular for members of the immigrant community, who may not be familiar with the workings of the school system.
"Something as simple as 'I get a call that my child is going to be absent, what do I have to do?,' " Garcia said. "Which is something simple for other families, but for our families, it's a lot harder. 'Who do I contact because of grades (when) my child is getting bad grades.' That is the bridge we do with our school, really bringing the resources to our families."
The JMP has become such an integral part of the ECHS community, serving so many people in so many ways, that it seems void of the traditional stigmas that can be easily associated with "wellness" centers designed to serve those in need, especially when it comes to mental health.
During the 2017-18 school year, the center reported 5,041 client visits, 82 percent of which were for individual or group counseling.
To many, accessing the services of the JMP is a sign of coolness, not weakness.
"There are often students just milling around and come in to chat," said Rachel Krow-Boniske, a graduate student intern studying social work at Smith College in Massachusetts. "I was talking to a student this morning who was saying, 'At first I had to get used to telling people, but now it's fine, because people know the JMP. When people ask me where I am, I tell them,' which I really love. It's a public part of the school, and a lot of people know and use it."
For Davalos, the ECHS student, an opportunity to spend even more time at the place that turned around her high school career was a perfect perk to her senior year.
"I had a choice to be (student worker) for any teacher that I wanted, but I wanted to be in JMP because I love the environment there," she said. "Just saying hi to people and noticing people, it means a lot to me. You're not alone."