Return to Headlines
Signing Day: Four WCCUSD Athletes Off to College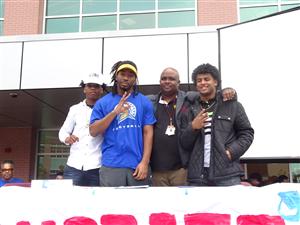 The last time De Anza High School had multiple football players receive athletic scholarships to play in college, head coach Tyree Reed was a player on the team. More than 20 years later with Reed as the Dons' head coach, the school had another class of multiple players receive scholarships to play at a four-year university.

In front of a packed student body, seniors Loren Calhoun, Devon King, and Rico Tolefree each signed a National Letter of Intent at a lunchtime ceremony on Wednesday in the De Anza High School quad.

"I tell my kids that I don't promise you will go to college and play football, but what I do promise is to get you to college, so you have a chance at a better life," Reed, a 1994 De Anza graduate who finished his first season as head coach, said. "If you happen to play football and make it as a professional, that is great, but my job is to get you to college and an education."

Calhoun signed to play at New Mexico Highland, and King and Tolefree stayed closer to home with scholarships from UC Davis and San Jose State, respectively.

In all, the West Contra Costa Unified School District had five student-athletes receive football scholarships to continue their academics and athletic careers in college.

El Cerrito's Aaron Banks signed with Notre Dame back in December and enrolled early at the University in January. Damon Cole, Banks' teammate, also signed on Wednesday, accepting an offer to further his academic and athletic career at Boise State. El Cerrito is expected to have an event for Cole next week.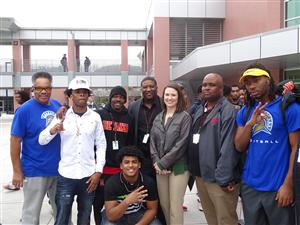 "I loved the winning culture at Davis," King said. "They are the Big Sky champs and the school has rigorous academics."

King picked the Aggies over Sacramento State and Cal Poly.

Tolefree said San Jose State felt like home for him, and he decided on the Spartans over Boise State and Fresno State. "It didn't feel real until today," Tolefree said. "Signing those (papers) today made it tangible and real."

Calhoun said he is looking forward to helping the Cowboys build a program and rebound from a tough year. "I never thought I would go to college," Calhoun said. "But then my parents put me in football, and I learned about commitment both to sports and academics. I am excited for this opportunity."

The trio helped turn around the Dons' program both on and off the field. De Anza improved from 5-15 when Calhoun, King, and Tolefree were freshmen and sophomores to 11-10, including two trips to the playoffs as juniors and seniors.

This year the team also raised its grade point average from 2.4 to 3.3, led by King's 4.0.