Return to Headlines
WCCUSD Students Take First Step in Their Healthcare Careers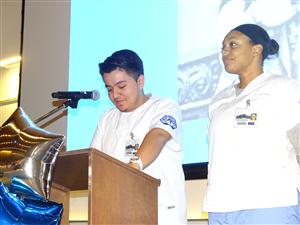 SAN PABLO -- De Anza High School's Tylisha Scoggins has known since childhood that she wanted to be a surgeon. For Richmond High School's Fredy Cruz, it took a bit longer. It wasn't until Fredy shadowed a surgeon during his junior year that his mind was set.

Monday, the senior duo completed the first step in their medical careers, graduating from Contra Costa College's Nurse Assistant Certification and Home Health Aide Program. Tylisha and Fredy were two of the 14 West Contra Costa Unified School District seniors that graduated from the program in a pinning ceremony on Monday, Dec. 12, 2016 at Contra Costa College.

"I can go out and do anything I want now," Tylisha said. "This is just a stepping stone and I am thankful for this program. Now, I have a chance in life."

Fredy had similar thoughts, "This is that first step in the medical field," he said. "I know what I want to do and this gave me a firsthand view of the medical field."

Assistant Superintendent of Human Resources Ken Whittemore addressed the graduates.

"I hope that you all continue in this profession," Whittemore said. "We need you and you have taken the first step. The dedication and time management you have shown is incredible."

The Health Academy Pathway has had four cohorts graduate from the CNA/HHA program. WCCUSD offers its students six different pathways (Performing Arts, Engineering, Health, Information Technology, Law, and Media). According to 2016 data, students in College and Career Pathways had a higher graduation and college attendance rates.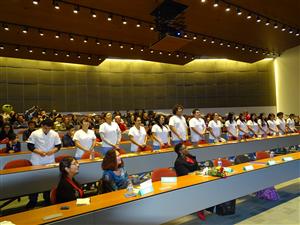 "I look at this as an opportunity to get experience on how to deal with patients and how to give them care," Pinole Valley High School senior and program valedictorian Christopher Ramos said. "I will use all of what I learned on my journey to become a pediatrics nurse."

The CNA/HHA program is run jointly by WCCUSD and Contra Costa College. The program is part of WCCUSD College and Career Pathways, which aims to link career-technical education, rigorous academic coursework, and experiences that show students the relevance of education to their future, while teaching them the academic and employability skills they need to be successful in both college and career.

The 14 seniors that graduated from the program on Monday are enrolled in the Health Pathways Program and attend either De Anza, Pinole Valley, or Richmond high schools. The students spent five days a week for the past four months taking classes at their respective high schools and Contra Costa College.

More information on WCCUSD's College and Career Pathways is available at this link. To view a photo album of the ceremony, please click here.


2016 Nurse Assistant Certification-Home Health Aide Program Graduates
De Anza High School
Salmazteca Alvarez
Jennifer Farias
Mildred Heredia
Collen Magpantay
Ezequiel Ramos-Rivera
Tylisha Scoggins
Klaire Soungpanya
Angel Uribe
Pinole Valley High School
Richmond High School
Lidia Resendiz
Ana Morales
Fredy Cruz
Joanna Gudino
Jessica Enriquez