Return to Headlines
Friday, May 24, 2019
8th Grade Promotion
Promotion will be held on Thursday, Jun 6, 2019, beginning at 10:00 am in the gymnasium of Lovonya DeJean Middle School.
Doors will open at 9:20 am. No strollers and balloons permitted.
Friday, March 1, 2019
The month of March is Art is Education and Women's History Month.
Daily, students will be announce contributions made to our country by women which have helped improve our daily lives.
The 3rd Annual Art in March Education Extravaganza will be held on Saturday, March 16, 2019 from 10:00 am - 2:00 pm at DeJean Middle School. This is a free event for the entire family...please attend and do art, drumming, theatre arts, and more. Lunch is free.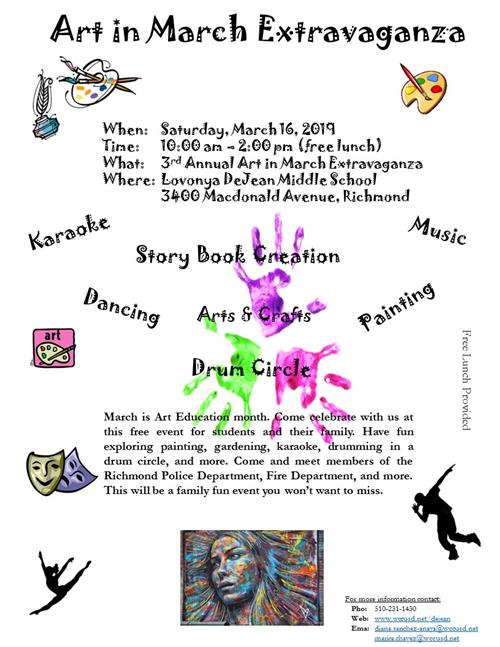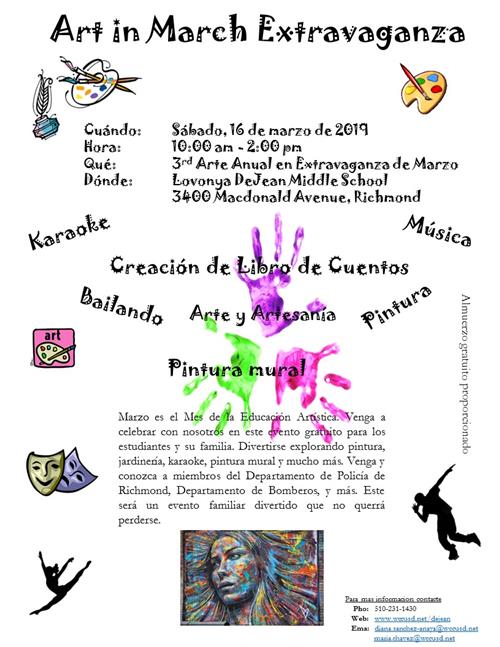 School Site Council (SSC) meeting will be held Tuesday, March 12, 2019 in the Parent Center B104 at 3:30 pm.
---
Dear Lovonya DeJean Middle School Family Member,
We are excited about the school year and the events for Black History Month.
The Families of African American Students Team (FAAST) will be hosting a family meeting on Tuesday, February 12, 2019, beginning at 6:30 pm. Please join us in the Multi Purpose Room to discuss events and activities for families of African American Students. Click here for more information and to RSVP
Our First Annual African American Read-in will be held on Tuesday, February 26, 2019. Invited guest such as the WCCUSD Board of Trustees, Richmond City Council, the Chief of Police for Richmond Police Department will be reading a book from an African American author and then telling students about themselves.
We are looking forward to providing a rigorous educational program for your student, and challenging them academically, all in preperation for high school which will be their pathway to college and career. Our school offers a full academic program with traditional core classes, enriched by electives such as band, engineering, and career pathways exploration. We host an after school program for children to receive additional assistance with homework as well as enrichment classes.
Together, we can help your student be successful in middle school, all the while preparing them for their high school adventure along with exposing them to ideas about college and career. Feel free to contact me, knowing that email will be the best way…understand that my first priority is DeJean students and being out on campus.
On behalf of Assistant Principal Ms. Valdez and Assistant Principal Mr. McClymont, the entire Faculty and Staff of Lovonya DeJean Middle School, and the WCCUSD, we look forward to working together.
In solidarity,
Principal, Lovonya DeJean Middle School
Home of the Mighty Alpha Wolves