Return to Headlines
Living History: King Elementary School Recreates Freedom March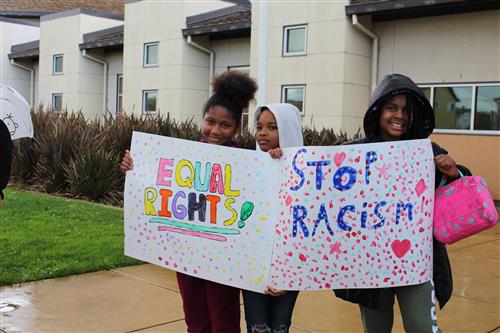 The Dr. Martin Luther King Jr. Elementary School community came up with a unique and engaging way to celebrate Black History.
The school community led by Principal Joey Sundberg and her team culminated Black History Month with a Freedom March from King Elementary to the city of Richmond's Civic Center Plaza.
"Today was one of those days you live for as an educator," Sundberg said following the march. "We made history live and gave kids a path to have their voices heard. The kids asked why people were honking and I told them that it meant people supported them and their little faces lit up."
King had originally planned to do a parade but the staff thought a "reenactment" of a march would be a great way to let kids experience how they can make their voices heard and how they can get people to pay attention to an issue that is important to them.
So, students in the upper grades made posters that read "Black Lives Matter", "Families Belong Together", "Equal Rights" and "Stop Racism" and marched west from the school on Florida, up 37th Street and then west on Macdonald Avenue. A group of Kennedy High School students joined at King for the march and along the way, the marchers stopped to pick up a group of Lovonya DeJean Middle School students. The students chanted "S-U-C-C-E-S-S that's the way you spell success" and "Power to the people" while marching and passing cars honked their horns in support.
At Civic Center Plaza, the marchers were met by Coronado students, who made the trek from their school on Maine Avenue. Once at Civic Center the group heard spoken word from Kennedy High School students, a song from Sytha McCray's 6th grade class at Coronado, a rendition of Maya Angelou's "Still I Rise" by King student Mi Niyah Brown, and a speech from Board Member Mister Phillips.
"When we got back to school and some of the toughest kids asked when we could do that again. That made everything worth it," Sundberg said. "We had community people, district people, and families there and it was amazing. While we were on the street, our primary grades made posters and marched at school. Can't wait for next year."
Check out a video slideshow of the day.