Return to Headlines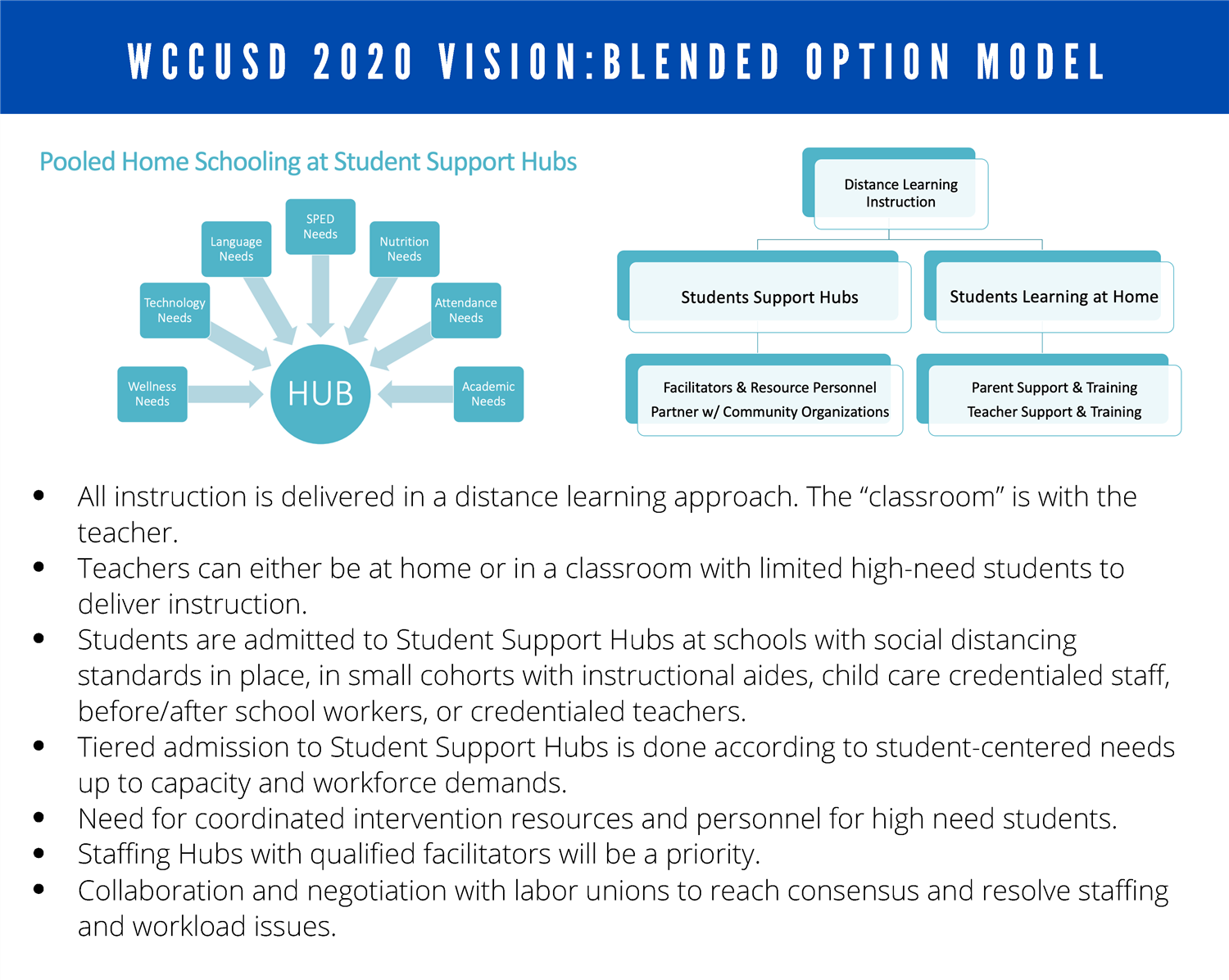 Instruction in the West Contra Costa Unified School District will be in a distance learning format with a phased approach to bringing students back to a physical campus when school resumes on August 17, according to a draft framework released today.
The framework outlines a phased approach to bringing students back to physical campuses when it is safe for both students and staff.
"The proposed framework is based on the tremendous amount of input we've received and balances safety concerns with the needs of the students and families we serve," Superintendent Matthew Duffy said. "We hope this is an opportunity to serve the students who need the most support while following the health and safety guidelines issued by local, state and federal health officials. From the feedback we've received, it is clear that safety and equity are the two main priorities for this community."
More details will be shared at a virtual Town Hall on Friday, July 10 at 5:30 p.m. Members of the community can participate by logging into Zoom at https://zoom.us/j/94137692306 or by calling (669) 900-6833 using Meeting ID 941 3769 2306.
Based on this model, some high needs students may be on campus beginning August 17, while all other students will continue learning at home. This means that all families should be planning for at home instruction while the District works to bring students back to school safely. Under this model, in Phase 1 all instruction is delivered in a distance learning approach. The "classroom" is with the teacher, who can deliver instruction either from home or in a classroom with a limited number of high-need students.
In Phase 2, school buildings could be used as Student Support Hubs where small groups of students would be able to access distance learning with the support of instructional aides, child care credentialed staff, before/after school workers, and/or credentialed teachers as well as other staff to be determined. All social distancing and safety precautions would be in place for those students and employees who are on campus. The District will revisit the program as the COVID-19 situation improves, with the goal of expanding Phase 2 opportunities towards moving to a full in-school model as the conditions allow. This analysis will happen along the natural reporting periods throughout the coming school year.
"Many students need to be at school for a variety of reasons: more engaging educational opportunities, socio-emotional support, access to meals and health care," Duffy said. "However, with the rising number of COVID-19 cases in California since the easing of restrictions, it is clear that asymptomatic transmission in close quarters is a key concern. In all good conscience, the safety of students and staff must be our top priority."
More details about the draft framework can be found at www.wccusd.net/return2school.