African American Student Achievement
Return to Headlines
Parent/guardian engagement workshops
Monday, November 8, 2021 / 6:00 pm / Via Zoom
Join Zoom Meeting
https://wccusd.zoom.us/j/91413656110?pwd=dWxQUE5rT2h5a1FvSVRHcHREMmRXUT09
Meeting ID: 914 1365 6110
Passcode: 859922
One tap mobile
+16699006833,,91413656110#,,,,*859922# US (San Jose)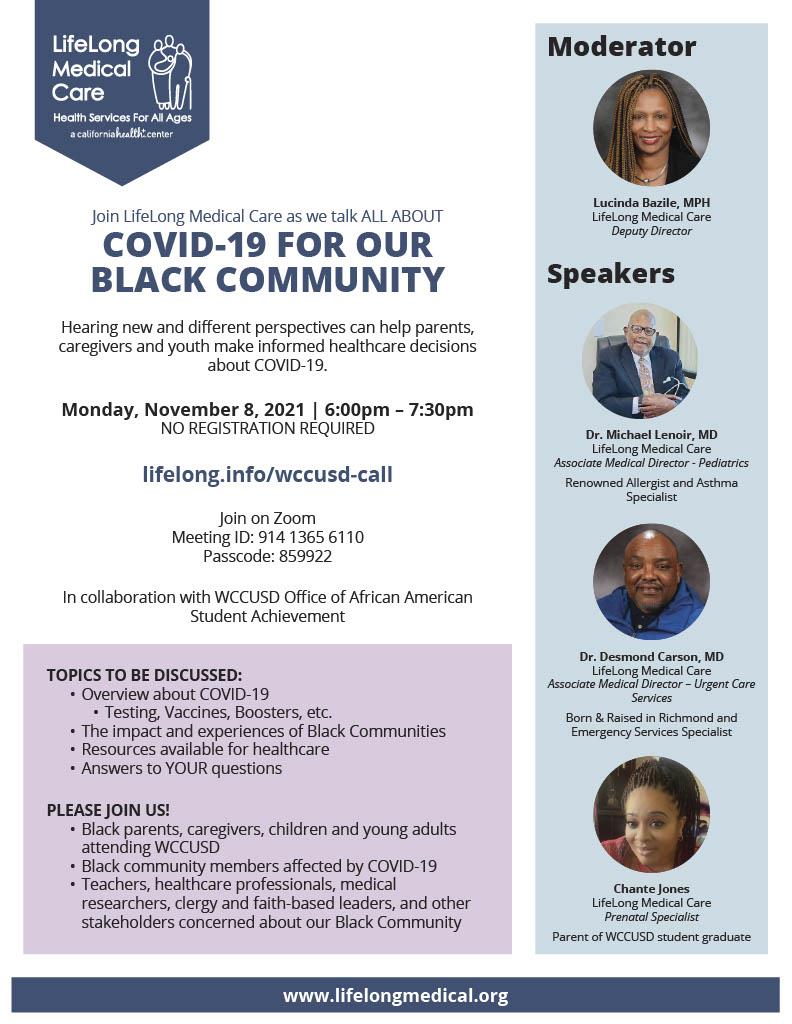 ---------------------------------------------------------------------------------------------------
Tuesday, October 26, 2021 / 6:00 pm / Via Zoom
Meeting ID: 928 3916 4255
Passcode: 135443
One tap mobile +16699006833,,92839164255#,,,,*135443# US (San Jose)
Session #2 Negotiating the Educational System:
Creative Participation of Families in School Meetings.
The bureaucracy of the school system can be quite confusing to families, particularly those whose children may be experiencing academic, behavioral or social challenges in adjusting to the requirements of the school environment. Schools have a variety of conferences involving parents and school staff for reasons ranging from the routine discussion of a student's academic progress to meetings regarding various aspects of student school achievement or adjustment that need to be addressed. They may be the formal parent-teacher conferences scheduled district-wide after several months of school or informal meetings regarding various aspects of a student's school adjustment, initiated either by the school or the family. This presentation will focus on providing information about the typical school meetings that routinely take place in schools and will provide concrete strategies and family-friendly handouts that can provide participants with the information and tools needed to be better equipped to advocate for their children in school meetings as equal status partners with educators.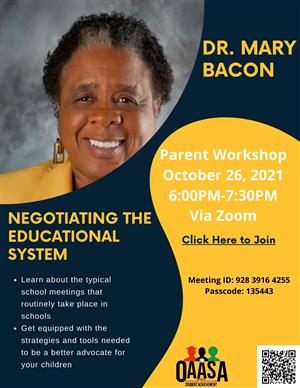 --------------------------------------------------------------
Monday, October 25, 2021 / 6:00 pm / Via Zoom
African American Parent Advisory Council (AAPAC)
AAPAC and Delegate Training
Agenda here
Meeting ID: 934 3716 8704
Passcode: 754541
One tap mobile +16699006833,,93437168704#,,,,*754541# US (San Jose
-------------------------------------------------------------------------
Tuesday, September 21, 2021 / 6:00 pm / Via Zoom
Session #1: Every Shut Eye Ain't Sleep: Becoming An Effective Advocate for Your Child
Families as Equal Status Partners in the Educational Process
This interactive, down-to-earth and inspiring presentation will engage participants in a journey of self-exploration and introspection that prepares families to assume more effective partnership roles with educators. Participants will have greater confidence in their interactions with educators and acquire the tools to promote equal status relationships with those who serve their children, With a particular emphasis on families who have not traditionally been involved actively with educators, the presentation will help families to become advocates for their children in an educational system that may not always give them messages about their strengths and their ability to conquer any obstacles that they may face.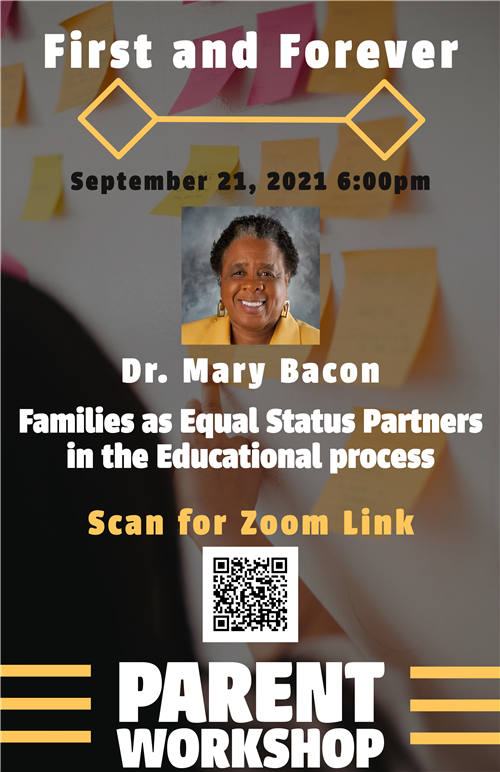 Join Zoom Meeting
https://wccusd.zoom.us/j/95545866608?pwd=ajlDSkUzUmhUQ0E1TStHdnNaRW01dz09
Meeting ID: 955 4586 6608
Passcode: 018689
One tap mobile
+16699006833,,95545866608#,,,,*018689# US (San Jose)
+12532158782,,95545866608#,,,,*018689# US (Tacoma)
Dial by your location
+1 669 900 6833 US (San Jose)
+1 253 215 8782 US (Tacoma)
+1 346 248 7799 US (Houston)
+1 312 626 6799 US (Chicago)
+1 929 205 6099 US (New York)
+1 301 715 8592 US (Washington DC)
Meeting ID: 955 4586 6608