Return to Headlines
It Takes a Village: You Make A Difference Award Honorees Credit the Community for their Work
By Craig Lazzeretti
Special to WCCUSD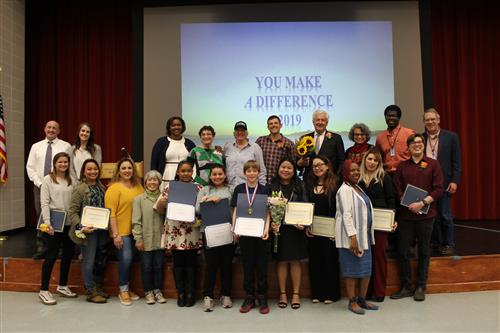 El Cerrito High School classroom assistant Tanita King captured the overarching theme of the annual "You Make a Difference Awards" on March 15, which honored the work done in the West Contra Costa Unified School District's special education classrooms.
"This isn't my 'You Make a Difference Award,'" she told the audience at Lovonya DeJean Middle School in Richmond. "It's our 'We Make a Difference Award.' "
Virtually every honoree at the annual celebration hosted by longtime KTVU news reporter Tom Vacar echoed King's sentiment in spreading the credit far and wide for the difference they make in the lives of students with special needs. Only through teamwork, collaboration and a "It takes a Village" spirit are educators able to make a lasting impact on the lives of students facing some of the steepest challenges to learning and growth.
King shared with the audience her own experience living with a disability and the impact district educators had on her as a child. After suffering a stroke at the age of 6 months, doctors told her she would never be able to walk or talk. She credited her ability to overcome the odds to the support she received from her teachers, resource specialist, speech therapist and other service providers at Castro Elementary School, along with her mother and grandmother, "who instilled in me from day one the words 'never say you can't' and 'never let anyone tell you no.' "
"I do this job not for recognition but simply to show anything is possible with prayer and a great support team by your side."
Also recognized for their work as classroom assistants were King's El Cerrito High colleague, Reyna Sanchez, along with Kelly Snyder, Rosario Illan and Yuki Koyanagi of Riverside Elementary.
Darlene Almeida, who was honored in the administrator category, also took time to credit her colleagues, "from clerk to director," for working tirelessly in support of students, educators and parents.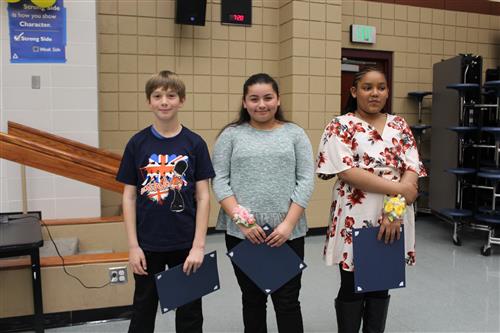 Like King, Almeida, who runs the district's deaf/hard of hearing and visually impaired programs along with the 504 department, has a personal tie to special education. Her experience in the field began as the parent of a child with special needs. Through her advocacy for her own children, she developed a desire to support others as an educator, climbing the ladder from signing interpreter to classroom teacher to assistant principal to special education administrator.
Almeida's passion for the work of special education was illustrated through her determination to return to her job as quickly as possible after suffering serious injuries in a hit-and-run accident.
"Darlene was expected to be out for months and months," Vacar said in introducing her. "It was only a few weeks before Darlene was back on the job, back in the office, walking through the classrooms supporting her students and staff."
In accepting her award, Almeida said, "A good friend sent me this quote. Strength doesn't come from what you do. It comes from overcoming the things you thought you couldn't do."
The special education staff at Stege Elementary won the team award, with Nicole Ruiz, Caitlin Gallagher and Hannah Geitner accepting on behalf of their colleagues Stephanie Sanchez, Lara Jarvis, Kianga Robinson, Patrick Dobson, Ayisha Behnam and Margarita Medina Posada.
"I have an amazing team," Ruiz said. "It's been really a pleasure to work with Caitlan, Hannah and the rest of the team developing plans for students who in the past were thought couldn't learn, they wouldn't learn, they couldn't do things."
Peres Elementary's Jenine Catudio was one of six teachers honored for their special education classroom work. Catudio works in a severely handicapped classroom for TK and kindergarten students where she "handles each child's unique needs with extraordinary care."
"I always remind myself that I'm here in the hope of making a difference to the lives of my students," Catudio said. "What I'm experiencing now is they're the ones making a big difference in mine.
"It always breaks my heart a little when they move forward and knowing that my time with them is done and that I won't be able to see them every day anymore. But knowing that my team and I did the best that we can is more than enough."
Vacar read a tribute to Ellerhorst Elementary's Elvira Gutierrez from the parents of an autistic child who said "her class should be a model for other programs in WCCUSD." Gutierrez thanked the parents and guardians of her students for their support, the Ellerhorst school community and her husband for bringing her lunch to school every day.
De Anza High's Myrna Hadjirul was recognized for her work in helping students to integrate into society, become independent and "most of all, enjoy life." Vacar said her students can be seen cooking for special occasions and calculating and paying for their food in restaurants.
Hadjirul said her classroom could serve as the setting for a reality TV show because it's "comedy, drama and action-packed."
Richmond High's Sherry Tutass also was honored for her work in preparing students to thrive independently, including training them to work at Grocery Outlet, the YMCA and senior center.
"Ms. Tutass has taken a group of young people with disabilities and worked with them so that they can thrive with others in the community," the parent of an autistic child wrote.
El Cerrito High teacher Bradley Decker received his award for his work integrating special needs students into this theater program, providing them "an amazing place to experience social emotional learning."
Decker noted that he felt nervous speaking in front of such esteemed company despite the fact "I'm on stage in front of people all the time. … We do make a difference."
Adaptive PE teacher Sean Corson was recognized for his work in developing the Athletic Leaders program that integrates special education and general education students in physical activities, "promoting inclusion and improving social communication and life skills." He's also coordinated and hosted the district's participation in the Special Olympics of Northern California.
Keeping with the theme of the night, Corson lauded the work of paraprofessionals and support staff in working with him to implement the adaptive PE programs. "I wouldn't be up here without them."
The final educator award went to assistive technology and augmentative and alternative communications services specialist Mary Hamilton, who works with teachers at sites throughout the district on developing curriculum tools to meet the individual and group needs of students.
"I feel like I'm sharing this with so many people who have been up here because I go to so many classrooms in so many different schools," she said. "I'm just doing my job. It's just really exciting and super humbling."
The honorees weren't limited to educators and support staff. Three students from Collins Elementary -- Andrew Lester, Shayla Ochoa and Ariel Davis -- received the Jake Rockeman Award (named after an inspirational 9-year-old disabled student who died in 2003) for their efforts in supporting and bonding with special needs students.
And bus driver Sheryl Alison was honored with the Brian Rutford Memorial Award, which is given to "a driver who demonstrates professionalism and compassion, by going above and beyond their duties, and by setting an example for others." Vacar recognized Alison as an "exceptionally caring driver who shows sincere concern for her students and their parents as well."
Vacar himself was surprised with the final award of the evening, in honor of the more than 20 years he has spent hosting the "You Make a Difference Awards." Vacar told the audience that the two events he hosts each year are YMAD for WCCUSD and one for San Mateo County Legal Aid.
"Through these awards and those of the past, we are simply keepers of a promise -- a promise that all children have a place -- which is our solemn duty and responsibility to keep them and find the best of their abilities no matter where they lie," he said in closing the evening.
Photos courtesy of Elizabeth Mooney and the full album is available here.