Return to Headlines
Peres, Madera Students Treated to a Week of Gourmet Lunches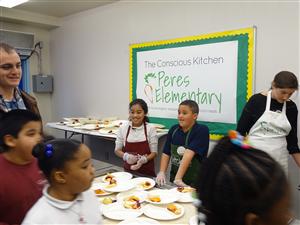 Peres Elementary School students were encouraged to play with their food during the week of January 30. Well, maybe not play with their food, but students were nudged all week to interact with food in unfamiliar ways.
Students at Peres and Madera elementary schools were treated to a week of fresh, organic, non-genetically modified organism meals prepared by gourmet chefs from throughout the East Bay for breakfast and lunch.
The Conscious Kitchen
, a program run by the Sausalito based non- profit Turning Green, is designed to change the way we view food by providing schools with fresh, locally, non-GMO, organic meals so that students have better health outcomes.
"We want to bring fresh organic non-GMO foods to children and break the cycle of pre-packaged food in schools," The Conscious Kitchen's Program Coordinator Ashley Ugarte said. "To do that we introduce healthy organic food that is flavorful and kid friendly. We have the kids see, touch, and experience the food before they see it on the menu."
The students at Peres received a taste of what is possible during The Conscious Kitchen's Tasting Week. Students were treated with everything from homemade Mac and Cheese with broccoli and blood oranges one day to barbecue chicken and yellow cauliflower the next.
Mostafa Alghazali, a fifth grader at Peres, was one of 24 ambassadors selected by The Conscious Kitchen to assist classmates with everything from serving food to cleaning up to answering questions about the menu.
A vegetarian, Alghazali didn't try the barbecue chicken. Instead, gourmet chefs like Cavallo Point Lodge's Justin Everett had Alghazali covered, whipping up a tofu dish to pair with the yellow cauliflower.
'When I tried the food, it felt like I was in a new world," Alghazali said, who tried tofu and yellow cauliflower for the first time. "I thought it was going to be bad, but when I tried it was so good."
Alghazali's reaction to the new cuisine is the response The Conscious Kitchen hopes to get with every student who may not be familiar with the food on the menu, Ugarte said. In addition to cooking up the fresh, organic, non-GMO meals, The Conscious Kitchen also pairs a food curriculum with its menus that introduces the food to students through demonstrations before it's served on the menu.
"We want the kids to see and taste the foods before we serve it to them on the line," Ugarte said. "And just placing a salad bar in the cafeteria isn't going to cut it. Our mission is to create an atmosphere around their meal that's full circle, from the farm the food comes from, to the chef cooking in the kitchen, to their plate, and finally to the compost bin in the zero waste station. We don't just put broccoli on a plate and have them eat it. Instead, we have them interact with the food so they know the full story behind it. That is what makes them want to eat it and enjoy it."
The Conscious Kitchen started in two school in Marin County 2013 and 2015 and expanded to include 14 additional schools in Marin County for the 2016-17 school year.
"We want to help rebuild the food system wherever we go," Ugarte said. "We don't self select (schools) and don't operate in just wealthy or under served schools. We believe every kid no matter their background deserves healthy good food."
To find out more information visit
The Conscious Kitchens's website
.