Return to Headlines
Peres Elementary School Second Graders Make Good on Promise of Healthy Eating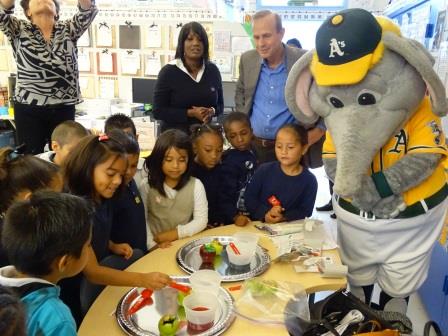 As second grader Guadalupe Alatorre prepared to add baking soda to a mixture of apples and vinegar in her classroom at Peres Elementary School, her classmates crowded close behind her to see the chemical reaction, virtually ignoring the six-foot tall elephant in their midst.
The elephant was Oakland A's mascot Stomper, who had arrived earlier to deliver classroom supplies to second grade teacher Kelly Fembres as part of a campaign to help bring science and technology resources into the classrooms of low-income students.
"She [Mrs. Fembres] is a shining example of some of our amazing teachers here at West Contra Costa Unified School District," said Elizabeth Carmody, the district's community engagement director. "She always knows what you [as students] need, and she goes out and asks for it."
The project involving apples, vinegar, and baking soda was part of a unit on science and nutrition that has second graders growing fruits and vegetables in a greenhouse and then turning that produce into food like apple sauce, juice, and smoothies.
Mrs. Fembres, who has taught at Peres Elementary for ten years, said the idea for the lesson came to her after she noticed some of her students throwing out parts of their lunch.
"A lot of times I noticed that they were throwing away the fruits, so we had a discussion about that. Why are fruits and vegetables important? I wanted to show that eating healthy is not expensive, good for us, gets our brains going, and gives us energy for the day."
Wasting food happens at all levels in the United States, but Mrs. Fembres's lesson may have special significance for this particular group of second graders, who all qualify for the National School Lunch Program.
"After having the discussion with the kids about nutrition, the parents are now bringing in fruit," she said.
The materials Mrs. Fembres uses to teach her class about science and nutrition include a greenhouse, potting soil, seeds, a crock pot, and juicer.
These and other supplies were provided by
donorschoose.org
, an online microfinance site for schools that lets individuals and organizations support public schools.
Richmond-based Chevron Corporation has also helped fund some of Mrs. Fembres's classroom projects through a program called
Fuel Your School
that donates $1 to public schools each time customers fill up with eight or more gallons of gas over the course of a given month.
"We have received a lot of school supplies from community partners like Donors Choose over the years," said Mrs. Fembres, "but we wanted something extra to get the kids engaged."
The results speak for themselves.
"It feels good," said Guadalupe about her teacher's latest lesson. "It feels really fun to do it."