Return to Headlines
Top of the Class: District Announces its Classified Employees of the Year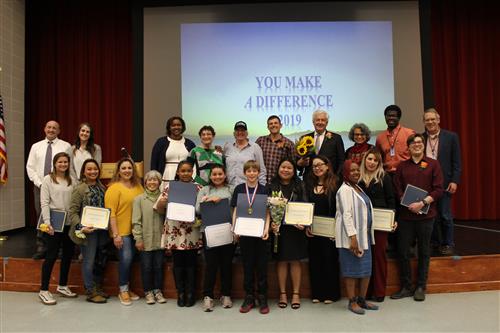 The West Contra Costa Unified School District recognized a combined 106 years of experience in our community when it announced its 2017-18 Classified Employees of the Year.
Maria Rodriguez (Food Services Aide/Clerk, Harding Elementary), Karen Rodriguez (Office, Lake Elementary), Angelica Lopez (Accounting Technician, Business Services), Marissa Lara (Instructional Assistant Special Education, Downer Elementary), Mack Carminer (Campus Security Officer, Greenwood Academy), Gustavo Aguilera (Principal Accountant, Business Services), and Thomas Scott (Senior Personnel Assistant, Human Resources) were recognized at Wednesday, May 16's school board meeting for their service to our students and district.
"We have a tremendous amount of experienced people with a great deal of dedication with us today that have devoted their lives to our students," Assistant Superintendent of Human Resources Ken Whittemore said. "These individuals recognized all started in a different position than when they were hired and worked their way up to the current roles within our community."
Their peers nominated each of the awardees and they were selected based on those nominations
Here is a look at the seven awardees.
Gustavo Aguilera is the principal accountant in Business Services and started as a substitute graduate tutor in 2012. Mr. Aguilera's motivation and hard work is what drives his staff according to his nominator.
Mack Carminer is a campus security officer at Greenwood Academy and began his service with the District in 2009 as an athletic coach. Mr. Carminer is a product of our District and his nominator called him "the pulse of Sylvester Greenwood Academy" and he is trusted by the students because he takes the time to get the students and that "students know coach Mack is in their corner at all times."
Marissa Lara is a instructional assistant for special education at Downer Elementary. She started as a substitute instructional aide in 1987. Ms. Lara's nominator said she is "a joy to work with" and that she is "calm, cool, and collected."
Angelica Lopez is an accounting technician for Business Services and started in the District as an elementary yard supervisor in 2008. The person who nominated her said, "her career trajectory alone demonstrates her drive and commitment to success."
Karen Rodriguez is the office manager at Lake Elementary and began her career with the District in 1997 as a substitute clerk. Ms. Rodriguez has been a part of the Lake community for 18 years. She was called the heart of Lake, and while her title may say office manager, she is much more than that. Her principal, Wendy Gonzalez, nominated her and said, "Students and families trust Karen. She is amazing with families, whether it is the child or a parent."
Maria Rodriguez is the food services aide/clerk at Harding Elementary and has been with the district since 2011. Ms. Rodriguez was described as enthusiastic puts a lot of joy in what she cooks. Her nominator said, "She is not only amazing with the children, and she is also a skilled and helpful trainer."
Thomas Scott is the senior personnel assistant for human resources and began his tenure in 1996 as a substitute secondary site supervisor. Mr. Scott is dynamic with a magnetic personality who has an eye for detail, according to his nominator. His nominator also said, "his involvement in the Young Scholars program helps to solidify Thomas as a beacon for students and families in WCCUSD and a liaison between the district and community."