Return to Headlines
Herban Movement JA Winners Prepare for Nationals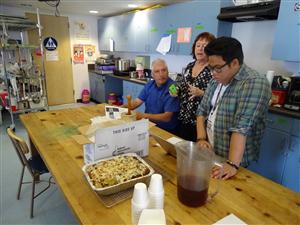 This summer, students from the Junior Achievement Company Program, Herban Movement, at Hercules High School Academy of Hospitality and International Tourism (AHIT) will compete at the national level.
The Herban Movement Company has earned several awards this year, including the Best Commercial and Best Business Plan award in the Junior Achievement of Northern California's Company of the Year competition. Now, Herban Movement students plan to participate in a host of events to keep them focused as they prepare for the Junior Achievement National Student Leadership Summit in Washington, D.C.
Lordes Sampayo, head of AHIT and Chief Advisor of Herban Movement, expressed that she is very pleased with the success of the program. Her favorite part is watching the transformation of the students. "In just one year, you see the change in their maturity, attitude, and focus. Sometimes I find myself asking them 'Do you guys realize how much you have improved?' One year makes such a huge difference," Sampayo said.
Herban Movement, established in 2011, is a student run company housed under the Academy of Hospitality and International Tourism, and Junior Achievement of Northern California. The program prepares students for workforce readiness, finance, and leadership skills, which are pertinent for future success and entrepreneurship. From sophomore to senior year, students are well prepared through the academy initiatives.
Students participate in year-round activities with the purpose of preparing them for the real world. "We have students who are also involved in athletics, theatre, and leadership – several other aspects of the school. They need to learn the basic soft skills that are necessary to be successful leaders," Sampayo said.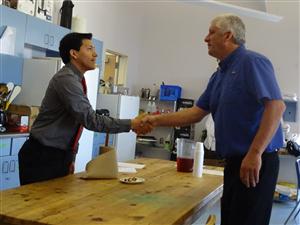 In conjunction with many events scheduled throughout the year, students in the academy recently participated in mock interviews conducted by Herban Movement partners from The Courtyard by Marriot, The Richmond Convention & Visitors Bureau, and The Ultimate Inner Cook.
Amit Patel, the General Manager at Courtyard by Marriot in Richmond, said this is his second year participating in the mock interviews with the Herban Movement students, and he looks forward to brainstorming with other partners about more business-student events. "Many of us [partners} grew up in [WCCUSD]. Seeing the growth of the kids is just amazing, and I am so proud of them," said Patel, a Middle College High School Alumnus.
Joseph Fortuno, 18, the President/CEO of Herban Movement, stated that students do not take these preparation events lightly. "Even though this is a mock interview, it's still an opportunity [for students] to land a job or an internship," said Fortuno, who is now an Independent Contractor for the Richmond Convention & Visitors Bureau after participating in last year's mock interview.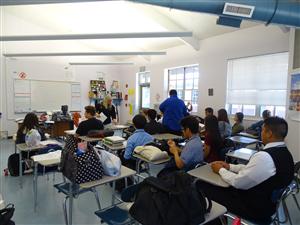 Tiffany Gonzales, 17, the Human Resources Department President for the Herban Movement, believes the mock interviews will help her prepare for the national competition. "I am on cloud 9, but I'm nervous," Gonzales revealed.
The students will have four minutes to present their business plan at the national competition, and Gonzalez, like the others, are hoping for the best. "We do so much that we want to include everything, but we cant. Hopefully [the judges] see what I see in the movement, and I can start off my summer happy."