Return to Headlines
Oakland A's Tab PVHS Senior as Scholar All Star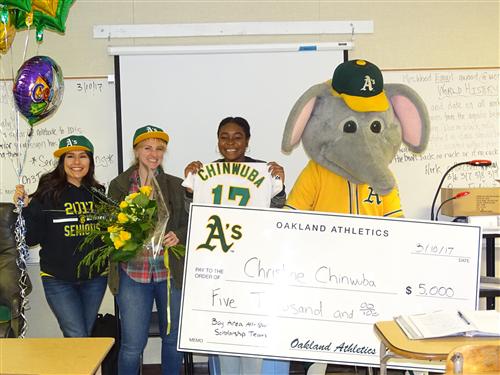 Talk to any of
Christine Chinwuba's
teachers at Pinole Valley High School, and all will tell you they expect to see her leading a social movement in the future.
The Oakland Athletics helped Chinwuba get started on that journey. A senior with a 4.3 grade point average, Chinwuba was one of seven high school seniors in the Bay Area selected as a 2017 member of the Bay Area All Star Scholarship Team, which includes a $5,000 college scholarship.
The A's and the six other professional sports franchise in the Bay Area each selected one senior to receive the award with Chinwuba tabbed by the A's.
"I was really surprised by this," Chinwuba said. "Through this whole college process, I have been worrying about how my parents and I were going to pay for my education. I am really happy for this opportunity and for this scholarship to help lessen the burden."
Armed with a large $5,000 check, staff from the Oakland A's, including the mascot, Stomper, and Pinole Valley staff and students surprised Chinwuba on Friday, March 10 with the announcement.
"She stands out on campus and at the school," Chinwuba's guidance counselor
Corrina Grijalva
said. "She is going to be a changemaker."
Dan O'Shea, one of Chinwuba's teachers in Pinole Valley's Health Academy said she is one of the top students he has encountered in his 30 years of teaching because of her hard work and passion ability to motivate people.
"She is going to be a leader of people in the future," O'Shea said. "I can't put it into words and I had a hard time trying to put those words into the letter of recommendation because of how great she is. She is going to do great things."
As a part of the process, Chinwuba was nominated for the award and then had to write an essay and have letters of recommendations submitted. She was then selected from a pool of fellow seniors from Contra Costa and Solano counties.
The Bay Area All Star Scholarship Team is a partnership among the Raiders, Golden State Warriors, Oakland A's, San Jose Sharks, San Francisco 49ers, San Francisco Giants and San Jose Earthquakes who divide up the nine Bay Area Counties and select one high school senior.
As a member, winners receive a $5,000 scholarship and receive tickets and make an appearance at home games of the seven teams.