Return to Headlines
Korematsu Student Wins Middle School Spelling Bee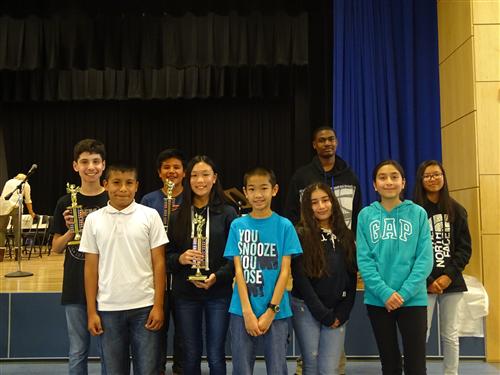 EL CERRITO -- Righteous has three definitions according to Merriam-Webster. And if Korematsu's
Ghouran Chang
used it in a sentence, it might go something like this: I capped a righteous win at the West Contra Costa County Unified School District Middle School Spelling Bee by correctly spelling the two-syllable adjective.
Chang, an eighth grader at Korematsu, outlasted 18 other spellers from DeJean, Helms, Hercules, Korematsu, and Pinole middle schools to claim his second District spelling championship. Chang also won Fairmont's Spelling Bee as a sixth grader.
"It feels really good," Chang said. "I didn't know were doing the list (of words). I had been studying a different list."
Regardless of which list pronouncers Verde Elementary School principal
Eric Acosta-Veraprauskus
and retired District administrator
Jamersina Preston
read from, Chang calmly spelled each word to reach the final round.
The spellers went through more than 225 words. Chang was joined in the final round by
Esther Le Nguyen
from DeJean and
Jacob Klein
, who also attends Korematsu. Nguyen finished second and Klein came in third.
Pat Martin, the District's visual and performing arts coordinator, Rachel Porzig, instructional coach, and Vera Rowsey, retired District administrator, served as judges and Antoinette Henry-Evans, retired District administrator, coordinated the event.
Here is a list of all the participants:
DeJean
Esther Nguyen
Kimberly Nguyen
Juliana Rosales
Karla Rosales
Jabaurri Webster
Helms Middle
Jesus Mora
Hercules Middle
Tabasum Ayuby
Brian Lee
Hilal Ozcan
Korematsu
Ghouran Chang
Kristy Chu
Vivian Huang
Jacob Klein
Rosalie Zuckerman
Pinole Middle