Return to Headlines
2017 You Make A Difference Award Winners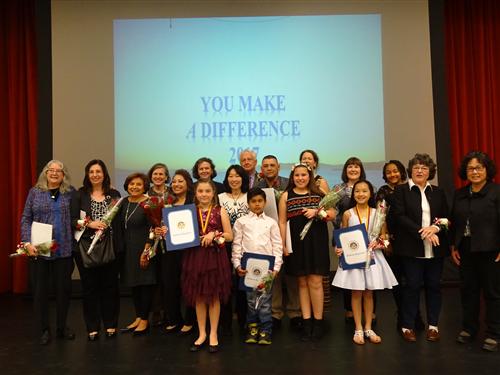 RICHMOND -- From Baby Boomers with more than 40 years experience to iGens with less than 10 years, the 31st Annual You Make A Difference Award winners may have spanned different decades but shared one thing in common -- a knack for serving others.
In front of a packed house at LaVonya DeJean Middle School, the West Contra Costa Unified School District honored 17 staff members and students who go above and beyond on a daily basis to support the District's special needs students. The ceremony, emceed by KTVU's
Tom Vacar
, was an opportunity for the District's Community Advisory Committee for Special Education (CAC) to honor people in three categories: You Make A Difference Award, Jake Rockeman Student Award and Brian Rutford Memorial Service Award.
The District recognized individuals like
Mimi Deegan
and
Meg Mowry Evans
, two retired assistive technology specialists, that spent five decades serving special needs students in the District to sixth grader
Caitlin Louis
and two of her classmates at Collins elementary, who go out their way to make sure special needs students are included and participate in a all school activities.
"I loved my job," Deegan said. "Kids that would not have been able to write because of physical disabilities were able to start to show how smart they were and were able to say so much because of computers."
Deegan and Mowry Evans started in the District in 1973. Deegan as a speech therapist and Mowry Evans as student-teacher. Together the duo were among the first to build a technology program to assist special needs students.
A former student,
Tony Dang
, attended the ceremony and through his assistive technology device said, "They mean a lot to me," Dang said. "If it were not for them, I don't know how I would be able to talk to people."
Louis and her classmates
Jessica Wilbur
and
Alina Nguyen
were among six students that received the Jake Rockeman Award, named after 9-year-old Jake Rockeman who despite his diverse "disabilities," touched the lives of many students. The sixth graders are great role models at their school supporting special needs students by creating a supportive and welcoming environment and ensuring special needs students participate in all school activities.
"I just like working with kids," Caitlin said. "And, I like helping people."
Here is a complete list of the 2017 winners
.
You Make A Difference:
recognizes parents, students, community members, educators and school staff members from regular or special education who are involved with children with special needs who demonstrate outstanding contributions above and beyond in the role as a parent, a job description or general expectations.
Alison Makela, principal, Madera Elementary
Claudia Velez, principal and the Wilson Elementary School staff and students
Clemencia Turner, resource teacher, Dover Elementary
Gail Tsujimoto-Cho and Rosaline Soneda, SH teachers Fairmont Elementary
Jennifer Walden, general education Teacher, Pinole Valley High
Merissi Argueta, instructional aide, Helms Middle
Joyce Forte, program specialist, Cameron Early Intervention
Sandy Oliver, assistive technology specialist, Harding Elementary
Marywin Deegan and Margaret Mowry-Evans, assistive technology specialists, retired District
Jake Rockeman Student Award:
named after 9-year-old Jake Rockeman who despite his diverse "disabilities," touched the lives of many.
Gurshan Sahota, 1st Grader, Ohlone Elementary
Addison Nash, 3rd Grader, Olinda Elementary
Jessica Wilbur, 6th Grader, Collins Elementary
Alina Nguyen, 6th Grader, Collins Elementary
Caitlin Louis, 6th Grader, Collins Elementary
Brain Rutford Memorial Service Award:
named in honor of the former Student First Manager and given to a Student First bus driver.
Jaime Sanchez, First Student Driver, Highland Elementary School