Return to Headlines
Richmond High Soccer Coach Recognized for 300th Win

For the past two decades, Richmond High School boys soccer coach Rene Siles has collected over 300 wins, helping turn the Oilers into one of the top programs in the state.
On January 3, the West Contra Costa Unified School District recognized Siles for being one of the few high boys school coaches in Bay Area, if not the only one, to eclipse the 300-win mark.
But when you talk to Siles, it's not the wins that he remembers--it's his players.
"Over the years, the thing we are most proud of is a cultural shift toward to education," Siles said about the recognition. "Sports is an important part, but we used it to shift the focus of the kids."
Siles said that the culture shift happened because of the teamwork between the soccer program, Richmond High teachers, the College is Real Program, and the student-athletes buying in and carrying it forward.
During Siles' tenure, a number of Oilers soccer players have attended and graduated from four-year colleges and universities. Last year alone, Richmond sent 70 percent of their seniors to college, including UC Berkeley, UC Davis, UC Santa Barbara, and Sonoma State.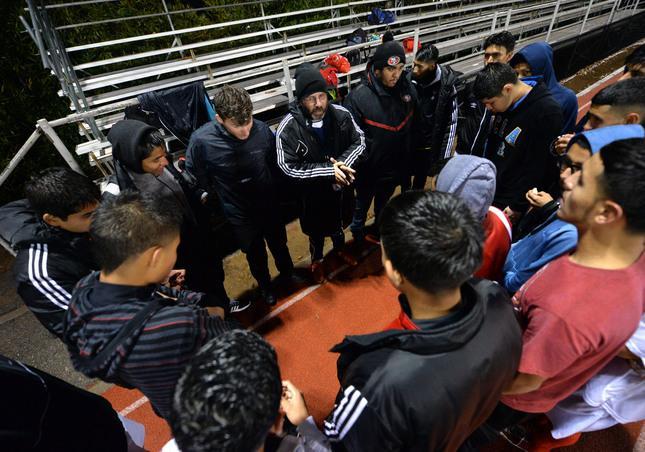 "I have found a place where I fit in and am accepted," senior Cristian Mejia said. "I found a family, and since the day I joined this team my teammates and coach Siles have inspired me both on and off the field. Coach Siles has not only been my soccer coach but also my mentor."
The wins and success on the field are hard to ignore. Since Siles was hired by Richmond in 2000, the Oilers have won 15 league titles, earned a berth in the North Coast Section playoffs 17 times, and won an NCS title in 2015.
And even with the success, the first thing that current and former players mention is Siles and the cultural surrounding the program.
"The program wouldn't be what it is without Coach Siles," senior David Martinez said. "Without him or this program, I would not be who I am. Everything he taught us on the field transfers to our lives."
Richmond is seeking its 18th NCS playoff berth under Siles and is currently one of the top teams in Division II. The Oilers are also poised to send another group of seniors off to college.
"Of course, we are proud of the soccer side," Siles said. "It is a lot of work, and we are bound by it. We were raised by it. But most important is the value of education, and opening up more choices for our players."
*Note: The second photo was taken by Doug Duran of the Bay Area News Group. It ran in a 2015 story about Richmond High School boys soccer coach Rene Siles.