Return to Headlines
Kennedy HS Class of 2017 Shows Next Generation How to Walk This Way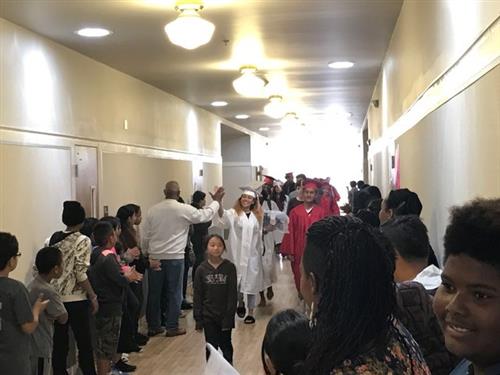 RICHMOND -- With all due respect to hip hop legends Run DMC, it is the 2017 Kennedy High School seniors that know how to walk this way.
A day before walking across the stage at their high school graduation, the Eagles graduating class showed elementary students in West Contra Costa Unified School District how to walk this way toward graduation in the school's first Senior Walk. The seniors at Kennedy split into four groups and visited Coronado, King, Nystrom, and Stege Elementary Schools and returned to their beginnings and showed the next generation what is possible.
"This was a great experience to come back and see where it all started," Kennedy senior and Stege alumni Dominick Tagaloo said. "It was good to see my old teacher, because she is the one that inspired me to do better."
Tagaloo and his classmates visited a first grade, kindergarten, and Ms. Griffin, his fourth and fifth grade teacher, 6th grade class at Stege before heading over to the Richmond Auditorium for rehearsal.
Coronado teacher Melynda Piezas and Kennedy Assistant Principal Allison Huie brought the Senior Walk idea to the Kennedy family of schools after seeing a similar event on social media at a school in their home state of Texas. The Kennedy family tailored the Senior Walk to give elementary school students examples of what is possible, and for the graduates it is a way for them to reflect on their journey and what it took to graduate.
Kennedy graduates today at 7 p.m. Check out the photos from the Eagles visits to Coronado, King, Nystrom, and Stege.