Return to Headlines
Over 1,000 Bilingual Champion Students Honored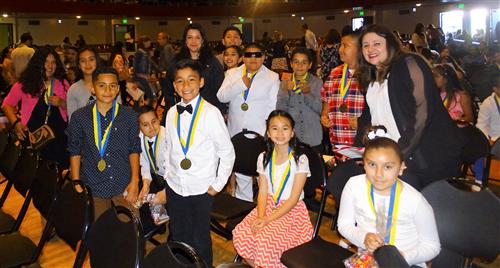 RICHMOND — In one of its largest ceremonies, the West Contra Costa Unified School District honor 1,069 students for becoming fully proficient in English at its 18th Annual Reclassification Awards Ceremony on Monday, May 22, 2017 at the Richmond Memorial Auditorium.
The District has more than 9,000 students who are English Learners working hard to become eligible for "reclassification." At the Reclassification Awards Ceremony, the District honored students who met this milestone. The students recognized mastered both academic and conversational English and met the state and district criteria for fluent English proficiency.
"This is a big deal for our students and our families," WCCUSD Superintendent Matthew Duffy said. "This is another step in our students' journey to become a 21st century bilingual citizen that will have the world at their doorstep."
During the ceremony, Superintendent Duffy told the 2,000 plus guests that the students being honored were bilingual champions and encouraged the students to not only continue their educational journey but to also never forget their home language.
The ceremony honored students from Bayview, Chavez, Collins, Coronado, Dover, Downer, Ellerhorst, Fairmont, Ford, Grant, Hannah Ranch, Harding, Highland, Kensington, King, Lake, Lincoln, Lupine Hills, Madera, Mira Vista, Montalvin, Murphy, Nystrom, Ohlone, Olinda, Peres, Riverside, Shannon, Sheldon, Stege, Stewart, Tara Hills, Valley View, Verde, Washington, and Wilson elementary schools and from Crespi, De Jean, Helms, Hercules, Korematsu, and Pinole middle schools and De Anza, El Cerrito, Greenwood Academy, Hercules, Kennedy, Middle College, Pinole Valley, Richmond, and Vista high schools.
De Anza High School's Filipino Club and Nuevo Leon, Mexico Grupo Tonantzi performed multi-cultural dances during the celebration.
Close to 4,000 WCCUSD students have been honored at the Reclassification Awards Ceremony over the past four years, including Gates Millennium Scholars. Students in the District speak a number of different languages at home, from Spanish to Tagalog to Farsi and Japanese.
To download photos taken at the event, please click the picture below.