Return to Headlines
District Announces Classified Employees of the Year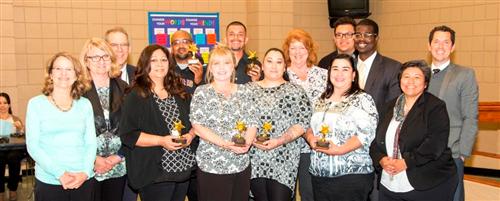 What do a bilingual instructional assistant, a typist 2 clerk, a community service officer, a office manager, a senior office administrator, a food services aide, a data entry clerk, and a custodian have in common? A love and dedication for West Contra Costa Unified School District students and staff and the District's 2016-17 Classified Employees of the Year.
Claudia Santoyo (bilingual instructional assistant, Coronado), Toni Martinez Gant (typist 2 clerk, Pinole Valley High School), Dave Quesada (community service officer, Hercules Middle School), Melisa Siembida (office manager, El Cerrito High School), Denise Cifelli (senior office administrator, Business Services), Tanya Meadows (food services aide, Montalvin), Veronica Villagomez (data entry clerk, Information Technology Services), and Joseph Branchcomb (custodian, Helms Middle School) were announced Friday, May 5 as the District's Classified Employees of the Year and will be recognized at the Board of Education meeting on Wednesday, May 10.
"Our classified staff is made up of an incredibly skilled and diverse group of people from food services to office and technical to paraprofessional and many others that all help make our district go," Assistant Superintendent Human Resources Ken Whittemore said. "It is always an honor to read the nominations and hear about the dedication of our recognized employees through the eyes of their colleagues."
Here is a look at this year's Classified Employees of the Year.
Claudia Santoyo has been with the District since 2010 and serves as a bilingual instructional assistant for special education students at Coronado. One of her nominators said, "Claudia is a great asset for our school and district because she plays a lot of roles in our school from instructional assistant to yard duty support to after school program group leader."
Toni Martinez Gant is a typist 2 clerk at Pinole Valley High School and has been with the District since 2014. Ms. Martinez's nominator said, "(Toni) makes us laugh throughout the day in a job, and central position where others project stress and a feeling of being overwhelmed, Toni makes it look easy. She could be an air traffic controller and still tell a funny story while keeping all the planes in the air."
Dave Quesada began working for the District in 2014 and is a community service officer at Hercules Middle School. Mr. Quesada's nominator said, "Coach Dave Quesada is the epitome of what a lead CSO should be. Can we duplicate him? He carries himself with professionalism and it carries throughout our site. Our kids know he will do what is right."
Melisa Siembida is an office manager at El Cerrito and has been with the District since 2013. Ms. Siembida had two nominators and one said, "Lisa understands that when a student comes to the office during class time with a question or need, it is extremely important to be able to provide them their needed information as efficiently as possible. Time equals learning, and the more time they are waiting in the office for what they need, the less time they are in class learning."
Denise Cifelli is a senior office administrator for Business Services and has been with the District since 2014. Ms.Cifelli was described by her nominator as, "A trusted team member as she models kindness, compassion and professionalism. Her wealth of knowledge regarding areas of school district finance is a valuable resource. She is an exemplary model of professional and support for WCCUSD stakeholders."
Tanya Meadows began working for the District in 2011 and is a food services aide at Montalvin. Ms. Meadow's nominator said, "Tanya is also a Montalvin parent and she volunteers at study trips and leads by fundraising for our community. Most recently, she headed the Leukemia Fundraiser "Pennies for Patients" and helped our community by raising over $1,000."
Veronica Villagomez is a data entry clerk for Information Technology Services and has worked for the District since 2010. Ms. Villagomez's nominator said, "Our sites, personnel, and myself would be lost without her. She is the rock that holds me together. She makes staff at sites at ease with new procedures or adjustments in tasks they are used to doing one way."
Joseph Branchcomb has been with the District since 2012 and is a custodian at Helms Middle School. Mr. Branchcomb's nominator said, "He supports us in every way. He delivers supplies, cleans messes right away, and is always smiling and positive. Seeing him every morning smiling and greeting each of us by name is a great way to start the day."