Return to Headlines
Community Message: Staff Mask Requirement, Schools and Offices closed Jan 7 & Jan 10, New Testing Sites
Good evening WCCUSD Community,

It has been a very busy week for students, staff and educators in WCCUSD. Here is a recap of the updates and what you need to know before returning to school next week. Please watch my community message here and read below.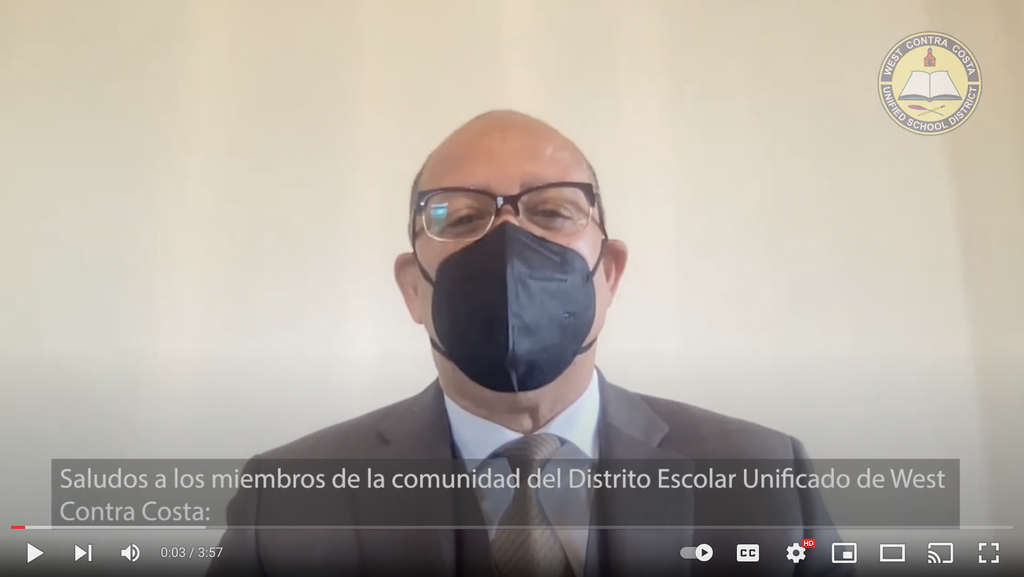 ---
WCCUSD Staff Required to Wear KN-95 Masks Beginning January 10
Starting Monday, January 10, all staff members at school sites will be required to wear a medical grade mask while at work. We have secured enough KN95 masks to distribute to all or our staff for the remainder of the year. The KN95 masks arrived this week and will be distributed to school sites before Tuesday.
Experts agree that these masks offer extra protection against the COVID-19 virus. The safety of our students and staff is our top priority, and we believe this is another important preventive measure we must take at this time.
---
WCCUSD Opens Three New Testing Sites for Students and Staff
On Tuesday, January 4, the district opened up three additional testing centers for all WCCUSD students and staff: at the Alvarado Adult School in Richmond; the Ohlone Elementary School campus in Hercules; and the district central office in Richmond. The testing sites will be open Monday through Friday from 8 a.m. to 5 p.m.
These sites are intended for students and staff who have had a positive COVID-19 test at home. If a student or staff member has a positive test with an at-home test (which are antigen tests), we ask that you go to confirm if it's a positive test by taking a PCR test at one of these three new locations. The new testing centers will also provide antigen tests. Please do not bring anyone to school who may have been exposed to the virus, instead we ask that you bring them to one of the new testing locations.
Please note that you are required to register for testing at the additional testing centers before you arrive. The registration process is the same as it has been for testing at school sites. Please visit our website for more information, where you also can find instructional videos on how to register for a test.
Regular weekly testing and athletic testing are still available at school sites. You do not have to make an appointment to receive a regular or athletic weekly test.
---
WCCUSD Distributes 15k In-Home Testing Kits to Students Before the Start of School
The West Contra Contra Unified School District staff and volunteers distributed approximately 15,000 COVID-19 test kits to families on Sunday enabling more students to get tested before returning to school. More than 5,000 cars at the two drive-through locations lined up to receive a testing kit. The District also delivered 13,000 testing kits to schools to provide to families.
"With a spike in cases in the country surrounding the omicron variant and the scarcity of in-home tests in stores, the rapid spread of the virus required an aggressive response to ensure safety in our school communities," Superintendent Kenneth Chris Hurst, Ed.D said.
WCCUSD is making strides to slow the spread of COVID-19 in the community and keep students safe. District staff and volunteers hosted two drive-in distribution sites on Sunday at Pinole Valley High School and Kennedy High School for families to receive a free in-home testing kit for students before returning to school on Monday, January 3.
The District received 28,000 kits late Thursday afternoon, during the winter break and right before New Year's Eve from the Contra Costa County Office of Education through the California Department of Public Health (CDPH). The Superintendent and executive staff teamed with the United Teachers of Richmond (UTR) and District support staff to quickly
plan a way to distribute the kits to families.
"We appreciate the UTR members who volunteered to make this possible," United Teachers of Richmond Union President Marissa Glidden said. "Testing is a crucial part of keeping our schools safe."
The drive-through clinic is one of several steps the District is taking to keep students and staff safe.
---
Healthy Richmond Hosts Community Buzz Cafe's on Race Equity
Healthy Richmond partners and the Resident Ambassadors of the City of Richmond's Race Equity Team will host a series of "Community Buzz Café Meetings on Race Equity" to engage with the community and talk about the City of Richmond's race equity action plan.
The virtual cafe's will be held on the 4th Tuesday of every month via Zoom from 6pm - 7pm. Zoom details will be sent later this month. If there are any meeting changes, dates and times will be updated and the community will be notified through email.
Facilitators will present the Racial Equity Action Plan which has four goals:
City of Richmond employees understand and are committed to achieving racial equity.

Every city department is governed by the principle of "Community Ownership", fostering democratic participation and equity through community-driven decision making.

City of Richmond is a racially equitable employer and promotes racial equity in contracting and procurement.

Healthy Life Outcomes - Healthy life outcomes increased and racial disproportionalities eliminated for Black, Indigenous, and People of Color (BIPOC).
Healthy Richmond partners and Resident Ambassadors want to hear from you. To join the meetings and stay updated, sign up by completing the interest form: tinyurl.com/REAtalks. Sign up today to learn more and give input on race equity in the community.
In community,
Dr. Kenneth Chris Hurst
Superintendent