Return to Headlines
Watch Richmond High School's Robotics Team in Action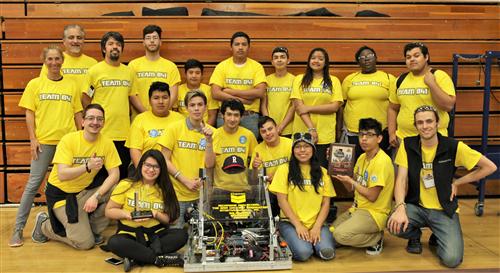 RICHMOND -- Watch the Richmond High School robotics team, the Biomechs, compete live on Friday at the Silicon Valley Regional
FIRST
Robotics Competition at San Jose State University's Event Center.
The Biomechs matches will be live streamed starting at 9 a.m. on Friday, March 31, 2017. To watch the Biomechs in action,
please click here
. A schedule of
matches will be available here
. Richmond's The Biomechs designed, built, programmed, and operates its own robot to compete in floor games against other schools from throughout the Bay Area.
Richmond is one of 58 schools or teams competing at the event. The FIRST Competitions were created to inspire young people to be science and technology leaders by engaging them in mentor-based programs that build science, engineering, and technology skills.
At the Biomechs previous FIRST Competition in San Francisco on March 17-19, the team was was awarded Gracious Professionalism. This award is given to teams that demonstrate high quality work, emphasize the value of others, and respects individuals as well as the community.