Return to Headlines
Principal Named for Mandarin School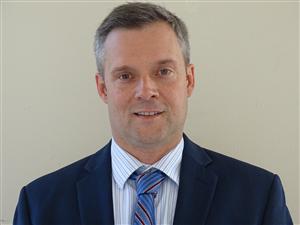 The West Contra Costa Unified School District named Eric Peterson as the principal of its new Mandarin language school that is set to open in August and is the first traditional public school of its kind in the East Bay.
Peterson is a lifelong educator who serves as the District's Director of Special Education. Before becoming the director, Peterson was the principal at Dover Elementary School. Dover is the District's largest elementary school with more than 800 students enrolled, many of whom participate in its bilingual Spanish program.
"This is a great opportunity for our students to learn the world's most spoken language, Mandarin, and at the same time develop proficiency in English," Peterson said. "I am excited for our students to learn Mandarin and for it to help prepare them for those 21st century careers and make them more competitive not just for careers but also in college admissions."
The West County Mandarin School opens with three kindergarten classes in the Richmond Heights neighborhood on the Serra Adult School Campus at 6028 Ralston Ave. in Richmond. Additional grades will be added in subsequent years. Students who choose to attend the program would begin in kindergarten with 90 percent of instruction taking place in Mandarin.
The school is open to all WCCUSD families with 50 percent of the seats reserved for low-income, English Language Learners, and foster students. Students from outside the District boundaries can apply for vacant seats. The new school will offer sliding scale after school programs and childcare until 6 p.m. and free and reduced lunch for those who qualify. Unlike dual language immersion programs, no student needs to speak Mandarin in order to attend.
"Mr. Peterson is a great leader with experience building and sustaining bilingual programs and has a long history with the Mandarin language," Superintendent Matthew Duffy said. "The Mandarin School is a great opportunity for all our students and provides them a unique opportunity and experience in the ever expanding global economy of the 21st century."
Peterson has started his role as principal and is recruiting families to school and overseeing the transformation of the Serra campus back into an elementary school complete with kindergarten rooms, playground equipment, and food facilities.
Peterson has a MA in Education from the College of William and Mary and holds a Doctorate in Educational Leadership from Concordia University. He was honored in a White House ceremony in 2011 as a National Board Certified Teacher and is active in several professional organizations, including Association of California School Administrators and the California Association for Bilingual Education.
Interested families can obtain and fill out applications for the new school through the District's Transfer Office. The Transfer Office can be reached at (510) 307-4535. For more information on the Mandarin immersion program, please contact Eric Peterson at (510) 307-4641.