Return to Headlines
Richmond High School Students Share Stage With Hamilton Stars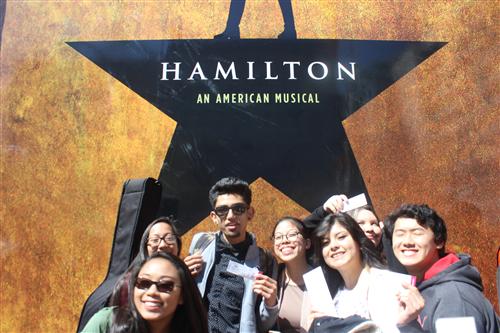 RICHMOND -- Not only did a trio of Richmond High School seniors score tickets to the Bay Area's hottest item,
Hamilton: An American Musical
, but
Mikaela Parafina
,
Yasmine Garcia
, and
Kevin Beltran
also graced the same stage as the cast to give their own Hamilton inspired performance.
In all, Wednesday, March 22 was a great day for the teens,who were among 80 Richmond students that saw Hamilton, for free, and participated in a question and answer with the cast. Courtesy of the Gilder Lehrman Institute of American History, more than 2,200 Bay Area students from 18 schools were able to see the musical story of one of America's Founding Fathers, Alexander Hamilton.
"I never thought I would be able to see it," Richmond High Creative and Performance Academy senior and star of the school's production of the Diary of Anne Frank Yasmine Garcia said. "When we got the tickets, I kept asking if this is really happening."
And if seeing the absurdly popular musical with tickets ranging from $255 to $900 on StubHub! wasn't enough, Garcia, and her classmates Parafina and Beltran performed a poem written by Parafina on the SHN Orpheum stage.
"The process of getting ready for it was way more nerve wracking than the performance," Parafina said. "I have performed at Richmond High but I have never performed in front of 2,000 people. I was so anxious but once I stepped on stage, I felt the vibe and it was so amazing to be able to share our story."
Parafina's poem was about the relationship between Angelica Schulyer Church and her younger sister, Elizabeth Schulyer, the wife of Alexander Hamilton. The creative piece was a component of the Gilder Lehrman Institute of American History's Hamilton Education Program curriculum. Students from qualifying Title I Schools studied documents and essays related to Alexander Hamilton and the Founding Era.
The Richmond trio's piece was selected to represent their school and the group was one of just 10 schools chosen to perform in front of their peers.
"This was my favorite field trip because all the students were so excited and jazzed," Richmond High School Activities Director, History teacher and After School Theater Advisor Kelli Schultz said. "It was incredible to see them (Pafafina, Garcia, and Beltran) perform. I have had them for three years, so it was nice to share this with them."
The 80 students from Richmond High were the latest West Contra Costa Unified School District students to see the musical. Students from Korematsu, Helms, and Pinole Middle schools and Richmond and El Cerrito high schools saw Hamilton on Sunday, March 12 as a part of a Teach For America event related to the Champion Charities.
*Photos courtesy of Kelli Schultz. Video courtesy of Mikaela Parafina.