Return to Headlines
Surprise, Surprise 2017 Teaching Excellence Award Winners Announced
Equipped with balloons, flowers, and banners, a traveling caravan criss crossed the West Contra Costa Unified School District on Friday, February 3, 2017 visiting four teachers named the West Contra Costa Public Education Funds' 2017 Teaching Excellence Awardees.
District and Ed Funds staff surprised
De Anza High School Spanish teacher Paula Raj
,
Grant Elementary School third grade teacher Tiffany Chieudjui
,
El Cerrito High School dance teacher Jessy Kronenberg
, and
Korematsu Middle School English teacher Sarah La Due
at their schools during the Friday afternoon road trip.
"I am in awe of the hard work, commitment, and passion that this year's Teaching Excellence winners show and give our students on a daily basis," Superintendent Matthew Duffy said. "Te dedication of Ms. Chieudjui, Kronenber, La Due, and Raj is just a small snapshot of the all the fantastic teachers we have working in this district."
This is the 29th year the Ed Fund has awarded its Teaching Excellence award, but the first in which teachers were surprised at their school sites.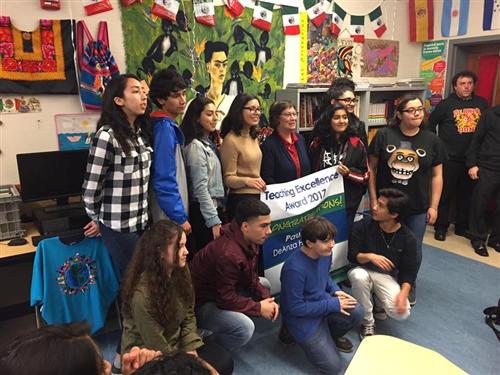 "I don't know what to say," Raj said after she was surprised by her students and staff. "Thank you."
Raj has been a teaching fixture and according to her bio has been teaching longer than most of her colleagues at De Anza have been alive. Raj has served as a Spanish, and foreign language teacher, department chair, teacher support provider, the Western Association of School and Colleges co-chair, and School Improvement Grant Project Support.
Grant's Chieudjui's father and two sons surprised her in front of her class with balloons and flowers. The recognition brought tears to her eyes.
'It is an honor,' Chieudjui said as she fought back tears. 'I do this for the children.'
Chieudjui grew up in WCCUSD schools and her mother was a longtime teacher in the District.
Kronenberg also is no stranger to the District. She is an El Cerrito alumna, graduating in 1998 and returning to the school in 2012 to take over the school's dance program.
"I do what I do for the young people," Kronenberg, who was surrounded by her students, said. "I am glad I get to spend everyday with you guys. You make it all worth it."
A third-year teacher at Korematsu with a background in politics and public affairs, La Due was surprised during her students silent reading hour.
"This is my third year here," La Due said. "I love teaching you guys and thank you to everyone that nominated me."
The four winners announced were among a group of 73 teachers from throughout the District that were nominated by parents/guardians, teachers, principals, and other school staff. The Ed Fund then visited 23 teachers in their classroom before interviewing eight finalists and selecting Friday's winners.
Ms. Chieudjui, Korenenberg, La Due, and Raj will be recognized at the Ed Fund's 29th Annual Soaring to Excellence Celebration from 7-9 p.m. on Friday, May 12, 2017 at De Anza High School. Visit the
Ed Fund's website
for more information about the Ed Fund and the Soaring to Excellence Celebration.