Return to Headlines
February 12 Friday Update: Staying Safe During the Break; Preparing and Planning; Richmond Promise Scholarship
February 12, 2021
Dear WCCUSD family,
The Presidents' Week recess is here, and I hope you and your family have time to rest, recharge and prepare for the final few months of the school year. We enter the break amid positive news about COVID-19, with the numbers continuing to decline. We still face a disproportionate number of cases and the spread of the virus, which continues to impact WCCUSD communities the hardest.
Please follow all the national, state, and local public health guidelines as we start the break. Remember to wear a mask when you are outside of your home, maintain a physical distance of at least 6 feet with people not in your household, and wash your hands for at least 20 seconds. We can not afford future COVID-19 spikes.
I want to thank students, staff, and families for your hard work, patience, and understanding during this pandemic. I encourage you and your communities to continue to support one another, thank one another, and move forward together.
We are operating in a Distance Learning format unless mandated to change course. We are in planning mode for both summer and fall. As an entire district of nearly 30,000 students and 3000 staff, we hope and expect to return to in-person instruction in the Fall. The experience will look different from traditional school with a high likelihood that we will be in some hybrid model type. We will be mandated through social distancing to have fewer students in class at one time.
My team is readying our facilities and finalize our plan around hybrid options. We plan to share everything with principals, teachers, staff, students, and families in the coming weeks. Please stay tuned as we will need your input, feedback, and cooperation on a community-wide plan.
When we return from recess, we have two more Board Study Sessions on COVID-19 and Schools. The third Study Session is at 6 p.m. on Monday, Feb. 22 via Zoom where we will hear from neighboring schools and districts about reopening.
The fourth Study Session is at 6 p.m. on Friday, Feb. 26 via Zoom and is a communitywide forum devoted to hearing from students, staff, families, and community members.
Thank you to John Muir Health for discussing vaccines at Wednesday's Board meeting. John Muir was planning a vaccine clinic for those in the appropriate tier for this Saturday. Unfortunately, John Muir has to postpone the clinic due to vaccine availability. We will update you with a new date.
A big thank you to the Food Services team, school distribution sites, campus security officers, custodians, volunteers, and staff. The team surpassed 10 million meals distributed on Thursday. We have some exciting news to announce about the team in March.
Before we enter the break, I want to point out just a few of the great things happening in this district. Principal Phil Johnson and his team at Sylvester Greenwood Academy have started the Contra Costa Boys and Girls Club's Money Matters Program that provides paid internships to students and teaches students the importance of financial literacy.
Look for more information about the program by the Communications Department's newest student intern Caden Cotton-Blake. Caden is a senior in WCCUSD and former student Board Trustee, who has worked with the District's Office of African American Student Achievement to highlight financial literacy.

Also, don't miss the Black History Month celebrations that the Office of African American Student Achievement has planned with community partners throughout this month. For events, click here.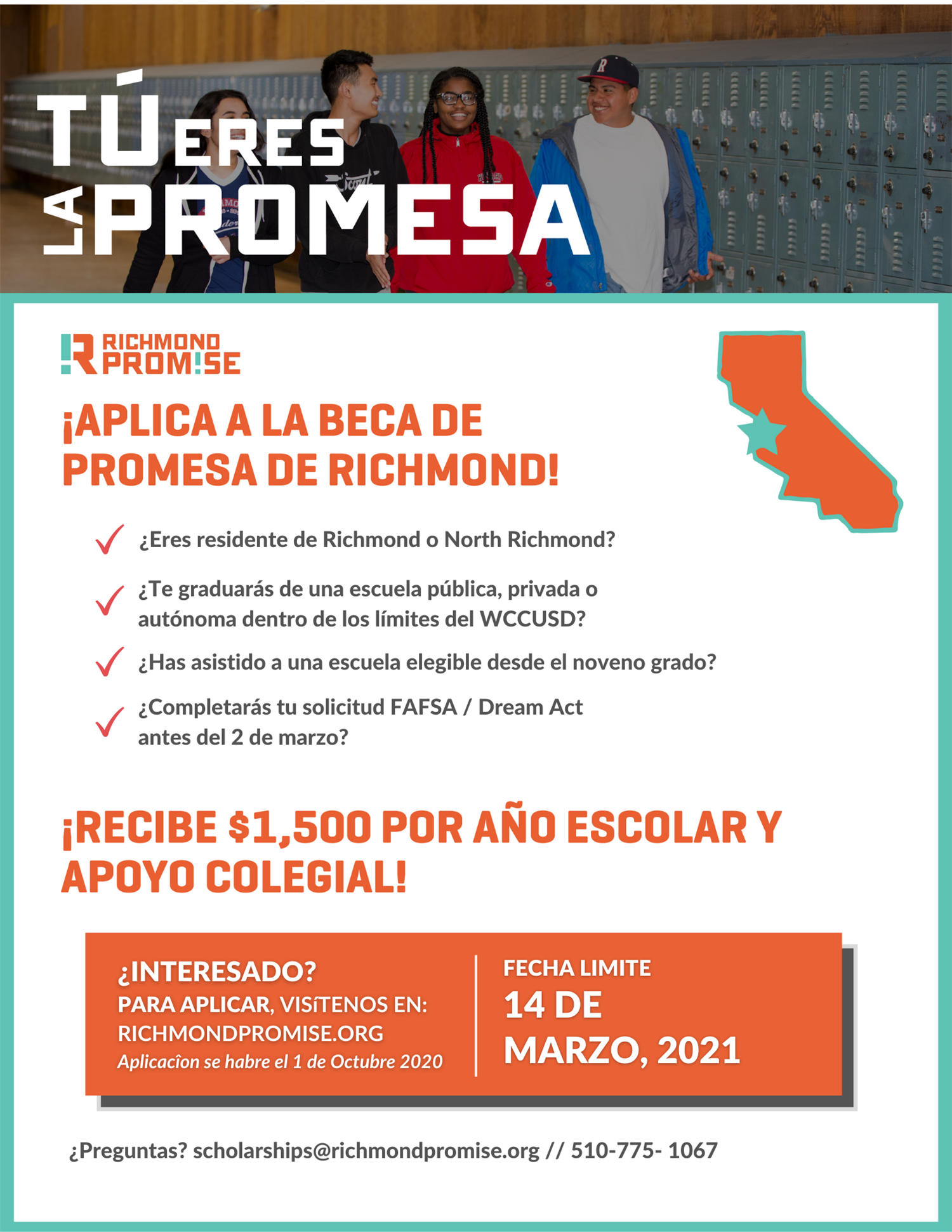 Seniors and parents of seniors: don't forget to complete the Richmond Promise Scholarship application. The application is due Sunday, March 14, but you need to also complete the Free Application for Federal Student Aid application (FAFSA). The FAFSA deadline is Tuesday, March 2.
Finally, I want to thank the students at Crespi Middle School and Principal Guthrie Fleischman for showing off their learning last Thursday with the What is in A Name: Crespi Student Presentations. Teachers Mara Valencia, Pawan Mann, Suzanne Schultz, and Sierra Barton spent two weeks leading students in researching who Juan Crespi was and if the school should bear his name.
10 Crespi Stars presented their findings, both for and against the name, and stated whether the school should change its name. Principal Fleischman later told our team that the evening was one of the proudest moments he has had as an educator. Way to go, Stars. I encourage you to view the presentation here.
Thank you for reading, and please remember to follow all the public health guidelines.
Enjoy the break, and we will see you on Monday, Feb. 22.
In community,
Matthew Duffy
Superintendent