Return to Headlines
Merging Athletics and Academics
By Craig Lazzeretti
Special to WCCUSD
With Ken Carter of "Coach Carter" fame looking on from the stands, his grandson, Damien Carter, slashed to the basket for a layup and a 9-0 lead for Nystrom Elementary. Minutes later, he and his teammates celebrated a buzzer-beating 3-pointer to end the first half.
During the halftime break, the Rev. Andre Shumake, who is a Jefferson Award winner and helps run the elementary school sports league for the West Contra Costa Unified School District, took the microphone to address the crowd of parents about topics far removed from the basketball court.
"The district's goal is to make sure your child is getting a good, quality education. The best way to do that is make sure they are in school every day," he says, before discussing the visual, audio and kinesthetic learning styles. If your child is having trouble in the classroom, he says, "you need to work with his or her teacher to find out what their learning style is."
The merging of athletics and academics is at the heart of the thriving co-ed league for 12 Richmond elementary schools, which is now in its third year. For many students, it provides their first exposure to organized sports, and the opportunity to spend Saturday afternoons forging bonds on the court and developing a love of the game. It also offers an incentive to buckle down in the classroom (for students to take part, teachers must sign off that they are working hard in class).
"In high school, you have to be eligible to play. We wanted to do something similar for elementary, not in a punitive way, but to instill that academics are important and these things are related," said Tashaka Merriweather, the district's youth development programs coordinator. "You have to take care of your school work to participate in sports. You can't forget the student part."
Beyond the link to academics, the sports league (which also currently includes a flag football tournament and soccer season) seeks to instill core values such as sportsmanship, respect, responsibility and discipline.
In that sense, it mirrors the example and lessons of Coach Carter and his Richmond High School basketball team from more than 20 years ago. When Carter "locked out" his undefeated team from the gym until it showed the same commitment in the classroom that it did on the court, the story generated national attention and ultimately inspired the 2005 movie "Coach Carter" starring Samuel L. Jackson.
When Ken Carter heard about the elementary league, he donated the uniforms (emblazoned with "Coach Carter" on the front) to Nystrom. Watching the game from the stands, Carter said, brought back memories of the Richmond junior high league where he played in 1972.
"Anytime I get a chance to come back and work with the kids, I do it," he said. "I just try to teach the kids you're not going to get paid by the hour, you're going to get paid by the value you bring to the hour.
"These kids are developing friendships that will last a lifetime, learning discipline, how to be part of a team and accountability. With those things in life, you can't help but be successful."
Sixth-grader Demetrius Davis, who referred to Carter as a "pretty good coach" for helping the team to practice the fundamentals of lines and boxes, said teamwork is what he enjoys most about the league. "We work together."
Parent Stacey Malone, who thanked Coach Carter after the game for donating the uniforms, said her daughter is thriving from the experience. One of the rules of the league is that at least one girl must be on the court at all times.
"I think it's a great opportunity, especially the fact it's co-ed," she said. "It builds a foundation for her if she wants to play at the next level. Now they have jerseys, so she can represent her school and have this school pride."
Nystrom coach Kevin Armstrong, who also coaches varsity softball at Kennedy High School, said the fact the league is free is invaluable for families who can't afford to sign their kids up for AAU or other youth leagues.
"I wish there were more leagues like this," he said. "When I was growing up (in Oakland), we had a whole bunch of leagues kids could go to and play ball. It can keep kids occupied and off the streets and off video games."
In addition to Nystrom, the league currently consists of Stege, Peres, Ford, Coronado, Grant, Mira Vista, Verde, King and Wilson (recently renamed Michelle Obama) schools.
Another goal of the league, Merriweather said, is to foster relationships between teachers and students, something Superintendent Matthew Duffy envisioned when he approached Merriweather about starting the league.
"Most of our coaches are teachers," Merriweather said. "Mr. Duffy felt if we can create these relationships outside the classroom, it will strengthen relationships inside the classroom."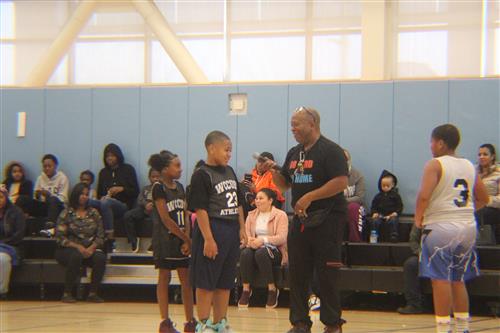 Grant Elementary teacher and coach Kenari Drayton is seeing that happen first hand. A former college football player, Drayton has enjoyed the opportunity to work with many of his sixth grade students on the basketball court.
"I'm with them all day in the classroom. It's really unique to come work with them in sports and teach them core values like effort, integrity and discipline," he said. "It's nice to have that extra level of camaraderie with students. I couldn't ask for a better experience."
It's not only the teachers who coach in the league who are reaping the dividends and seeing the results. Grant fifth grade teacher Reyna Acevas came out this Saturday to watch one of her students compete.
"It definitely pushes him in class a bit," she said. "He knows he needs to be focused to participate in games. It's a nice reminder to try your best and you can play in games on Saturdays."
The league has also been a hit with parents, with as many as 100 spectators attending some games. It's not unusual to see parents taking cell phone photos or live-streaming games, Merriweather said. The league championship game (scheduled this year for March 21) is held at Kennedy High School, providing a high school atmosphere and giving some parents who attended the school a chance to relive their own school memories with their children.
"One thing that is impressive for me is not only are parents bringing their kids, but they're also staying to watch the kids," said Shumake, a school community outreach officer at Nystrom. "This gives them an opportunity to do something that's fun as a family."
With Damien Carter helping lead the way, Nystrom coasted to an easy victory this Saturday morning. But the smiles among players of both teams, and their parents, made clear there really were no losers. After the game, players continued to mill around the court, shooting baskets. And when it was time to vacate the floor for the next game, some found their way to the playground court outside.
"We are all winners," announcer George Brown said after the final buzzer. "Everyone who showed up today is a winner."
The Elementary School League Basketball Playoffs start this Saturday, March 7 at 10:15 am.
| | | |
| --- | --- | --- |
| Home | Away | Time |
| No. 2 Mira Vista | No. 7 Wilson | 10:15 am |
| No. 3 King | No. 6 Nystrom | 11:30 am |
| No. 4 Verde | No. 5 Grant | 12:45 pm |
| All Games at Greenwood Academy | Note: No. 1 Seed Stege has a bye | Playoffs continue March 14; title game is Saturday, March 21 |