Return to Headlines
Superintendent's Message -- November 2019

En español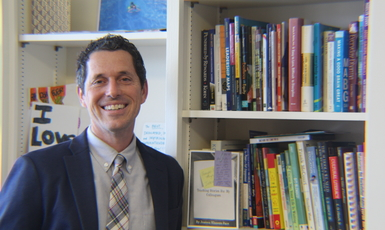 Dear Community,
The Thanksgiving Break is just around the corner and I want to take a moment to express my gratitude for your patience as we experienced a number of challenges over the past four weeks. Air quality issues due to wildfires, power outages, and several instances of violence have seriously impacted our community and made the last month emotionally draining and physically taxing.
I want to thank and applaud the efforts of this entire community during these trying times. I want to especially thank the community partners who have stepped up to help the students and their families deal with the violence. The Richmond Police Department, RYSE Center, Bay Area Peacekeepers, and Richmond's Office of Neighborhood Safety deserve special recognition for assisting us and the community in those times of need. Through all of those challenges, the people in this District continue to show up for students in so many ways. So thank you for the support, questions, feedback and involvement. We will continue to need that involvement and engagement going forward.
I want to also take a moment and talk about the State's release of the annual SBAC data, which occurred during the challenges of October. Overall our results remained flat, but we had several schools and groups make significant progress. Three schools saw double-digit increases in the percentage of African-Amerian students proficient in ELA (Pinole Valley 22%, Wilson 15%, Hanna Ranch 12%). We had similar marks in math for African American students with Hercules High School (11%) and Verde Elementary School (11%) showing double-digit increases and another four schools had increases of 5% or more (Hercules Middle 7%, Pinole Valley High School 7%, Wilson 7%, Sheldon 5%).
Fairmont (12%), Kensington (38%), Madera (16%), Ohlone (18%) and Sheldon (15%) elementary schools and Hercules (11%), Pinole Valley (14%) and Vista (13%) high schools had double-digit improvements for English Learner (EL) students in ELA and Hanna Ranch (18%), Harding (11%), Madera (25%), Montalvin (13%) and Shannon (20%) elementary schools and Hercules High School (11%) had similar success in math for EL students.
Our challenge now is that we have to find ways to reach all students, especially those that have been farthest from opportunity and historically underserved. We can and are doing this work already. One of the biggest shifts occurring is ensuring that the learning experiences within our schools are engaging, empowering and challenging for students. You may ask, what does that look like for students and staff? Part of it is a shift from adult-dominated classrooms to ones where the role of the teachers is to facilitate learning with students. It means we must listen to what students are saying and focus on what they need to master a lesson or subject area. It means everything we do in the classroom and our schools is student centered.
Montalvin K-8 School is illustrating student-centered learning with their Student Led Conferences. These sessions flip the the traditional parent-teacher conference. Instead of teachers leading parents/families through their child's education journey, the student is tasked with sharing their work, progress, and challenges. It is an opportunity for students to shine and show what they have mastered and where they still need support. In turn, it is our job as a District, community, classroom and school to praise and support students.
De Anza High School is another example of great student-centered learning. If you missed it, the Dons were featured in EdSource over the summer for the work they have done to increase graduation and A-G rate. Since 2016, De Anza has increased its college readiness rate (students who meet the requirements for the UC and CSU systems) by 26 percentage points from 27% in 2016 to 53.8% in 2018.
As a District we need to highlight what really works for students and assist teachers, and educators to learn from one another to spread those student-centered practices throughout the District, especially to the students farthest from opportunities. I am excited to share more of this work in the future and to highlight schools, classrooms, teachers and communities doing this work well.
Lastly before we head into the Thanksgiving Break, I wanted to highlight a few events on the horizon. First on Friday, Nov. 15 Contra Costa College is hosting an African American Male Symposium for secondary students and I encourage students to attend. It is also postseason or will be for a number of fall sports and several schools have been represented. De Anza, El Cerrito, Hercules and Pinole Valley high schools girls volleyball teams all made the North Coast Section Playoffs. Football playoffs begin Nov. Friday with De Anza, El Cerrito, Kennedy and Pinole Valley all represented.
The Visual and Performing Arts events also have picked up with events at various schools scheduled up to the winter break. You can check out a detailed schedule here. I encourage you to take in a game or performance.
Stay safe and have a great Thanksgiving break. I will see you out there.
In community,
Matthew Duffy
Superintendent