Return to Headlines
Community Celebrates Grand Opening of New PVHS Campus
By Craig Lazzeretti
Special to WCCUSD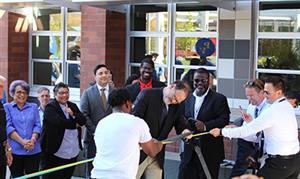 As students and staff looked eagerly to the future while celebrating the grand opening of Pinole Valley High School's glistening new campus on a warm, sun-splashed August morning, they also took time to say goodbye to their temporary home across the way. (See video)
The day was filled with excitement and anticipation surrounding the 600-seat state-of-the art theater, massive gymnasium, 42 high-tech classrooms and colorful quad and amphitheater area that would greet them for the 2019-2020 school year. But there were also some bittersweet feelings as they reflected on the portable campus next door that was the school's home for five years and affectionately became known as "Portable Valley High."
"I know many of you have waited a long time for this," West Contra Costa Unified School District Superintendent Matthew Duffy told the audience during the ceremony, "but guess what, Portable Valley High School is no more!
"One of the things I loved is the community you built and that you made the best of less-than-ideal conditions."
Principal Kibby Kleiman also emphasized the positive aspects of the portable campus, especially how it brought students and staff together and prompted them to build a community that transcended what they lacked in physical amenities -- a community that he expects to thrive in its new home.
"We got used to saying, 'What can we make of this space,' " Kleiman said. "I think the classes would say we didn't have a building, but we had each other. I don't feel I was deprived during those portable times. If we take the same spirit into the new building, we can do something pretty special."
Longtime PE and work experience teacher Ken Porto said the PVHS community always treated the portable campus as a "real" school that offered students the same high-quality educational experience to be found on a traditional campus. "I guess you'd say we have a more upscale facility to do it in," he said.
As students awaited tours of their new 263,000-square-foot, $216 million home, some of the things they looked forward to most were also the most basic. The opportunity to host a basketball game or wrestling match in their own gym, or a play in their own theater. After years without a gymnasium, the school has two.
"I can tell it's going to be better for the students, for the teachers and for all of the community," sophomore Mariana Naves said. "To do activities, you don't have to leave school. You can do it all in one spot."
And then there was something as simple as the chance to walk to class without getting drenched during a winter storm.
"Having a building to protect ourselves from rain," junior Michael Lee said. "We never got an opportunity with the portables."
"I'm excited not to have to walk through lakes to class," said Angelina Anderson, another junior, while awaiting her tour in the 300-seat cafeteria.
Kleiman noted the irony that the years spent in those portables happened to coincide with two of the wettest winters in recent California history. He pointed out that it was not only students who were looking forward to escaping downpours in a campus featuring towering three-story, glass-enclosed classroom buildings, along with a spacious atrium and staircase area with plenty of room for spreading out on those soggy days.
"There wasn't special rain generated just for students," he noted wryly.
Pinole Mayor Pete Murray paid tribute during the ceremony to the PVHS classes that graduated before the new campus was completed and would never get the chance to experience the technology-rich classrooms or palm tree-dotted quad.
"Those who graduated saw the facility go to dust and saw it rise again like a phoenix," he said. "They gave up a lot. They endured and were resilient enough to succeed in their endeavors. They saw something magnificent come out of it."
Now, as many as 1,600 students will have much more than just a building in which to learn and grow academically, socially and emotionally. "Awesome," "amazing," "humongous" and "beautiful" were among the superlatives that the excited throng of visitors used to describe the brick-facade architecture, arched windows, sweeping atrium staircase, skylights and other features.
"It's gorgeous," Naves said. "It looks like a new era-type of thing."
Stacey Martin-Bonaduce, a former PVHS parent who continues to work with the school through the Junior Achievement program, was among those who lined up early waiting for the front gates to open.
"I think it's going to lift up the community and build up the morale of students," she said. "It's nice to feel a true home."
Also on hand was 2001 graduate Marcus Maxwell, who starred in football for the Spartans and now lives in Hercules after a stint playing in the NFL.
"Breathtaking, and what a treat for the new generation," he said. "Being able to come out and experience this and share it with the new generation is unbelievable. They can start this new legacy and new culture at Pinole Valley."
Lisa Jones, who wore her Class of 1983 T-shirt to the event, wanted to see the end result after years of observing construction while visiting her in-laws, who live behind the school. She was swept away by the architectural design. "It's quite different from the high school I saw," she said. "It's amazing."
Scott Yee, a 1988 alum whose local martial arts studio performed a lion dance to kick off the festivities, said seeing the facilities he toured "almost brought a tear to my eye."
Wearing his old PVHS speech and debate team sweater, Yee marveled at the theater, science department and library with its tall arched windows and drop-down video screens.
"It's just awesome," he said.
Of all the Pinole Valley alums who attended the grand opening, none had a bigger stake in the day than 1971 grad Rick Martellaro. As president of Lathrop Construction Associates, he led the biggest building project in the company's history, for the school that had been a big part of his own life.
"It was like coming back home," he said. "Pinole is just such a special community. To have been a student and coached here and been part of the school district, it was something we really wanted to be involved in, the entire company."
Martellaro heralded the open layout of the campus, which will provide better access and more parking, along with its energy-efficient features. The campus consists of three main buildings in a U-shaped design surrounding the quad/amphitheater area with its trees, benches and picnic tables.
Dayna Dibble, a 1986 graduate and longtime PVHS faculty member, said that in addition to its many amenities, the new campus would provide a "large central area where we can gather," something the portable campus lacked.
"Our teacher and student life has always been excellent," she said. "It's exciting to be able to carry that over into the new environment."
Said Kleiman: "It's a blank slate. It's fascinating to imagine which spaces are going to be meaningful and which will carry a kind of value for kids and staff alike."
Kleiman said he also is looking forward to the opportunity to repay the generosity of the larger Pinole community that provided needed resources and facilities that were missing from the portable campus, by making the new school's state-of-the-art facilities available for broader use.
"I really look forward to deepening some of those connections," he said.
Claudia Anderson, Angelina's mother, said she could sense the excitement among staff on registration day that the long wait was finally over.
"Who doesn't want this for their kids," she said. "What parent doesn't want a school that they're excited to go to every day. It was so rewarding coming to registration. We stuck it out."
As Claudia, Angelina and other students and parents completed their campus tour in the main gymnasium, they got one more piece of information on how things would change this year as a result of being back on a traditional high school campus -- something different students might have different reactions to.
"Kids can't get out of PE now when it's raining."