Return to Headlines
Superintendent's Monthly Message: September 2019

En español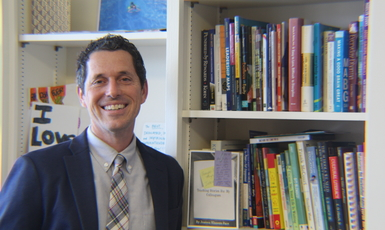 Dear WCCUSD Community,
We are more than a month into the 2019-2020 school year, and have plenty of successes to celebrate as well as issues of concern that will demand that we remain vigilant.
The school year started with six new principals at Fairmont, Ford, Lupine Hills, Murphy, Sheldon and Stewart who were warmly welcomed by their respective communities.
Grant, Verde and Ford elementary schools and Helms Middle School are celebrating state recognition for their work to implement positive behavior interventions and supports (PBIS) for students and staff. Grant received gold recognition while Verde, Ford, and Helms all received silver awards. The four schools are great examples of the positive climates and cultures we are building across the District.
El Cerrito High School is celebrating freshman Nora Thompson, who was notified by the Broadcom Foundation and Society for Science and the Public that her science project "Lights of Science" was one of the 300 best in the country. Well done Nora.
We also held an engaging and informative Data Night with the Board on Wednesday, Aug. 28 where we highlighted the incredible academic growth the District's elementary schools showed from the 2017-2018 school year to the 2018-2019 school year and the work a number of schools have done in moving students toward proficiency. And while we have much work to do to ensure that students are proficient academically, it was nice to see and recognize the strides WCCUSD school communities have made in terms of growth.
A key part of that growth is ensuring that students are in class every day. Which is why attendance is a key focus area for us as we continue through the rest of the school year. September was National School Attendance Month and there are a number of things we can do to encourage students and families to come to school every day. Attendance works has this great flyer with tips on when to keep your child home and when to send them to school.
On Wednesday, Sept. 18, we also released critical information about our budget and the significant fiscal concerns we face with a $47.8 million budget deficit over the next two years. While it is normal to react to a number that large with alarm, I encourage you to await further information before jumping to conclusions. This is a conservative number that we expect to improve as we confirm spending cuts have been implemented and funding promises have been fulfilled. I firmly believe this district will solve this challenge and emerge stronger and better able to provide a high quality education for all of the students it serves.
Lastly, I would like to recognize the work and spirit the team at Richmond High School embodied when it rallied around its community following the death of a popular student that had connections to Richmond High and Greenwood Academy. Led by their leadership class, the Oilers planned a weeklong series around mental health and wellness as a way to support one another during that difficult time. It was fitting week that kick off National Suicide Prevention and Awareness Month.
In a time of tragedy, the Oilers rallied around one another for support but also to bring awareness to a topic that affects many WCCUSD students and families. Principal Jose DeLeon and his team approached Leadership teacher Monique Dumar following the death about changing the theme of what was supposed to be spirit week. Dumar and the leadership students developed Self-Care Awareness Week where students and staff took care of one another.
The themed days saw the Richmond community unite and wear a particular that included: Tuesday, Depression Awareness (Blue), Wednesday, Anxiety Awareness (Purple), Thursday, Substance Abuse Awareness (Reds, and Friday, Suicide Awareness (Yellow). Richmond also invited guest speakers during the week and held a health fitness challenge.
Assistant Principal John Hillyer said that the Richmond community has a history of rallying around one another. "It is a great feeling to know that students here take up quick for their friends and classmates," Hillyer said. "This community does stick up for one another."
Yes, they do. Just a great story of students and staff rallying around one another during a difficult time.
Thank you for reading and I will see you out there.
In community,
Matthew Duffy
Superintendent