Return to Headlines
Superintendent's Special Message: We are a Safe Haven District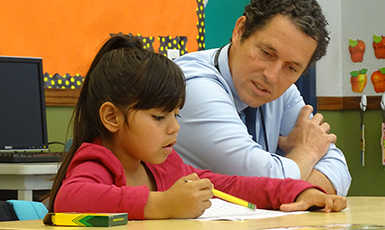 Dear WCCUSD Community,
We are days away from opening the 2019-2020 school year. Families are preparing to return their students to school and many will send their children to us for the first time. The first day of school is such an exciting time filled with so much optimism and opportunity. Opportunity to harness the power of education and watch West Contra Costa Unified School District students grow and thrive.
As we open schools with so much joy and opportunity, we also mourn the victims of the recent tragic events that occurred across the country in Gilroy, El Paso, Texas, and Dayton, Ohio and for the families subjected to immigration raids across the country. At a time when division and fear dominate the headlines, I want to take this time to remind everyone that we are a Safe Haven District. We take pride in the diversity that West Contra Costa County provides us. Where else in the East Bay can you find such a diverse landscape that spans socioeconomic and immigration status, race and ethnicity, gender identity, rural and urban? Our diversity in this District makes us who we are, and it is something we value and take immense pride in.
We want our schools to be the focal point of communities where people of all cultures, races, gender identity, immigration and socioeconomic status gather daily to bond, share experiences, and watch students grow. To do that, anyone and everyone in our community must feel protected and safe.
In order to help protect the most vulnerable members of our community, the Board passed Resolution 54-1617 that memorializes these values.
The resolution puts into place the following policies:
Immigration enforcement will not be allowed to take place in ANY WCCUSD school or department.
Immigration agents will not be allowed to enter any WCCUSD school or school grounds.
District employees, personnel, and contractors are prohibited from inquiring about or sharing personal information about our students or their families, including immigration status, with immigration agents.
Any request made by immigration enforcement for information or to visit a school site must be immediately forwarded to the Superintendent for review and guidance from legal counsel.
WCCUSD's Board of Education also declares that every school or office of West Contra Costa Unified School District is a safe place for all its students and their families, and that students and their families can come to any District school or office to seek help, assistance, information, shelter and safety if faced with fear and anxiety about any and all non-criminally related immigration enforcement efforts. We have a list of additional resources for families who have questions and need assistance.
Additionally, we do not tolerate bullying in this District in any form. We are proud that a number of our schools are No Place for Hate campuses and encourage students to speak up and out when they see a fellow student or individual being harmed. Climate and culture are an essential part of learning and if students and their families don't feel safe, then learning cannot thrive.
In times when fear and hate are being used to divide us, let's remember who we are in West Contra Costa UNIFIED and look out for one another. If you need assistance, please reach out to your principal, a teacher, counselor, school employee, or me. We are here to help and serve you and this community.
As always if you have any questions, do not hesitate to contact me.
Thank you for reading. Here is to a great school year.
In community
Matthew Duffy
Superintendent