Return to Headlines
Special education educators, mentors honored at "You Make a Difference Awards"
By Craig Lazzeretti
Special to WCCUSD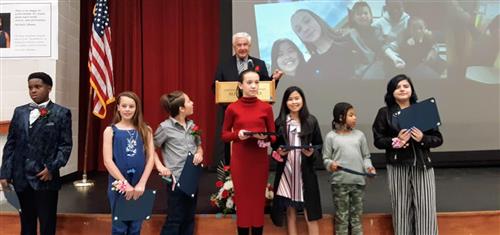 El Cerrito High School special education teacher Tristan Simbulan asked the audience at the West Contra Costa Unified School District's annual "You Make a Difference Awards" on March 6 to play an imaginary game of "Family Feud," picturing him as host Steve Harvey without a mustache.
The question posed to the "players" at the ceremony at DeJean Middle School was what qualities make for a great special education teacher.
The top answer, according to Simbulan's survey, was "patience," which allows teachers to think, reflect and then act to serve the child's needs. But patience is only the tip of the iceberg, flowing to the other answers to his imaginary survey question.
"Through patience, understanding, strength, character and love, it will all come together, and it will be easy," he said.
All those qualities and more were evident among the honorees at the event hosted once again by longtime KTVU news reporter Tom Vacar. From administrators to teachers to students and clerical and classroom support aides, the "You Make a Difference Awards" celebrates members of the school district community who go above and beyond to touch the lives of disabled and special needs students.
Simbulan, who has spent 13 years at ECHS, was recognized along with four other district special ed teachers. He has helped to organize Special Olympics events and end-of-year picnics for ECHS students, and taken them on field and study trips to help them develop independence.
Simbulan "models what a great special education teacher is and should be," Vacar said in introducing him.
Other special ed teachers honored were Simbulan's ECHS colleague, Francis Pineda, as well as Leanne Wu of Tara Hills Elementary, Ricardo Villas of Hercules Middle School and Evangeline Permalino of Riverside Elementary.
Several of Villas' students took the stage at the ceremony to praise the various ways he has helped and encouraged them in the classroom.
Wu, who uses multi-sensory activities to bring joy to her students' learning, was recognized as one of the first district teachers to push for the full inclusion of special ed students in classrooms, and ensuring that these students know they are "loved and valued."
In her comments, Wu heaped praise on everyone who has supported her efforts on behalf of special ed students, including her "poor husband who gets volunteered for countless odds and ends."
Karley Nuzman Umoru of Fairmont Elementary won the general education teacher award for her work in transitioning students from special day classes into her mainstream classroom. Umoru recounted her own experiences growing up with friends who were disabled, including playing in her friends' wheelchairs at their homes and accompanying a friend with cerebral palsy to Mexico.
"Everyone has a place in my classroom," she said. "Everyone has a voice. … I expect them to succeed because I will never give up on them."
Tara Hills Elementary Principal Robert Mendoza won the Administrator Award for his tireless work to make families of special needs students feel welcomed and supported in his school community. Patricia Alberto was recognized in the clerical support staff category for making sure "each parent is treated with great care and respect."
"I'm only the mirror of everything I see in my office every day," said Alberto, who does intake for Pupil Services, working extensively with Spanish-speaking families.
Linda Le of the district's transition program, Dajanee Darline Lee of Tara Hills Elementary and Gloria Samad of El Cerrito High were recognized for their work as classroom support aides.
Samad spoke of the way she and her student motivate each other toward achieving their individual goals, her student to walk again and Samada to earn her bachelor's degree in psychology.
"You can learn something every single day from them," she said.
First Student bus driver Jazminn Gabriel won the Brian Rutford Memorial Service Award, given each year to a driver who displays professionalism and compassion for students. Gabriel is known for meeting the preschool students at their classroom door to escort them to the bus.
Students Gabriel Day of Ellerhorst Elementary, Teagan Kelly and Kai Sacia Dragull of Fairmont Elementary, and Hazelle Gardner, Jasmin Anguio, Talissa Thompson and Fernanda Ramos of Tara Hills Elementary won the Jake Rockeman Award for serving as role models for their special education peers and supporting and befriending them at school.
The Pinole Middle School flag football team was honored for embracing and supporting a blind teammate.
"Kids who really care. That's the future of our country," Vacar said.